Best Food Processors Listed
A food processor is a household kitchen device used for multiple purposes like chopping, slicing, mixing and juicing. It helps in making food preparation easier by saving time and manual work required in performing those repetitive tasks.
They are quite similar to blenders, but the difference lies in the fact that food processors do not require a large amount of liquid to "blend" and the bowls have different types of interchangeable disks and blades which can be used according to the requirement. These bowls are wide and shaped in such a way so that various types of foods can be processed in them in a proper manner, according to their consistencies. It is an electric-motor-driven appliance.
The parts of a food processor are the bowls, the feed tube through which the ingredients are added for processing; usually, it also serves as a chute and a pusher which is sized to slide through the feed tube. Most of the modern food processors are quite safe and handy to use. ( Refer Best Citrus Juicer , Best Juicer Here )
TYPES OF FOOD PROCESSORS
1. Hand Operated
Hand operated food processors are the most basic ones. They are used for chopping vegetables like onions. They need a little more effort in terms of manual work, but on the other hand, they are very easy to use and clean. Since they come in quite small sizes, storage is not an issue. Hand operated processors are perfect for chopping purposes when the quantity of food is less.
2. Mini Food Processors
Mini food processors are compact in nature. They are best suited for smaller families. These can perform multiple activities like chopping, grinding, shredding and mixing, but all in few quantities. For people living singly and preferring to cook versatile dishes on their own, these mini food processors are highly recommendable.
3. Full Sized Food Processors
Full-sized food processors are the ones which can perform most of the functions and can also provide a capacity of around 9-12 cups. Some even provide 20 cup capacities. The most expensive ones come with dough-hooks to mix bread. Also, they will be equipped with a range of discs and blades to choose from for the benefit of the user. Full-sized processors of good brands can be very long lasting as their motors are powerful enough to handle all kinds of operations.
4. Buffalo Choppers
These are best suited for heavy food processing like meat. They can handle all types of food and have a sturdy metal structure which makes them more powerful than any other kind of food processor. They have many accessorial parts like slicers, grinders which make them all the more versatile and suitable for some rough kitchen work.
FOOD PROCESSOR BUYER'S GUIDE
Power
The food processor that is chosen should be able to handle the kind of processing that is required by the user. For tough jobs like chopping raw carrots, mixing stiff ingredients or shredding hard cheese, a processor with a strong motor must be used else it will burn out soon.
Capacity/Size
The bowls of a food processor come in varying sizes depending on the model. So before buying, you must see which ones would be suitable for your requirements. A mini food processor would be suitable for single people and small families while a full sized one is apt for larger families.
Blades and discs
It is recommended that one must check if all the types of blades and discs are provided according to the functions that the processor has to perform. There are different kinds of accessories like the reversible blade for grating as well as slicing, chopping blade, beater and whisk disc attachments and juice extractor.
Brand and Price
The brands and models must be kept in mind while buying a food processor. The more expensive ones provide a powerful motor which is very helpful in the long run. The secondary brands often provide some extra accessories and attachments, but their motors are not that powerful. The ultimate decision should be made on personal preference and the budget of the buyer.
Manufacturer's Warranty
It must be ensured that the product bought has a long-term warranty and provides quality customer service. Food preparation will become both convenient and enjoyable if proper investment is made on the food processor.
TOP 10 FOOD PROCESSORS IN INDIA
1. Bajaj Fx11 Food Factory 600 W Food Processor(White):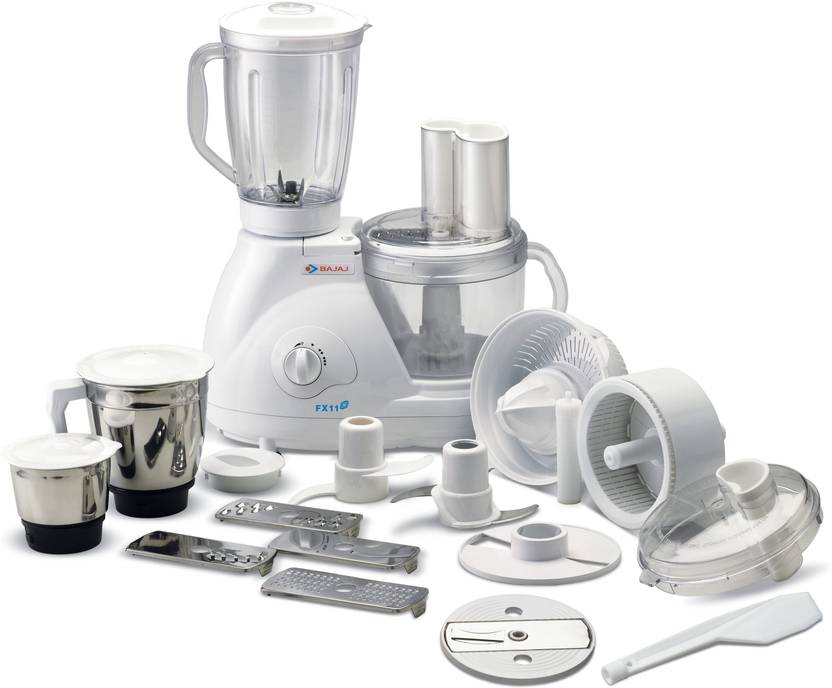 The Bajaj food processor comes with a sleek and stylish finish with a sturdy body for better endurance. This appliance comes with a set of three jars and a processing bowl for various uses. The Grinding jar and chutney jar has a stainless steel body while the liquidizing jar and processing bowl are made of unbreakable polycarbonate material. The blades are made of stainless steel to retain the sharpness and last longer. The processor bears a 3 speed setting with the pulse function for momentary operation.
Features:
5 L liquidizing jar, 1 L grinding jar, and 0.3 L chutney jar

Functions include kneading dough, chopping, slicing, and shredding and juice making.

Comes with a power of around 600 Watts for better efficiency.
It has a motor overload protector and jar locks for safety.
There are six main blades to choose from –  Detachable Blades, Dry Grinding Blade, Chopping Blade, Slicing Blade, Chutney Blade and other blades for kneading, shredding, cutting French Fries and coconut scraping.
Pros:
Powerful motor
Makes very less noise
Has a 2-year warranty and 5 years for the motor
Good quality, safe and easy to use
Cons:
The jars are not of that good quality, but it won't affect the performance.
Capacity not suitable for large families.
2. Philips HR 7629/90 650 W Food Processor(Black):                              
If you're looking for a food processor that can cater to most of your baking demands, Philips HR 7629/90 650 W Food Processor is the right one for you. With the latest PowerChop technology, it can perform various functions like chopping, slicing and shredding with utmost ease. The 2.1L bowl is big enough for mixing cake batters, and this compact yet powerful device saves a lot of time and energy in the kitchen and helps turn out delicious dishes every day.
Features:
Comes with an emulsifying tool
Has a 2L bowl and 1.75L jar
Compact, with a 40 percent larger feeding tube
Has two-speed settings to shred, grate and slice vegetables, and to whip and beat eggs.

Pros:
Durable
Very easy to clean
Smooth stainless steel blades for perfect chopping and slicing
Dishwasher safe
Has a 2-year warranty on repairing and replacing parts
Cons:
Does not  come with a chutney grinding jar
Number of disc and blade attachments are comparatively lesser
3. Philips HL1661/00 700 W Food Processor (White)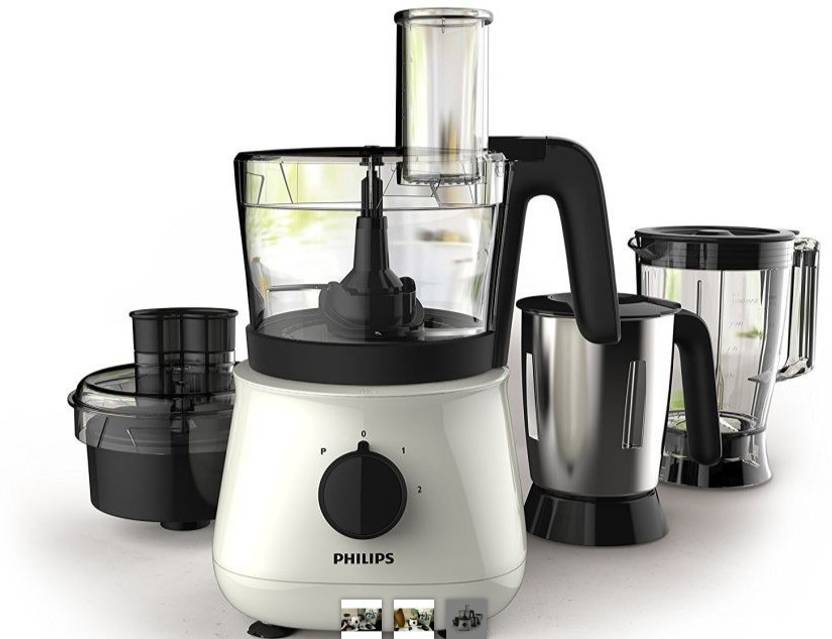 A sturdy and stylish product, white based in color and with a sleek design from Philips. It has an energy rating of 5. Multi-purpose functions are provided including slicing, mincing, shredding, blending, scraping as well as wet grinding. It is a great product for saving time and energy while cooking. Both centrifugal and citrus juicers are given along with the set.
Features:
Huge range of blades including grating blade, mixing blade, chutney blade and slicing blade.
5 different jars ranging from 1.2L to 0.4L
Comes with centrifugal and citrus juicers.
Has two speed as well as two pulse settings

700 watt power consumption
Pros:
Overload protector, safety switch and locks
Powerful motor with auto shut off
Stainless steel blades
Can perform a variety of processing tasks with ease
Has a 2-year product warranty
Cons:
Not dishwasher safe
The jar is not very secure on the base according to some users
Price is a bit higher compared to others
4. Morphy Richards Icon Superb 1000 W Food Processor  (Glazing Copper)
This appealing copper colored food processor from Morphy Richards is highly multi-functional and comes with 3-speed settings. It is preferable mainly for juicing, mixing and grinding. The brand has been introduced in the Indian market and has been quite widely accepted as a food processor. This processor uses quadra flow technology for super fine grinding and comes with a unique child safety lock.
Features:
Brushed, metal square-shaped body
Unique variomatic 7 step slicing blade
Comes with a Jumbo-sized processing bowl of 2.4L, other jars of varying sizes and a spatula

Quadra-flow technology for super fine grinding
11 attachments are provided
Pros:
Unique child safety lock
Extra long blades for efficient grinding
Long-lasting stainless steel blades
Technically advanced appliance suitable for many operations
2 years of warranty
Cons:
High pricing
Smoke and noise is noticed initially, goes away with usage
High power consumption (1000 Watt)
5. Singer SFP614FBT (Foodista Plus) 600 W Food Processor  (Blue & White)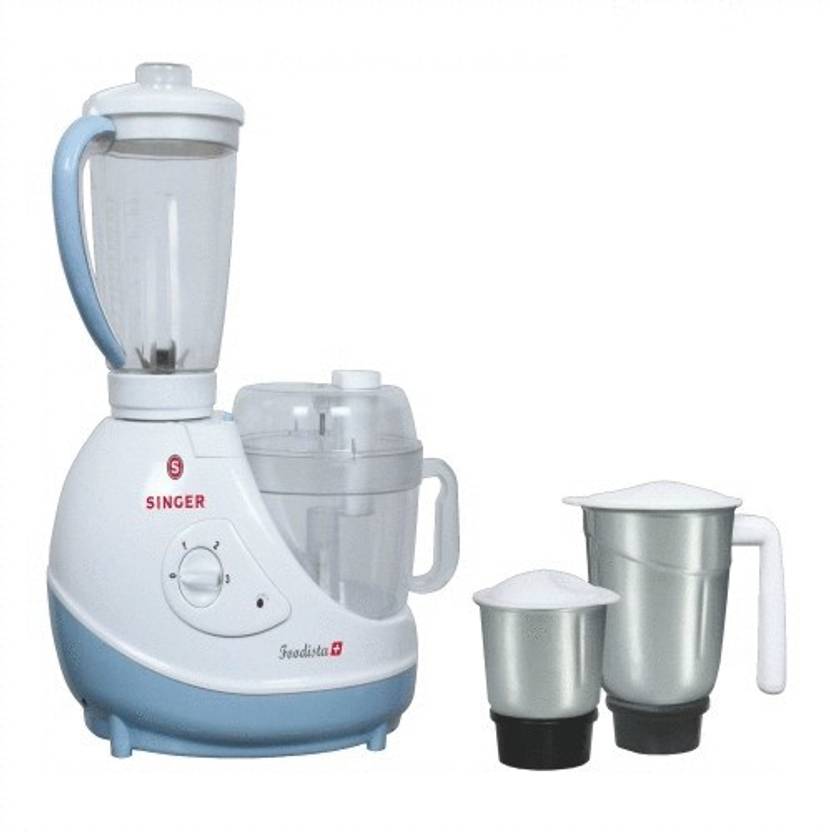 The Singer food processor comes with 14 attachments and has a power consumption of 600 Watt. The different tasks it can perform include slicing, shredding, grating and juicing. Its multiple jars can be used for mixing wet and dry food separately. It is a time and energy saving appliance, perfect for the Indian households. Moreover, this product is a high value for money.
Features:
Comes with a liquidizing jar, grinding jar and chutney jar
Perfect for shredding, slicing as well as kneading flour
Power consumption of 600 Watt
Pros:
Good quality product for normal use
Suitable for chopping leafy vegetables or to make portions of pasta and purees
One year manufacturer's warranty
Cons:
Cannot handle tough jobs
Only one year of warranty
Not too versatile
6. Prestige ACE 600 W Food Processor  (Brown)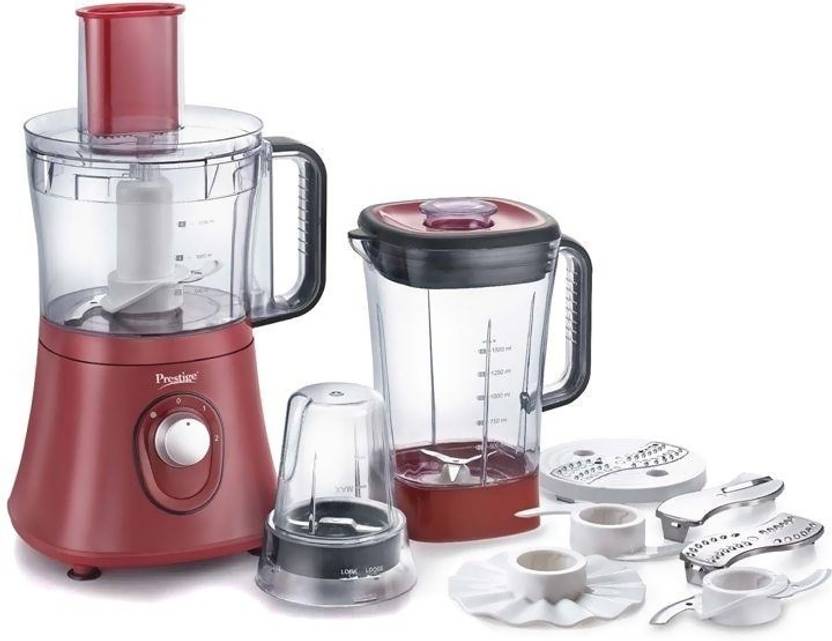 This attractively designed food processor from Prestige is excellent for average use. It is durable with a high degree of performance. It is suitable for chopping, grinding as well as juicing. It comes with different shapes of choppers to be used accordingly. It not only saves time but is also a great value for money. The Prestige Ace food processor is uniquely crafted for providing amazing assistance in the kitchen.
Features:
Parts include 1 Motor unit, 1 Chopping Jar, 1 Juicer Jar, 1 Chutney Jar, 6 Blades
Has a polycarbonate body
Power consumption of 600 Watt
1.5L processing jar and 3 other additional jars
Provides 8 functions in total including grinding, juicing, kneading, whipping and shredding
Stainless steel blade features
Pros:
Overload protector, safety switch and safety locks
Washable
Good for multi-purpose work
One year Prestige India warranty
Cons:
Not dishwasher safe
Only one year of warranty
Harsh grinder noise
7. Sunflame SF-FP09 700 W Food Processor  (White, Purple)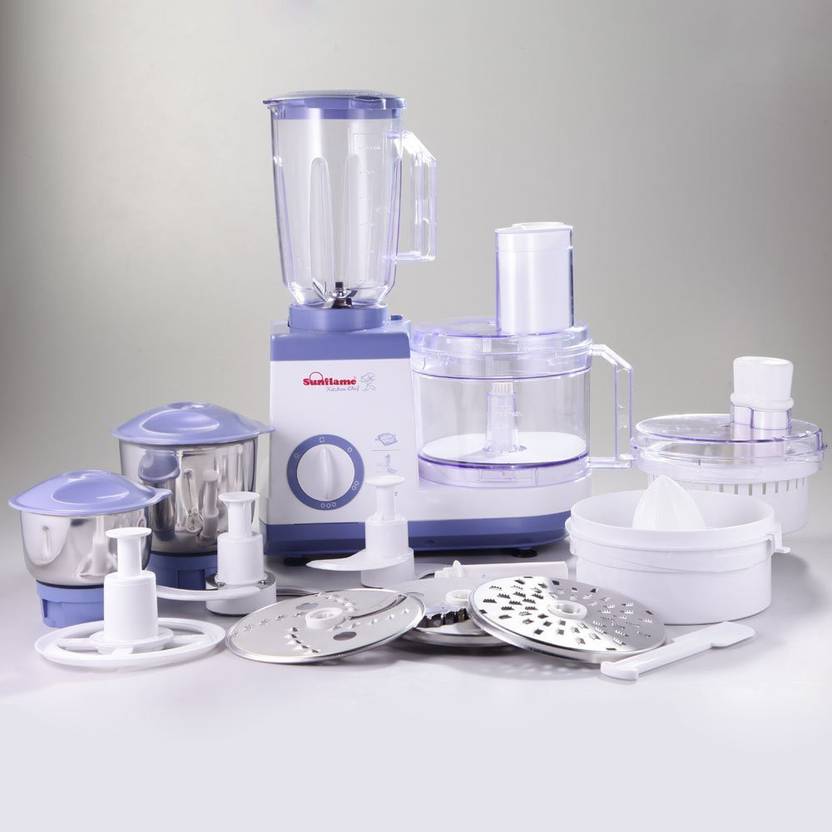 The Sunflame Food Processor caters to all your chopping, shredding and slicing needs so you don't have to spend long hours in the kitchen. It is very efficient and is a boon when you need to prepare food for a large number of friends and family. It consists of unbreakable polycarbonate jars, multi-functional discs, centrifugal and citrus juicers. It is also great for flour kneading and whipping. It comes in a beautiful white and purple color and is one of the best products in the market.
Features:
Comes with speed settings and processing jar
Suitable for wet grinding, dry grinding, juicing, grating, scraping, blending and mixing.
Power consumption of 700 Watt
Centrifugal and citrus juicers
5 different jars including a multi-purpose jar
Wide range of blades including dough blade
Pros:
Overload protector and safety switch
Discs for coconut crushing and french fries
Manufacturing defects covered under the warranty
Cons:
Energy rating of 3
Not well-known brand
8. Usha FP 2663 600 W Food Processor  (White)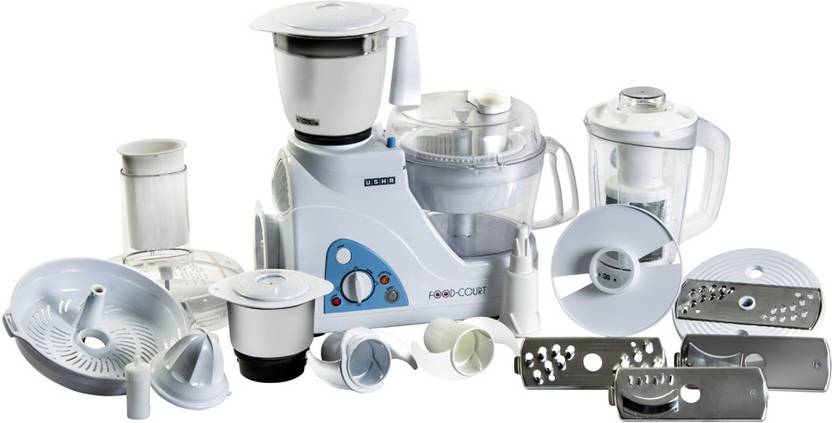 This Usha product makes kitchen work a lot easier as it comes with a 600 Watt motor which efficiently handles all kind of jobs. The design is uniquely crafted for Indian food preparations. The processor also allows convenient multi-purpose use in mincing, shredding, slicing, grating, atta kneading, blending, juicing, dry and wet grinding.
The set has unbreakable polycarbonate bowl, lid and blender jar, 10 functional attachments LED indicator for power and overload dimensions (WxHxD): 340 mm x 224 mm x 206 mm.
Features:
1.5-liter blender jar, 0.4-liter chutney jar, and a 2-liter bowl.
Also consists of a spatula, cleaning brush, fruit filter with citrus and centrifugal attachments
Power consumption of 600 Watt
2L processing bowl
Provides for wet and dry grinding, juicing, grating as well as chutney grinding, scraping, whipping, blending
Stainless steel grinding and multi-purpose jars
Safety features available
Pros:
Very good for multi-purpose use
10 attachments available
Comes with 3 speed settings
LED indicator
Cons:
Cleaning the jars are quite time-taking
Harsh noise during grinding
9. Philips HR 7628/00 650 W Food Processor  (White)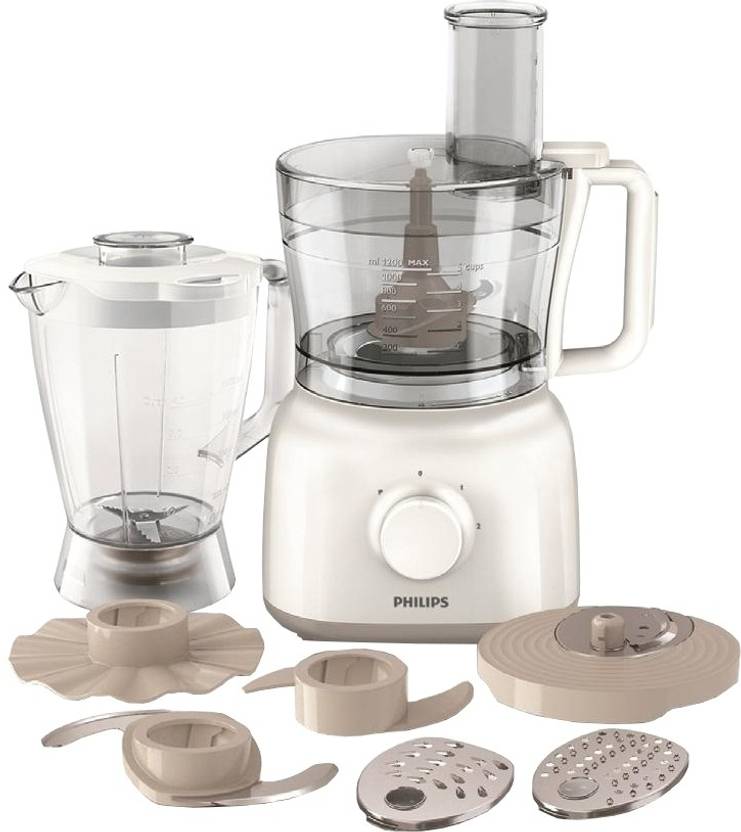 This compact-yet-powerful Philips food processor is highly recommended for a family of up to 5 members as it can whip up Pesto sauce, grind nuts into homemade butter or shred blocks of cheese in no time. It is a multi-tasking product from the reputed brand of Philips to ensure quality food preparation. The power consumption is 650 Watt and the design has an aesthetic look to it. It uses PowerChop technology but has 1 pulse settings. This food processor is a great value for money and is quite easy to handle.
Features:
1.75L jar made of break-resistant plastic
Basic functions like grinding, kneading as well as whipping and whisking
Power consumption of 650 Watt
Stainless steel chopping and slicing blades
Consists of cord winder and lid detectors
Pros:
Highly recommended for family use, serves up to 5 portions in one go
Dishwasher safe
40 percent larger feeding tube
2 years warranty on replacing and repairing parts
Cons:
Limited number of discs and blade variations
Tough to wash without a dishwasher
Juicer is not very efficient
No LED indicator
Quality of plastic used is not that good
10. Bajaj Majesty FX9 700 W Food Processor  (Black & Silver)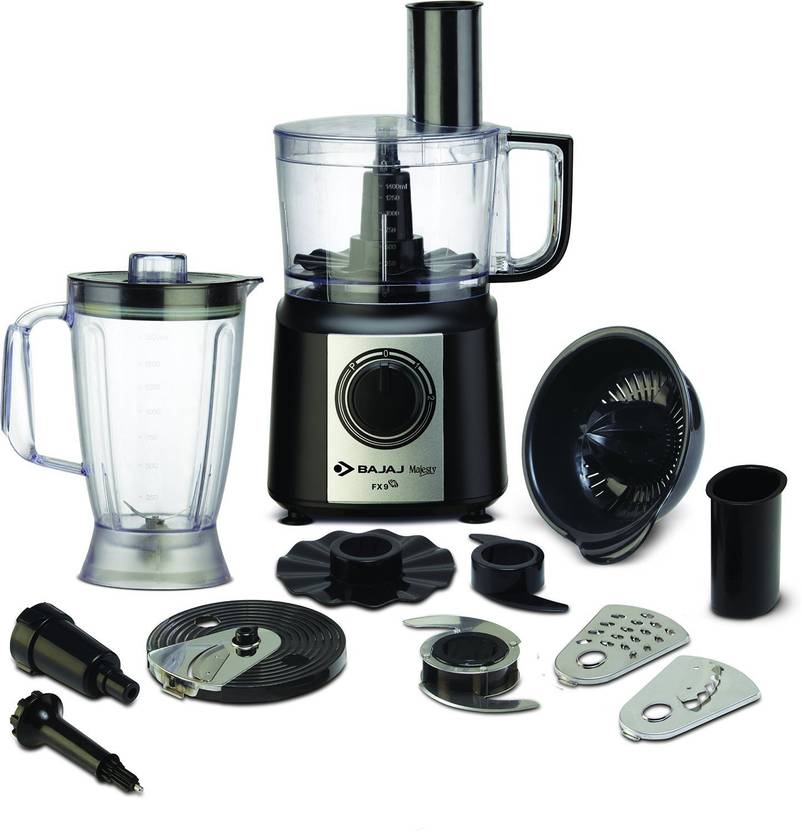 This food processor from Bajaj is fast and efficient and is an appliance that must be present in any well-equipped kitchen. It has a 700W motor that efficiently gets all your job done quickly. The processor also comes with variable speed selection, 2 speed + pulse, that allows convenient juicing, whipping, dicing and more. There are 10 attachments available which may be used as per requirement. A citrus juicer attachment is also provided in the set.
Features:
2L processor bowl with a maximum 1.4L operating volume.
1.8L liquidizer jar as well as a grinding and wet grinding jar
Functions include grinding, juicing, grating, kneading  and blending
Power consumption of 700 Watt
Whipping blade is also provided
Consists of cord winder
Pros:
Easy to use
Stainless steel blades for efficient slicing
Quite good energy rating of 4
2 years Bajaj India warranty
Cons:
Limited capacity
Not very multi-functional
Conclusion
Food processors can make preparation of food fun, enjoyable as well as time and energy saving. One should invest in this multi-functional kitchen appliance for all-around convenience. The benefits of having a food processor in the kitchen are numerous. A huge number of recipes are possible when this device is present in the household. The quantity of food is not an issue anymore as the hard labor of cutting, chopping, and grinding is done away with. Smoothies and juices can be delivered in minutes and at one go. Also, pizza and bread can be made at home with this modern wonder.
Out of all these food processors, the Philips HL1661/00 700 W Food Processor (White) is the best in the market as of now, because of its ability to perform a range of functions with ease and its powerful motor settings. The features of this appliance have drawn many customers to use this in their homes and this brilliantly designed product should definitely be considered while choosing a food processor. Preparing nutritious and delicious meals has become so easy in this era and that is exactly why the food processor is extremely important for a healthy living nowadays.