Best Juicers
We all have that new year resolution to go the gym and start eating healthy and have that ideal body but we often give into the hustle and don't get along with our resolution.
In order to enjoy a healthy lifestyle, this juicer may act as one step closer to your healthy routine you can prepare green smoothies and healthy juices. ( Best Selling Citrus Juicer , Best Food Processor )
There are a variety of juicers available in the market but before buying them you should really look into the features and the quality of juice produced by it. In this hurried life, we often skip eating fruits and vegetables, that is about to change now with juicer, you can make healthy smoothies from  juicer and drink it on the way to work. There are few good quality juicers mentioned ahead that you can consider buying:
Types of Juicers
Centrifugal Juicers
Centrifugal Blade
Centrifugal juicers are the most common type of juicers which works in a fast spinning motion and extract juices from fruits and vegetables. Through mesh filter the juice and pulp are separated in different containers. It juices pretty fast and good for those who cant spare much time. It is also great for hard vegetables. However, it oxidizes the juice pretty fast due to fast spinning blades which produces heat and destroy nutrients. Bonus point about these juicers are they are very easy to clean.
Masticating or Slow Juicers
Slow juicers works at low RPM ( 80 to 100 ) which will lead to very little oxidation as it will not suck much air in. These juicers first crush and then press fruits and vegetables to get high juice yield.  Slow juicers works great with leafy green vegetables as it will retain most of the nutrients.  Also due to less oxidation you can store juice for longer time. As compared to centrifugal juicer slow juicers are quieter.
Juicer Buyers guide
The juicer must have anti slip feet which ensure that the juicer does not move while working or does not slip off the platform creating a mess. This feature helps the juicer to stay in place and does not create any movement while operating.
The blades must be super sharp which can cut through the vegetables and fruits which should give you healthy juice and those luscious green juices. The juice consistency is based on your preferences. The blades should be super sharp and resistant to corrosion and rust.
There are many juicers available but not all of them are same. Not all juicers have the same features. The features that you want in the juicer depends on your requirements but one most important thing that you should consider is that the juicer is simple to clean. If the juicer takes a lot of time in cleaning then there are chances that you may skip the making juice when you are in a hurry.
This screen helps in removing the pulp from the juices.  The pulp of the juice may not be liked by all.
These days all the appliances are very complicated to use. You do not need another such complicated machine in your kitchen. It should be easy to use and maintain as it is just a juicer, not any rocket science. Using the juicer shouldn't be complicated.
It should have adjustable setting according to your requirement as to what kind of juice you want grainy, runny, thick or liquid. This setting helps in determining the consistency of your juices.
The container should have safety lock and anti drip feature. It should not spill the juices out from the container. The safety lock will avoid spillage.
The juicer should have sufficient capacity to make few glasses of juices at a time. The capacity is necessary as it consumes less time if it can serve more glasses at a time.
Top 10 juicers available in Market
Vitamix T&G In Counter Blender 1200 W Juicer Mixer Grinder  (Grey, 1 Jar) (Editors choice)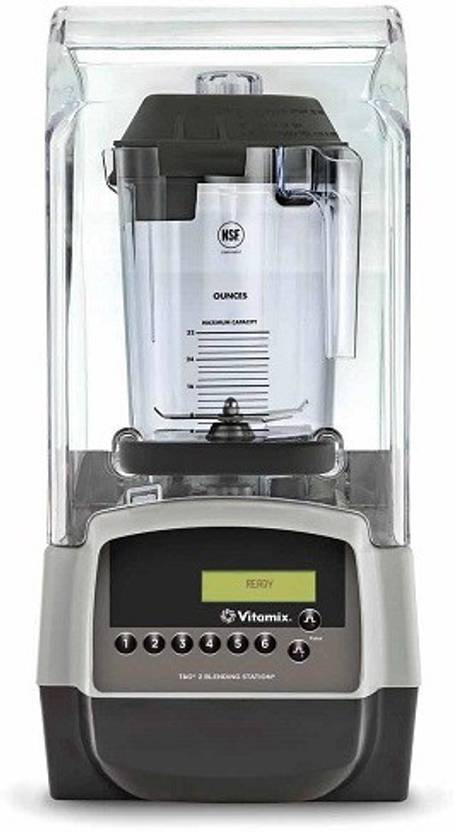 It is a high-quality product which has all the necessary features required in a juicer. It has the digital display and also the push buttons to change the mixing level. It gives a really sleek look while adding this element to your kitchen.
Features:
Sales Package-1 Juicer Mixer Blender

Weight-7.7 kg
Pros:
It has noise reduction sensors
It quickly and easily creates smoothies, frappes, shakes etc
34 optimized programs engineered to provide consistent results quickly and easily
It gets the food in smooth liquid consistency
It saves time
It is sleek and stylish
It has digital display
It does not take up much space
It is easy to use
It is durable
It is easy to clean
Cons:

Hurom HT LBD14 150 Watt Slow Juicer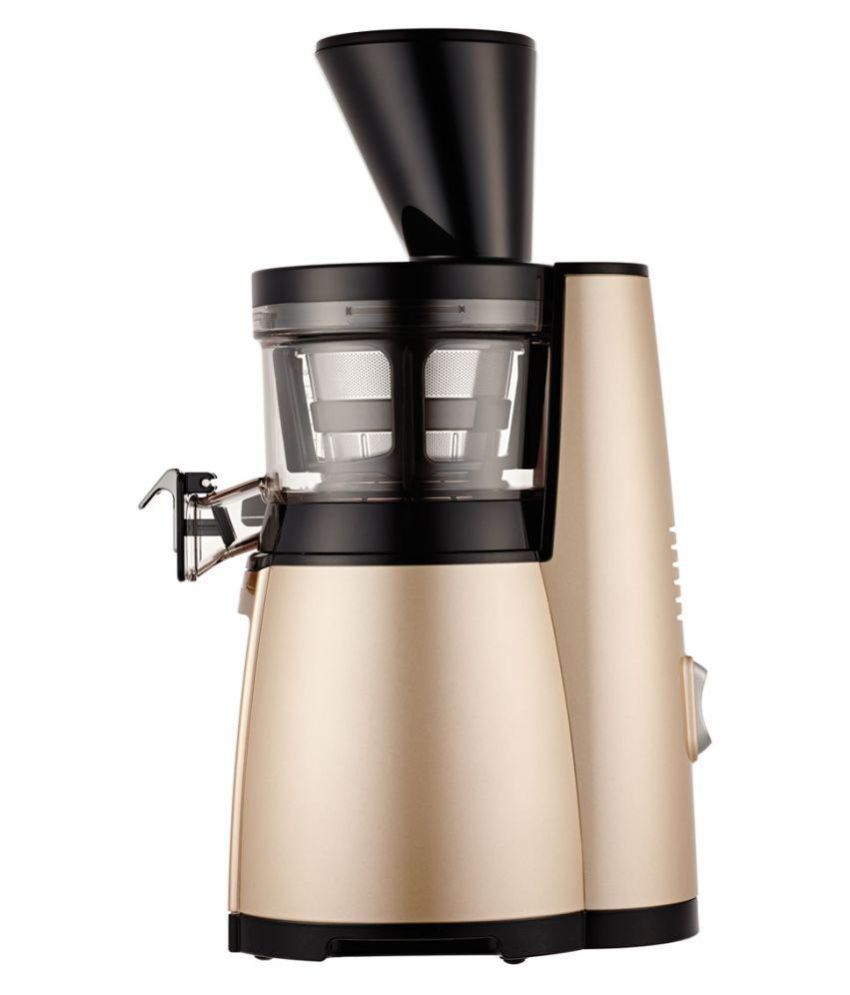 It is from one of the most trusted and highly recommended brands. It is made using modern technology. It is sleek and stylish looking which may fit in your kitchen very well. Buying this juicer will definitely be worth the investment.
Features:
Sales Package-Machine, Drum set, Pusher, Fine and Coarse strainer, Manual book, Recipe Book, Cleaning Brush L/S

Power Required-230 – 240 V, 50 Hz

Revolutions-43 RPM

Auto Switch Off-Yes

Material-Ultem Plastic Auger, Stainless Steel Strainers, Tritan plastic Jars, ABS plastic body

Weight-5.3 kg

Juicer Container Jar- Yes
Juicer Container Jar in 1ltr- Yes
Pulp Container Jar- Yes
Pulp Container Jar Capacity in ltr- 1
Safety Lock- Yes
Additional features- 10year warranty, 2years on full machine
Anti Slip Feet- Yes
Pros:
It looks really elegant and stylish
It has automatic switch off technique
It has pulp container
It is durable
It is easy to use
It newest and innovative techniques
It is compact in size which makes it hassle free
It has feeder tube which helps you to extract juice from all fruits of different sizes
It has rust proof body
It has slow squeezing technology
Cons:
It might have technical issues over the time
USHA CPJ362F 240 W Juicer  (STEEL BLACK, 2 Jars)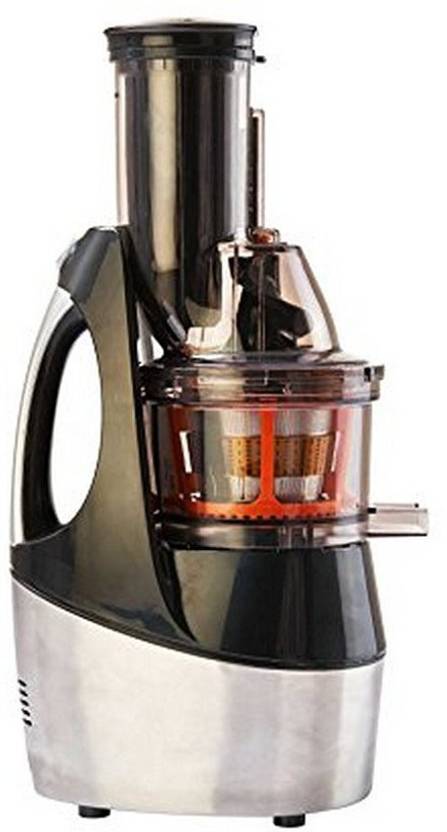 Usha has a variety of products, it has brought change in Indian kitchenware and has been one of the most recognized brands. This juicer is no exception from its other products. It is stylish looking and does not consume much space as well as is quite affordable as well as a durable product.
Features:
Sales Package-1 SLOW JUICER 2 COLLECTOR BOWL AND 1 MESH

Weight-6 kg

Versatility: Juice it all – Hard Vegetables, Green Vegetables, Nuts & Grains, Fruits, Frozen Desserts.

Cold Press Juicer extracts maximum juice yield from soft fruits and vegetables. Extracts far more juice than normal Juicer

Retains Nutrition, enzymes, vitamin, and minerals due to unique cold pressed mechanism with low temperature juicing for healthy and natural Juicing
Pros:
It can crush hard vegetables easily
It is durable
It is sleek and stylish
It is simple to operate
It is easy to clean
It retains the nutrients of the fruits and vegetables
It comes with 2jars
It consumes less space
It is affordable
It is from trusted brand
It has a feeding tube
It also comes with different filters
It is a cold press juicer
Cons:
Smoothies may not come through strainers properly
Crushes seed of citrus fruits while juicing
Omega NC800 HDR 5th Generation Nutrition Center Juicer, Red
It is different than other juicers as it comes in a different style and has five adjustable setting along with six nozzles as well as two juicing screens. It helps you give fresh juice from any fruit and vegetable.
Features:
Low-speed juicing system, 80 RPM rotation speed

Exclusive 'Dual Stage' masticating extraction

5 Adjustable settings for maximum juice output
Pros:
It is compact and fits anywhere
It is very stylish
It is simple to operate
It is easy to clean
It is long-lasting
It comes with six nozzles and two juicing screens
It has masticating style juicer system
Cons:
It may consume more power
GLEN Kitchen GL 4018 Cold Press Slow Juicer, BPA-Free Material – Powerful Motor – 250 W, Eco – Friendly – Easy to clean 220 Juicer  (Multicolor, 1 Jar)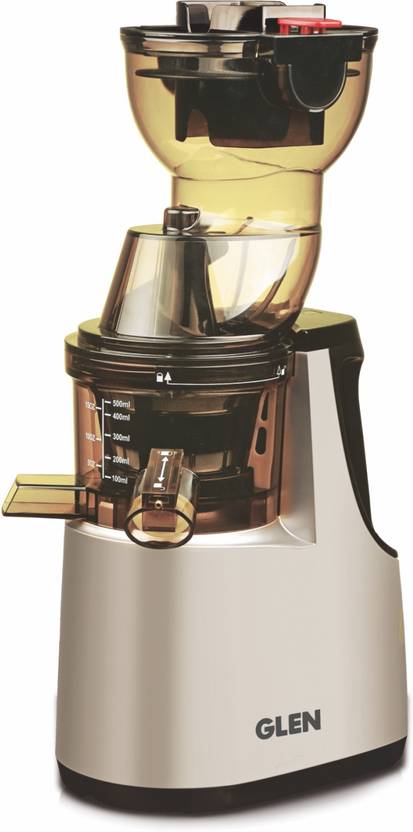 Glen has entered the market in a juicer range which has a really good technology and necessary nozzles. It does not replenish the nutrients rather retains the vitamins and removes juice from the fruits and vegetables without any hassle.
Features:
Sales Package-Slow Juicer The Original

Material-BPA-Free material

Juicer Type-Cold Press Slow Juicer

Weight-6.5
Pros:
It does not separate water and pulp
It is reasonably priced
It is simple to use
It is durable
It is easy to clean
It has 2meshes available for different food
It has eco-friendly cups which are made of Tristan
It is a cold pressed juicer
It has a BPA free material
Cons:
The chord used might be short if the power is far

Kuvings Silent Juicer Special Edition With Detachable Smart Cap
The Kuving silent juicer has all the necessary features which are required for having a fresh juice. It is a low-speed juicer which means it cuts the vegetables and fruits thoroughly and extracts juices without any pulp and water separation.
Features:
Low speed masticating technology – Minimizes oxidation and preserves healthy nutrients

Quiet operation – Motor operates quietly at 80 rpm and minimizes the noise level (40-50 dB)

BPA free components – Juicing bowl and juice cup are made with Eastman Triton

Two-step safety start system – Ensures proper assembly and safe operation
Pros:
Ensures durability
It is easy to use
It is easy to maintain
It is compact in size and does not take much space
It is stylish looking
It is affordably priced
It has low speed masticating technology
The bowls are Eastman Triton and BPA free
Cons:
NOVIS 6511.33.03 The Vitamin Twister 4-in-1 Juicer, Cherry Red
Let your family switch to healthy food and opt for this juicer to make all you smoothies and juices. It not only makes a perfect smoothie but also milkshakes, loved by children. It is really sleek and stylish it gives a pop of color in your mundane kitchen. It is very handy and has multifunctional uses.
Features:
MULTIFUNCTION 4-In-1 Juicer. Juicing, Pureeing, Citrus Press, and Vitatec offers max. extraction from fruits and vegetables. Yields 20% MORE JUICE

CITROMAX Engages the citrus press to yield maximum extraction of juice with pulp from oranges, limes, lemons, grapefruit with no effort. (Patented)

VITATEC Produces nutrient rich, pulp-free juice with a smooth consistency. This function is unique to the Vita Juicer. (Patented)

AUTO SPEED Single operating switch (on/off). Intelligent sensor regulates power and reacts automatically to different pulp consistencies

DROPHOLD Easy to operate spout prevents the flow of juice or drips from leaking out. DC MOTOR. QUIET OPERATION. LOW NOISE VOLUME. EASY CLEANING
Pros:
It has multifunctional use
It is easy to operate
It is easy to clean
It is compact in size
It gives pulp free juice
It has auto speed
It is affordable
It retains the nutrients
It is easy to operate and does not drip or spill from the jar
Cons:
Onyx Black: KitchenAid KVJ0333OB Easy Clean Juicer, Onyx Black
It is a really good juicer that gives you thick consistency shakes also pulp free juices it might help you to finally opt for the healthy lifestyle you were thinking to go. It is really helpful and is hassle free. The juicer does not even take a lot of space.
Features:
Easy to clean ceramic disc

3-In-1 adjustable pulp screen

Extra wide feed chute

Multiple speed settings (low/high)

Includes 3-in-1 adjustable pulp screen, ceramic disc, BPA-free juice pitcher with foam control lid, pulp container, cleaning brush; 1-year warranty
Pros:
It is durable
Compact in size
It is easy to use
It does not take much space
It has 3in1 adjustable pulp screen
It has wide chute
It has multiple speed settings
Cons:
It consumes more power
It is difficult to clean

Philips HR1832/00 400 W Juicer  (Ink Black, 1 Jar)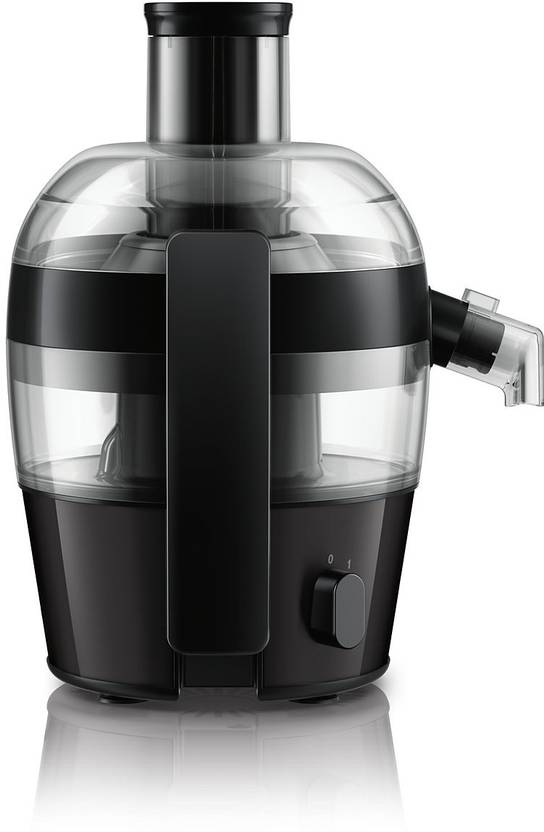 Philips has established its market in India and gained a lot of popularity because of its high-quality products. This juicer is no exception, it makes juices and thick shakes as well as it is easy to clean. This is must buy for your kitchen it might make your work in the kitchen a lot less and help you make a healthy choice.
Features:
Sales Package-Juicer, Manual

Power Required-220 – 240

Locking System-Yes

Material-Plastic (ABS)

Non-slip Feet-Yes

Juice Extractor Jar Capacity-0.5 L

Weight-3 kg

Other Features-PP Plastic Jug, Material Pulp Container, and Pusher: ABS, SAN, Integrated Cord Storage, One Optimized Speed, 55 mm Feeding Tube
Pros:
It is compact and does not take much space
It is simple to clean
It is uncomplicated to use
It has a locking system
It comes with a pusher and container also a feeding tube
It comes with an integrated tap
It comes along with juice jug
It also has quick polished sieve
It has easy to dispose of transparent pulp container
It has drip stop feature
It is dishwasher safe
Cons:
It does not remove seeds while juicing

Prestige Pcj7.0 500 W Juicer  (Black, 1 Jar)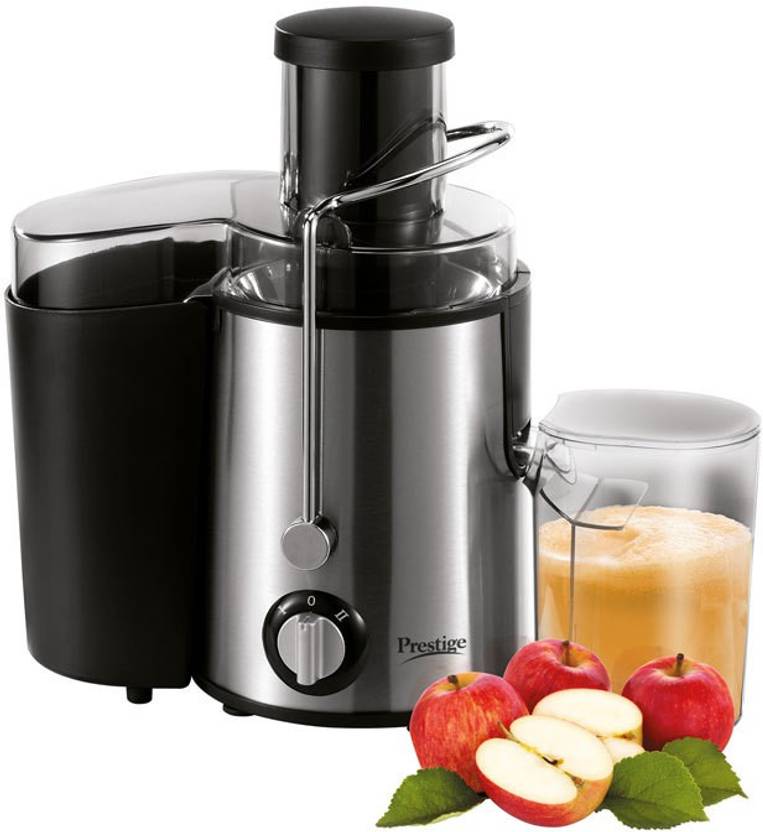 Prestige is the most trusted and renowned brand. It has the modern urbane design having a detachable chord which can be removed when the juicer is not operating.
Features:
The products have a safety lock mechanism and will not work unless locked properly. 

Large capacity and extra wide mouth

Advanced design sieve and anti-drip feature

Rotary switch, dual locking system for safety

Warranty: 1 year on product

Power: 500 watts

Sales Package-Juicer, Jar And Warranty Card

Locking System-Yes

Juicer Type-centrifugal juicer

Weight-500 g
Pros:
It has safety lock mechanism
It has an advanced design
It has dual locking system
It is from renowned brand
It does not take up much space
It comes along with juicer container, jar and warranty card
It has anti drip feature
It is simple to maintain and clean
It has anti-skid vacuum feet
It has super sharp blades
It has detachable chord feature
It is least expensive
Cons:
Complicated to use
Durability is a question
Conclusion
Vitamix T&G In Counter Blender 1200 W Juicer Mixer Grinder  (Grey, 1 Jar) is a highly recommended juicer. It has all the modern features which give you pulp free juices. It makes juices quickly and with less hassle. This might actually help you in getting on with your resolution of healthy eating by making you green smoothie and other healthy juices. These juicers are all preferred by the people and are from a highly renowned brand you can invest in any one of it according to your choice and requirement. This might help you to increase intake of fruits which has fibers and all the necessary enzymes which are present in fruits. You cannot just have fruit juices but some juicers will even help you make vegetable juices.