9 Best Sports Bike Helmets
If this year you have finally decided to change your helmet or just received your two-wheeler license (congratulations!) this must might interest you. We have curated the best sports bike helmets.
Initially, helmets are made of bramble and straw bound. Gradually, the design, usage of helmets for various sports, and other necessary things have changed. Therefore, innovative helmet designs and materials are being used.
Currently, different types of helmets are used for different purposes.
Motorcycle helmets are changed accordingly to satisfy customer needs. Many riders use dirt helmets if they want to travel both on-road and off-road.
Racing created fun and craze among riders, and hence many brands come with emphasized sportbike helmets for rider safety. They are manufactured as per different standards.
A sportbike helmet must resist dust, dirt, flying object, and varying climatic conditions. Also, the outer shell of the helmet must be harder for safety and to avoid injuries.
In this article, we have discussed types of helmets, how to measure your sportbike helmet size, how to clean your helmet,  different certification standards, buying guide, our best picks, and a few FAQs.
Top 9 Sports Bike Helmets in India
| Product (Best Brands) | Best Price |
| --- | --- |
| | |
| | |
| | |
| | |
| | |
| | |
| | |
| | |
| | |
How do you measure your sportbike helmet size?
To measure any helmet size for a perfect fit, follow simple steps before choosing the helmet.
Step-1: Take a measuring tape. Wrap it around the circumference of your head.
Step-2: Ensure that the tape is wrapped around the largest circumference instead of the smallest one
Step-3: Note the point and repeat the steps for twice to get an accurate size
Step-4: Now, match your regular size with the size on the chart. Remember that every brand size varies.
Helmet certifications
Generally, when we look forward to buying a helmet, we look for its certification standards. ISI-Indian Standard Institute is the Indian standard.
A few products must be sold in India. An authorized product has a seven-digit license number, while a fake ISI mark does not mandatorily seven-digit license number.
From January 2019, new regulations for helmets are introduced. Now, the helmet must also match the international standards like DOT, ECE, and Snell.
DOT and Snell are the standards set by the US. DOT- Federal government's Department of Transportation and Snell Memorial Foundation. Snell is the most robust safety standard in the world.
Usually, Snell is used for bicycling helmets, racing helmets, motorcycle helmets, for a non-profit organization and industrial gain.
Snell certified helmets have the top quality among the helmets. DOT is the minimum standard in the US.
It is commonly known as Federal Motor Vehicle Safety Standard 218 (FMVSS218). DOT and Snell both used different techniques and different methods to analyze.
ECE- Economic Commission of Europe is a European standard. They have few guidelines to be followed before certifying the helmet. ECE22.02 is the first certification. After that, the number along with 22 indicates different rating versions.
Also, many helmets come with a number after the letter 'E' that means the country. E1 – Germany, E2-France, E3-Italy, E4-Netherlands, E6-Belgium, E11- Great Britain.
Helmet Cleaning
Cleaning a sportbike helmet must be done frequently, and it requires more maintenance than street bike helmets. Your sportbike helmet must be cleaned after every use.
The outer shell of the helmet must be washed with a mild soap. The inner padding that can be removed must be washed and dried in sunlight but not under direct sun.
Remove all the parts from the helmet that are removable like the visor, cheek pads, etc. Wash them, allow it to dry and assemble them.
If the inner helmet padding cannot be removed, then wash the helmet and use a dry cloth to remove excess water from the paddings. Allow it to dry. Use a dry cloth to wipe the helmet completely.
Types of Sports Bike Helmets
Sportbike Helmet
Sportbike helmets provide complete and excellent protection. They are designed in such a way that a visor and fewer vents are included.
These helmets can be used daily and resist to different climatic conditions.
Also, good padding for comfort and hard outer shell to resist shock impact is provided. These helmets will be heavier than cycling helmets.
Moreover, sportbike helmets can be used off-road.
Motorbike helmets / Street helmets
We have different types of street helmets; they include a full-face helmet, open-face helmet, half-helmet, and modular-helmets. These helmets are designed to be used only on-road.
They provide lesser ventilation when compared to cycling helmets.
Mountain bike helmets
The mountain bike helmets may look similar to street helmets or on-road helmets. They offer maximum protection and have a good build-up quality. Also, they are designed in such a way that they can resist jumping actions and jarring.
Moreover, the mountain bike helmets come with thicker chinstraps to handle proper bouncing.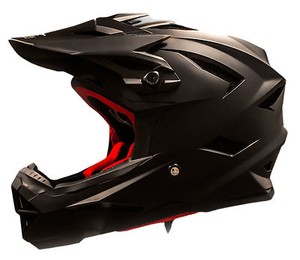 Cycling Helmets
Cycling helmets come with a thinner chin strap, foam padding, and plastic shell. Larger vents are included for the helmet to have proper aeration.
Also, cycling helmets weigh less for comfortable riding and easy use. Moreover, they are designed differently from on-road helmets.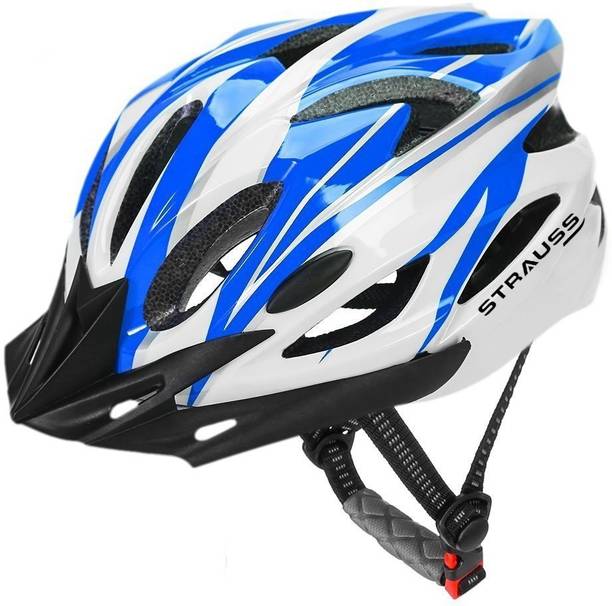 Multi-sport Helmets
Multi-sport helmets are designed differently from other helmets. The outer shell of the helmet will be harder. Also, they will be heavier when compared to cycling helmets and have less impact protection.
The multi-sport helmets can be used for skating, biking, skiing. Moreover, the multi-sport helmets do not come with a visor or shield protection.
Buying Guide
Type of bike you ride
It is important to choose a helmet type based on the type of bike you ride. There are different types of sports helmets based on your bike type, including mountain bike helmet, motorbike helmet, cycling helmet, etc.
Weight
The helmet should not be too heavy. A light-weight helmet will transfer less energy on impact. It also makes the ride more comfortable and enjoyable so that you can wear it for a longer period.
To pick an accurate helmet as per your requirement, one must mandatorily check the buying guide.
Outer shell material
The outer shell material of your helmet must be hard than a regular helmet. Materials like high-quality polycarbonate ABS shell or Carbon must be used.
The outer shell helps us from brain injuries, blood clots in the brain, etc. when a rider meets an accident. Surveys have shown that many people helmets crashed in an accident yet safeguarded their lives.
Visor
A visor is a personal interest when coming to a sportbike helmet. Few riders choose helmets without visor for greater visibility, and few riders ensure that a visor is a must.
Visor saves our face from dust, debris, and other falling objects. People who prefer visor-less sportbike helmet look for full angle visibility and hence avoid it.
However, many helmets are made available in the market with a wide-angle of visibility visor.
Internal Padding
Internal Padding must provide comfort while wearing, breathable, and removable for washing it. Usually, to provide more comfort and have a higher resistance to shock impact, the padding comes with multi-density EPS.
Breathable padding avoids sweating and absorbs sweat keeping the rider cool.
Fit and comfort
It is the most common yet essential feature to be considered before buying. A helmet that does not fit properly may cause headaches, rashes, or irritation if a helmet that fits properly and is not comfortable may not help the rider to concentrate.
Hence, a helmet with an excellent fit and comfort is a must. A helmet with perfect fit and comfort is possible only when it's size is accurate.
Chinstrap
Chinstrap is the mandatory feature to be considered while buying the helmet. Chinstrap allows your helmet to be in a position. Also, a locked helmet does not fall from your head in mishaps.
There are different locking mechanisms; a few helmets come with a quick-release mechanism while a few have a buckle locking mechanism. However, every mechanism is safe and secures your helmet in a place.
Aerodynamics
Aerodynamics helmet helps to reduce drag pressure. Also, the design of the aerodynamic helmet varies slightly from the regular helmets.
Additional features
Many helmets provide additional features apart from vents, padding. Features like side pocket speakers, Bluetooth headset option, helmet camera, lock, are the quite common one.
If you have chosen the helmet with such features, ensure that it must not disturb you while driving else; your concentration may get disturbed.
Certification
Any helmet without certification is a waste tool. It means no security or safety while riding. A certified helmet undergoes many tests in the laboratories. Also, it is safe to use and secure one.
As we have seen, there are few helmet certified standards. Choose a helmet that has at least anyone safety standard if not ISI.
1. Steelbird SB-42 Airbone Motocross Helmet
 – Best Full Face Helmet
This is a full-face helmet that comes with a quick-release visor mechanism kit. The Italian design of the helmet is enhanced by the graphics and peak cap. 
It has a proper ventilation system where the air gets recycled so that the rider can breathe in the fresh air. The helmet also comes with a high impact resistant ABS shell, and the interior padding ensures extra comfort.
Main Features
Type: Motocross Full-face helmet.
Size: Large (600 mm).
Weight of the helmet: 948 grams.
It has a hygienic interior with breathable padding.
Has a micro-metric buckle that meets European safety standards.
The visor is coated with an anti-scratch poly-carbonate coating.
Available in both matte and glossy finish.
It contains screw-free lower ratchets.
The air booster system in the upper part of the helmet provides ventilation.
The top area and two rear extractors recycle the air inside the helmet.
PROS (What we liked)
The neck protector ensures extra comfort.
Absorbs high impact because of its ABS material shell.
It provides value for money
It has designer graphics and comes with a peak cap.
CONS (What we didn't like)
Size is too large, hence it does not ensure a good fit.
2. ILM Dirt Bike Motorcycle Helmet
 – Visor less
ILM started in the year 2015. They provide high-quality and stylish products. The company has strict quality management checks regarding materials used and products manufactured.
The list of the category of products includes gloves, helmets, accessories,  boots, bags and much more.
ILM helmet comes in different colors and different sizes. The DOT approved helmet is 2.04 kg, and the weight is less compared to the HJC sportbike helmet.
The helmet has an elongated chin bar and an elongated peak on the head portion. It has good padding for extra comfort.
Main Features
The design of the ILM Adult ATV helmet is different from other helmets
It is DOT certified product
Vents at chin bar are provided for keeping the rider cool and vents at the back help to remove the stale air from the helmet
Also, an elongated peak at the top front of the helmet minimizes the dust and flying objects and cut-short the sun rays
PROS (What we liked)
Easy and convenient to use the helmet
Easily accessible strap
Quality of the helmet is good
Breathable padding is provided to remove the sweat and provide the rider comfort
CONS (What we didn't like)
Size of the helmet differs compared to the size chart
No visor
3. Off-Road D/V Sketch Helmet
The helmet is durable, stylish, elegant, and sturdy. The helmet ensures a safe and comfortable ride. It can be worn on long as well as short rides.
The helmet is specially designed for off-road biking. It has complimentary features that make bike riding a joyous experience.
Main Features
The helmet has built-in goggles.
It has dual-port exhaust vents for airflow.
Two glass protection – one near the eye and one completely covering the front area of the helmet.
It is available in four sizes – XS, S, M, and L.
The product comes in a dimension of
33.5 x 26 x 26 cm
The helmet weighs 1.2 kgs.
It is ISI approved.
PROS (What we liked)
The interiors of the helmet can be detached and washed.
The helmet comes with traction plates on the goggle's sides that keep the goggle on place.
The helmet's interiors are properly ventilated, which helps prevent sweat accumulation that may affect riding.
The glass shade prevents direct sun rays.
It has enough space inside for people who wear specs.
It is a designer sports gear.
CONS (What we didn't like)
No negative point was found.
4. Steelbird SBA-2 Matt Full Face Helmet
Steelbird helmet is a made in India product. It is a sturdy and designer helmet for bikers. The helmet has an advanced ventilation system for smooth airflow for an undisturbed bike riding experience.
Main Features
The interior of the helmet is detachable and replaceable.
The helmet is ISI approved.
It is available in four sizes small, medium, large, and extra-large.
The outer body of the helmet is made from acrylonitrile butadiene styrene
The helmet is made from high impact ABS material.
It has a multi-layer EPS thermocol.
The buckle of the helmet has micrometric fastening and is in line with European standards.
It has a chin guard.
The product comes with a scratch-resistant visor.
The helmet has an odorless mouth guard.
PROS (What we liked)
The helmet has an advanced ventilation system for an endless bike riding experience without sweating the head.
The product is value for money as it provides complete safety to the bike rider.
The color of the helmet matches 85% of the Yamaha bike.
It comes with two visors – one for day and one for riding at night.
CONS (What we didn't like)
No negative point was found.
5. Vega Off-Road Motorsports Helmet
 – Scratch Proof Visor
Vega Auto Accessories Private Limited incorporated in 1982. It has a network of over 400 dealers and established in different countries around the world.
Their products maintain high-quality and have safety standards of DOT, ISI, ECE. Also, their wide range of products includes different kinds of helmets like the full-face helmet, open-face helmet, half-helmet, etc. and different accessories like visors, Bluetooth glasses, sidebox, etc.
ISI approved vega off-road full-face helmet weighs only 1.1kg.  The full-face helmet provides complete protection and has an attractive peak design.
The helmet comes with a scratch-proof visor, and also vents are included for proper aeration and to keep the rider cool. Also, the washable inner lining is provided.
Main Features
The helmet outer shell is made from ABS material
While the interior is washable
Vents are provided on the chin bar and back of the helmet. Fresh air passes through the front vents, and stale air passes out through the back vents of the helmet
The visor of the helmet protects from UV rays
The helmet has a peak design which helps in minimizing the dust particles, debris and flying objects
ISI approved helmet is light in weight
PROS (What we liked)
Detachable inner goggles
It is comfortable to use the helmet
It can be used easily in every climatic condition
CONS (What we didn't like)
Wide-angle view from the visor can be improved
6. ILM Motorcycle Street Bike Helmet
 – Additional face shield
ILM was born in 2015. They provide quality, creative, and stylish products. A list of the category of their products includes helmets, gloves, accessories. 
All their products undergo a quality check. Their products are available throughout the world.
The DOT-certified helmet comes with two face shields and a scarf for winter use. The scarf can be attached to the helmet with a zipper.
It has a harder outer shell and comfortable inner padding. Vents are provided to the helmet for proper airflow.
Main Features
The product comes with two face shields and a scarf
The outer shell of the helmet is made of durable ABS
While the inner padding is removable
It comes with a quick-release strap for convenient use
Also, it is DOT certified product
For proper aeration, vents are provided at the chin bar and top of helmets
PROS (What we liked)
Good quality quick release strap
High-quality visors
Comfort Padding
CONS (What we didn't like)
Quality of the zipper for neck attachment can be improved
7. AGV Unisex Motorcycle Helmet
 – Aerodynamic shape
AGV was founded in 1947 and is an Italian manufacturer company. Their products have Italian design and innovation.
All their products, as well as raw materials, are tested well before using. Their main aim is to provide innovative helmets with high-quality. The list of the category of their products includes open-face, flip-up, and full-face.
The helmet has an aerodynamic shape and an integrated ventilation system. It comes with a washable interior and scratch-resistant face shield.
The DOT approved product comes with a double D-ring chin strap. Also, the weight of the product is 2.43 kg, and the size is large.
Main Features
The product includes a helmet, visor, and a bag
It has high resistance thermoplastic resin outer shell
While the inner paddings can be removed
The clear visibility face shield is scratch-resistant, fog-resistant and protects from UV rays
To secure the helmet in a place, it comes with double D-ring chin strap
The DOT approved helmet comes with an integrated ventilation system and optimized wind tunnel
In total seven vents are provided three at the forehead, two on the chin guard and two at the rear end
PROS (What we liked)
No noise or little wind noise
It has a strong build-up quality
Also, it is very comfortable and easy to use
Check pads are sanitized and made from Dry-Lex fabrics
CONS (What we didn't like)
No negative points observed so far.
8. Steelbird Helmet
 – Lightweight
Steelbird Hi-Tech India Private Limited founded in 1964. SBHT's major brand includes Steelbird, Ares, Steelbird Air, and Ignite. They deliver innovative products.
Also, SBHT provides customized helmets with anti-fog visors, anti-scratch, and anti-glare properties. Moreover, SBHT export across 50 nations.
The Italian design Steelbird helmet comes with a clear visor. ISI approved helmet comes with vents at the front and back of the helmet. Also, the graphics of the helmet is simple.
Main Features
ISI certified helmet weighs less than 950grams
The outer shell is made of high impact ABS shell
It is designed uniquely and follows Italian design
For proper aeration vents at the chin bar and backside of the helmet are provided
Knobs are provided at the end of the visor
PROS (What we liked)
Graphics on the helmet are simple and basic
The product is available in different sizes and different colors
Also, it has a good ventilation system
CONS (What we didn't like)
Quality of the padding can be improved
The visor is not good for night driving
9. Bell Qualifier Street Helmet
 – Five-year warranty
Bell born in 1950 and established in 1954.  Bell provides its products to match the high speed and fast ride. It provides a wide range of motorcycle helmets, bike helmets, and accessories.
Also, their products meet the best quality. Bell inspires the next generation bikers, riders with their unique products.
Bell provides a five-year warranty to the product, and the helmet weighs around 1.5 kg. The helmet comes with attractive graphics. It has integrated speaker pockets and washable interiors.
Unlike other helmets, the visor is not plain and transparent. It is anti-scratch resistant and protects from UV rays.
Main Features
It is a five-year warranty product with contoured cheek pads
It comes with a chin strap that is padded and has D-ring closure
Also, integrated speaker pockets are included
The outer shell of the helmet is polycarbonate, and inner padding is washable/ removable and moisture wicking
The visor is anti-scratch, anti-fog and UV protected
Also, the helmet includes adjustable ventilation
Moreover, it accommodates Bluetooth headsets
PROS (What we liked)
It provides perfect fitting and comfort
Free from dust, debris and other flying objects
The product is available in three different colors and two different sizes
CONS (What we didn't like)
Frequently Asked Questions
1. What is the best brand for a motorcycle helmet?
The best motorcycle brands are HJC, Bell, Steelbird, Vega, ARAI, Shoei, etc.
2. What is a dual sports helmet?
A dual sports helmet is a mix of an off-road and a full-face helmet. Like an off-road helmet, it comes with a lower chin bar and a large visor.
It also comes with extra padding for comfort, similar to a full-face helmet. It is suitable for riders who spend most of their time on or off the road.
3. Are carbon fiber helmets better?
Carbon fiber helmets are better in the sense that they offer more resistance against cracks and scratches, making them more durable options to consider going for. Moreover, these helmets are also light-weight, ensuring comfort to the rider during long rides.
4. How do you pick a sportbike helmet?
To pick a sportbike helmet, ensure that the helmet you are looking for is certified as per the standards. It fits you properly; that is the size you measured must match the size chart provided by that particular brand.
It must have a harder outer shell and right padding for comfort and resist shock impact. Also, the rider must feel cool, the helmet must have proper aeration. Moreover, a sportbike helmet must provide complete protection.
5. How do I know if my sportbike helmet is too small?
Initially, every helmet feels tight, and you need a weak or two to get adjusted to it. The helmet you are wearing must not leave a rash or red mark on the forehead or cause headache to you.
If you feel your cheek pads are tight or you end up with teeth tightening, then the size of the helmet you are wearing is size than required to your head.
6. Does sportbike helmets expire?
Yes, every helmet expires after five years. Some helmets expire as per the brand specifications.
Also, if the helmet has ever met with shock impact, then the chance of helmet getting expired is soon. Hence, it is better to inspect your helmet thoroughly when it has undergone a mishap.
Conclusion
If you are reading this part of the article, then you are looking for a sportbike helmet to buy. Were you confused to buy the helmet? Hope our article helped you in knowing better about sportbike helmets.
We have picked a few best picks from the different sportbike helmets. Steelbird Airbone Motocross Helmet is the best pick.
If you want scratch-proof visor, then go for Vega Off-road helmet. Otherwise, ILM full-face helmet is best if you are looking for an additional face shield.
To select any of the helmets or want to go for buying options then click on the link provided.