Best Sleeping pads For Comfortable Sleep During Camping
Sleeping mats are an essential option that you realize when you do not have one. When you are off camping or hiking, having a sleeping mat is a must. It is somewhat uncomfortable to get cold and walk with a stiff back and bruised hips. Sleeping mats provide warmth, are comfortable and lightweight, easy to pack, and reliable, which makes it an essential item.
Along with sleeping bags, sleeping mats are required during cold weather. As the ground drains heat faster than air and you need something to insulate yourself from below.  If there will be an only a sleeping bag, the layers of sleeping bag underneath your body gets compressed by your weight, and you'll almost be lying on the bare ground. Sleeping mat creates some airspace between you and the ground.
The warm summer days will soon get replaced by cold winters, and it is one of the best seasons to go camping. It is very important to sleep comfortably during a cold night, cuddled in a cozy sleeping pad which keeps you warm.
So to be able to enjoy the camping experience, it is advised to look for the right sleeping pad that will help you sleep better at night at the end of your day.
TYPES OF SLEEPING MATS
The following are the types of sleeping mats available:-
Closed Cell Foam Mats
Closed-cell foam mats are an outdoor industry super classic product which is best for hikers and also adventurous mountaineers. These type of sleeping mats are incredibly durable and also an affordable option. It is crampon-proof and lightweight. These features make this one of the most common sleeping mats for most people.
They have their disadvantages like they do not provide great comfort to the person, cannot be folded in a small place, and have low insulation. These are still pretty hard to beat as they have numerous applications and is one of the best options out there.
Insulated Inflatable Sleeping Mats
Insulated inflatable sleeping mats are the best sleeping mats amongst all. They are warm and are also lightweight and exceptionally comfortable, and you can easily pack it up. The only thing that refrains people from buying them is their relatively high price, and this makes it a concern among people. It has a risk of puncture. This is the best sleeping mats in the cold weather for whom comfort is the key.
Uninsulated Inflatable Mats
Uninsulated inflatable mats make use of the air mattress technology, which is why they are stunningly light in weight and very comfortable. But the fact is that they lack real insulation and also are quite vulnerable to being punctured. These sleeping mats are best for occasions where you are not planning on going for adventurous races or any mountain marathons. These are not the most recommended sleeping mats, but if you are looking forward to saving weight, then this is the best to go for.
Self-Inflating Mats 
Self-inflating mats are another type in the industry. They make use of foam which pulls air into them – termed as self-inflating. Self Inflating sleeping mats are more comfortable than the closed-cell foam mats. They are typically warmer and just weigh a bit more. The fact is, self-inflating mats are durable and very easy to carry and use. But the only problem is that it can get punctured and are a bit less warm and provides less comfort than the insulated mats although self-inflating mat is an all-rounder option for almost every camper but does not stand out to be the best option out there.
Air Mats 
Air Mats are the most comfortable sleeping mat that is the lightest of all. It can be packed easily and is made up of durable materials, which makes it a compatible option. They are light in weight, but when inflated, they are thick and comfortable and just perfect for uneven surfaces. They have reflective features and baffles to aid thermal resistance in winters.
BUYING GUIDE TO SLEEPING MATS
The one function of the sleeping mat is to resist the transfer of heat away from your body and keep you warm. If you are planning on going for a camp especially in winters, then you should make sure that you carry the sleeping mat which provides warmth with reflective features to not let heat escape to the ground from body.
You can also go for a double sleeping mat if you are planning on choosing a closed-cell foam sleeping mat so that you can get more warmth out of it. If you are going for a self-inflating sleeping mat or an air mat, then you can add a closed-cell mat to make a difference.
Now R-Value of a product measures the resistance of the product against heat flow through the material. The higher the value of R is, the better resistance the product shall be having and thus will be providing more warmth to the person. There is no exact test to perform to find the R-Value; most products have this mentioned when you buy them. The brands perform their testing to provide a range for the value, which is why you should not compare the R-Value of one brand with another. It is not a reliable option.
This is one of the most common complaints by the users after they buy the sleeping mats. This might be a problem for light sleeper throughout the night who keep tossing and turning. Some sleeping pads make less noise than others. So makes sure you look into this before you consider going for one.
It is an effective option if you carry a highly packable sleeping pad. If you go for a bulky sleeping pad, then it might be an extra burden on your trip, and if you are carrying a sleeping pad that is not easily packable, then it will make prone to punctures and expose to the outside weather. It is highly recommended to go for a highly packable sleeping pad that you can easily carry in your backpack.
TOP 5 SLEEPING MATS
Therm-a-Rest Backpacking Air Mattress
Now the Therm-a-Rest NeoAir XLite is an all-rounder sleeping mat out there in the market. It has the best combination of comfort, warmth, weight, and support. It is very light in weight, which makes it the best option for backpacking. It is an all-time favorite for all the backpackers. It is available at a premium range which is worth it.
It is an ideal mat for camping, mountaineering, and also backpacking. It offers maximum warmth to the user as it is designed with an additional padder layer for insulation. The ThermaCapture technology traps the heat within the mat, which prevents heat loss while you are asleep. It is easy to set up and has an innovative design which eliminates the bulkiness.
Features:
It is perfect for all occasions – backpacking, mountaineering and camping
It has an inflatable air mattress
It uses Reflective ThermaCapture technology that traps the heat
The TriangularCore Matrix has a construction that provides stability and minimizes the loss of heat
The R-Value is 3.2
The mattress is 2.5-inch thick which can be inflated in two minutes by just blowing into the valve
The dimensions of the products are (W x H x D) – 6 x 9 x 12 inches
The tapered design reduces the weight and provides warmth
The no-slip fabric used ensures that the sleeping mat would stay put during the whole night
Pros:
The thickness of the mattress is pretty good enough to provide the required warmth
The sleeping mat is properly insulated which makes it the best option in the cold season

Ultralight (16 ounces) inflatable air mattress for backpacking and mountaineering offers maximum warmth for the weight, ideal for 3-season alpine adventures

Reflective ThermaCapture technology traps radiant heat while Triangular Core Matrix baffled construction provides stability and minimizes heat loss

The 2.5-inch thick mattress inflates in less than two minutes by blowing into the valve and packs to the size of a one-liter water bottle
Cons:
It creaks a little bit when you are laying on it.
It takes more than two minutes to inflate the mat as it is not a closed foam cell mat.
Big Agnes Insulated AXL
Big Agnes Insulated AXL Air Pad is a brand new sleeping mat out there. It is one of the lightest sleeping mats which has been ever created. It is thick, comfortable, and can be packed up easily and is slightly quieter.
The valve system is easy to inflate it, and due to its wider baffles, it keeps the user-centered while sleeping throughout the night. The only place that it could improve on is warmth, and it does not come with an R-Value, so it is pretty hard to decide how well does it insulate from the ground. Overall, it is packed with a lot of good features to be the best backpacking mat on the market.
Features:
It is an ultralight, compact, inflatable sleeping pad
It is quiet and also supportive
The sleeping pad comes with a built-in reflective technology which provides warmth to the user with the help of PrimaLoft insulation
The growth of microorganisms is prevented with the Antimicrobial treatment used in the sleeping pad
The internal construction reduces the weight of the product and provides maximum stability with comfort
The Aviation grade TPU lamination technology ensures the durability of the sleeping pad
It has a two-way valve for inflation
Pros:
The mattress is comfortable and thick
The sleeping mat has a good valve for inflation
It has a small pack size
The side baffles are slightly larger to keep the person-centered
The sleeping mat is less noisy

Ultralight, compact, inflatable sleeping pad.

Built-in advanced heat reflective technology works in concert with warm PrimaLoft insulation

Antimicrobial treatment inside the pad prevents microorganism growth

Repair kit included; Ultralight proprietary patterned random rip-stop nylon; Nylon has unique weave made with a high tenacity yarn and high filament count to increase fabric tear strength by 25% and decrease material weight
Cons:
It is relatively expensive
It requires a great deal of lung power to inflate the sleeping mat
The materials are thin which requires extra care
Klymit Static V Lightweight Sleeping Pad
The Klymit Static V Lightweight Sleeping Pad is comfortable with a Body Mapping Technology that has a unique V-shaped design which provides superior support to the user and comfort no matter what your position is while sleeping.
It has side rails that provide a secure and comfortable centered position so that it can inhibit the air movement while you are tossing and turning in your sleep. It has a patch kit included in it.
The Anti Microbial laminate eliminates the growth of the microorganisms, which includes fungus and bacteria, which can lead to any damage and bad odor.
The deep weld pattern on the sleeping mat creates an expansion zone which allows the bag to fully loft beneath you so that you get improved thermal comfort while sleeping. The twist-pull valve allows simple and secure inflation in just ten breaths and also opens wide for easy and complete deflation. It uses a rugged material which is a 75 D Polyester Material that has a great resistance against tear and puncture and abrasion resistance for minimal weight. It is super light in design, and the 75D polyester material is strongly durable.
Features:
The comfortable, lightweight design and the V-shaped design supports better sleep at night
The v-design helps in limiting the air movement and prevents heat loss for better comfort
It is very easy to use as it has quick inflation and deflation
The item weighs 18.6 ounces
The dimensions of the product are (W X H X D) – 2.5 x 23 x 72 inches
The fabric used is 75D Polyester
It comes with a lifetime warranty
R-Value is 1.3
Pros:
It is light in weight
It is durable
It is comfortable to sleep in
The material has the appropriate thickness
The outer fabric is durable

Affordable, lightweight camping pad with V-chamber design to limit air movement and heat loss for better support and comfort

Push valve allows for quick inflation and deflation
Cons:
The length of the sleeping mat is short
It has a fussy valve
Not wide enough for a heavy person.
NEMO Tensor Insulated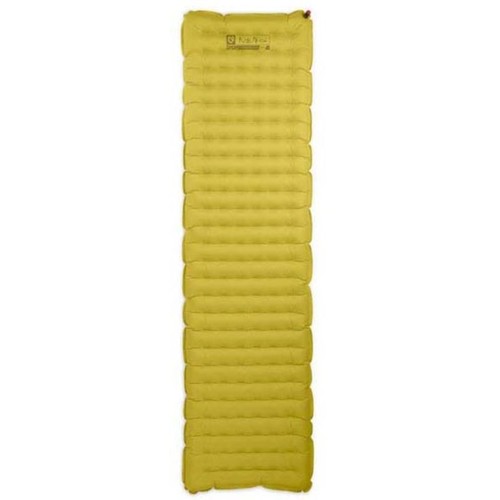 The NEMO Tensor Insulated sleeping pad is very comfortable and lightweight. It is made up of synthetic fabric, which is thin and hence needs to be taken care of. It is a top-quality pad which has a built-in baffle design that prevents the edge from collapsing.
It provides adequate warmth to the user and is a small packed size, which makes it perfect for backpacking and hiking. You have to take care to prevent punctures. The product does not have an R-Value but proves to provide a suitable temperature for the cold season. You can pair this pad with an extra foam pad for extra warmth.
This pad has a twist valve with an additional lock mechanism which will take time to get acquainted with. The inflation and deflation are pretty easy and simple to use. It is just perfect for three-season backpacking and durable. It is available at a great price packed with several features. This tops the charts as it has the perfect features for your getaway weekend.
Features:
This is an ideal sleeping pad for backpacking, hiking and also camping
The undulating lateral baffles provide the user with the best comfortable pad for all types of sleeping positions
The low stretch polyester fabric eliminates the elasticity and also prevents the pressure points which is caused by the uneven weight distribution
It is very easy to inflate to a height of 3-inches
The pad has a micro-adjustable valve that puts you in full control of the pad's firmness
It is available in a variety of sizes
The sleeping pad has a durable material with a compression strap for portability and also for storage
The sleeping pad has a metalized firm which provides effective insulation which makes it weightless
The Thermal Mirror Technology used reflects the heat from the body
It has a repair kit included which adds to the longevity
Pros:
The sleeping pad is super-packable
It is compact
The edges are stable and comfortable
It has low elasticity
The pad provides firmness while sleeping

Ideal for backpacking or thru-hiking, as well as car camping and travel

Quickly and easily inflates to a uniform 3-inch height (8 cm); A micro-adjust valve puts you in control of your pad's firmness; Available in a range of sizes
Cons:
It is a bit narrow which is uncomfortable for some people
It has no R-Value
Not durable like other sleeping pads
Big Agnes Q-Core SLX Sleeping Pad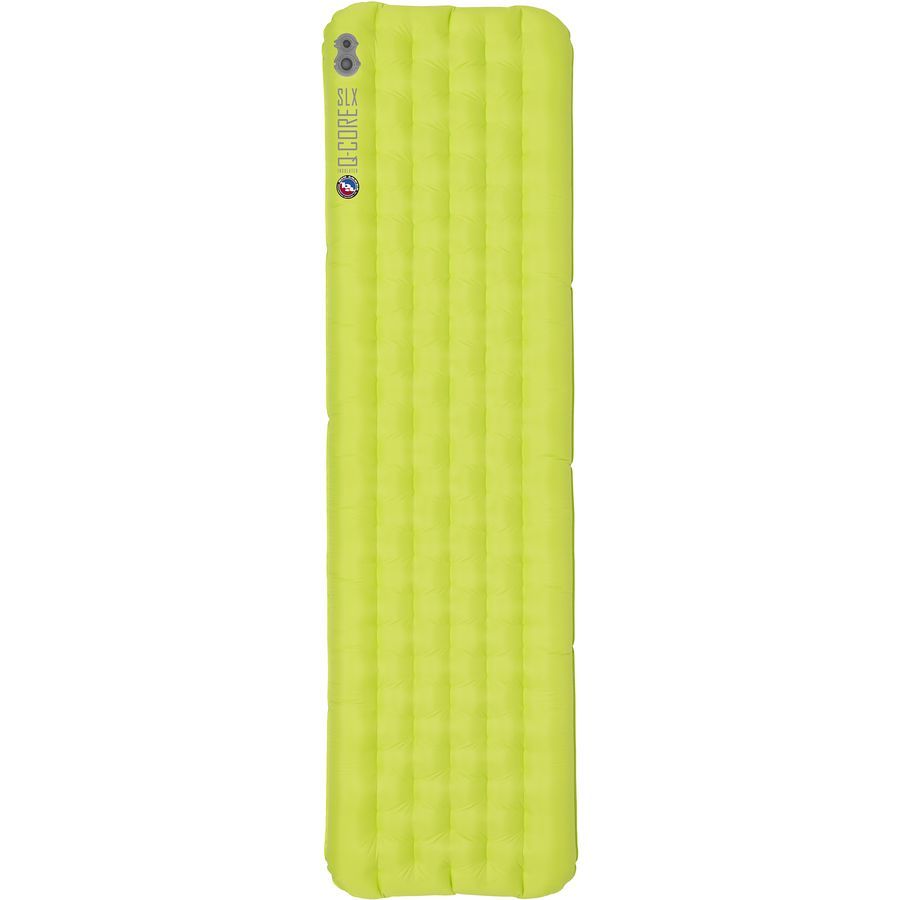 The Big Agnes Q-Core SLX sleeping pad comes with insulated Q-core models which are packed with several features like lightweight, comfort, small packed design. It has an updated valve for easy inflation and deflation. It has ranked the charts with its excellent features making it perfect for backpacking and climbers.
As its best designed for three-seasons, it provides warmth in temperatures down to 15-degrees Fahrenheit. If you feel like it is not enough, then you can pack it with an extra foam pad. This sleeping pad is made more durable than its previous products. It is protected from tears and puncture and comes with a repair kit just in case.
The added advantage is the reduced weight with improved valves. This makes it a great option for you to carry around. It is just perfect for your next adventure as it is one of the highest performing pads.
Features:
It is best for three seasons backpacking
The sleeping pad is lightweight and compact in size
It comes with a repair kit
The sleeping pad has a quilt provided for extra cushioned comfort
The outer chambers are large which keeps you centered
It comes with the durable WRM high-loft synthetic insulation that provides warmth to the user
Nylon fabric sleeping pad ensures no tear and puncture and more durability
TPU Lamination Technology is used for longevity
Easy inflation and deflation comes with high volume valve
It has built-in advanced heat reflective technology to provide warmth in cold seasons
The antimicrobial treatment ensures the prevention of growth of microorganisms
Pros:
It is lightweight
It packs small in size
It is best for three seasons backpacking

Durable superlight nylon rip-stop fabric.

Aviation-grade TPU lamination technology for ultimate durability.

The high-volume valve allows for efficient and easy inflation and super-fast deflation. 

Built-in advanced heat reflective technology.

Antimicrobial treatment inside the pad prevents microorganism growth.

Minimalist I-Beam construction reduces weight and provides consistent stability and comfort.

Quilted top provides a cushioned, pillowy sleeping surface, as comfortable as your bed at home

.
Cons:
The lightweight material used is not durable enough
No pump to inflate
Slightly noisy
Conclusion
Now, you can check the sleeping mats that are listed here and choose what fits your requirement. We believe this article is helpful for you to choose the perfect sleeping mat for your next adventure. So before you hit the mountains on cold weather, make sure that you are all set to choose the right sleeping pad.
Look for higher R-Value pads which will keep you warm. Keep in mind to perfectly match your sleeping pad with your sleeping bag, and after that, you are all ready for a great night's sleep even in the coldest temperatures of your trip days.