Sleeping Bags
Sleeping Bags are available for both men and women and are used as beds while traveling outdoors, like when you go on long hikes or during camping.
They are usually lightweight and compact so that they can be carried easily in rucksacks or backpacks. The bags also have internal pouches and pockets so that you can keep things at hand while you are tucked in them cozily for a good sleep under a skyful of stars.
A sleeping bag is a very crucial piece of equipment for any outdoor adventure trip. Whether you are traveling solo or in groups, it's always important that everyone must have their own sleeping gear, be it in tents or anywhere else.
Along with Sleeping bag, Sleep Mask is one of the most beneficial tools for those who wish to travel or sleep during the day
The best part is the comfort that is added to your body as you rest after a long and hectic day. Now that sleeping bags have started being available online, there's no excuse not to have one on your wishlist (or cart!), especially if you are someone who is afflicted with wanderlust.
Sleeping bags come in a wide range of vivid colors and to make your camping or hiking experience a memorable one, make sure you're carrying one on your next trip. ( Refer best Sleeping Mats here )
Sleeping Bags Types
Sleeping bags come in three different types: square, mummy and sleeping pod.
Square sleeping bags
These are the most basic ones. They are suitable if you want a spacious sleeping bag where you wish to have a lot of room for your legs and the plus point is that they can also be doubled up for two people to fit in (or comes in a double size).
Mummy sleeping bags
The name comes from the 'Egyptian mummy' since the shape of these sleeping bags is slightly tapered at the bottom.
This one is best for winters as it helps to keep the body warm by not allowing the air inside to circulate and cool down. They are great for long expeditions and can be used even in sub-zero temperatures.
Sleeping Pods
Sleeping pods are perfect for summers and sleepovers. They are ideal for people who like to have a wide space to toss and turn in their sleep.
Sleeping Bags Buyer's Guide
While buying a sleeping bag one should always consider the season in which one is planning to use it. The following factors should be kept in mind while choosing one:
1. Temperature Rating
The temperature rating of a sleeping bag helps the user to understand what should be the minimum temperature at which he can stay warm in it. The temperature ratings of sleeping bags vary from brand to brand.
Most camping bags have a temperature rating between +15°F and +50°F. Sleeping bags also have features like vents etc., to adjust to the surroundings if the air temperature is higher or lower than expected.
2. Sleeping Bag Shape
Users should also look into the shape of the sleeping bag while choosing one. The types are square, mummy-shaped and pods. The sleeping requirements of every person differ from another one, so to have the most out of your outdoor night out, you should definitely consider the right shape of the bag.
3. Insulation Type
For pocket-friendly sleeping bags, one should go for the synthetic insulation type. The advantage of a synthetic insulation type sleeping bag is that it is quick-drying. It is durable and lasts longer. Even if it is used in a rough manner, a synthetic sleeping bag can withstand all kinds of resistance. But the downside of this type is, it is not so versatile when it comes to backpacking.
Goose-Down insulation and Water-resistant Down insulation are the other types of insulation provided in sleeping bags. They are more versatile but come at a higher price range.
4. Sleeping Bags for women and kids
The sleeping bags designed for women have a shape which can comfortably suit the contour of women. They provide more insulation and are comparatively shorter and narrower.
Kids' sleeping bags come with additional features like spaces for pillows and exterior pockets to keep important things so that kids can have a cozy sleep.
5. Additional features and accessories
While buying a sleeping bag, one can also check out the additional features like storage sacks, pillow pockets, sleeping pad sleeves, hoods and the sleeping bag liner.
A good sleeping bag should come with these extra accessories for convenience but when compressed and rolled, it should reduce in size to make storage and portability much easier.
Top 10 Best Selling Sleeping Bags in India
Here we have picked out some standard sleeping bags of varying price tags so that you can make your next expedition a memorable one. The plus point is that all of them are available online on Flipkart and other e-commerce sites so that you can directly order one from your home without any other kind of hassle.
1. Motorev Duck Down Feather Ultra Light Sleeping Bag  (Black, Blue)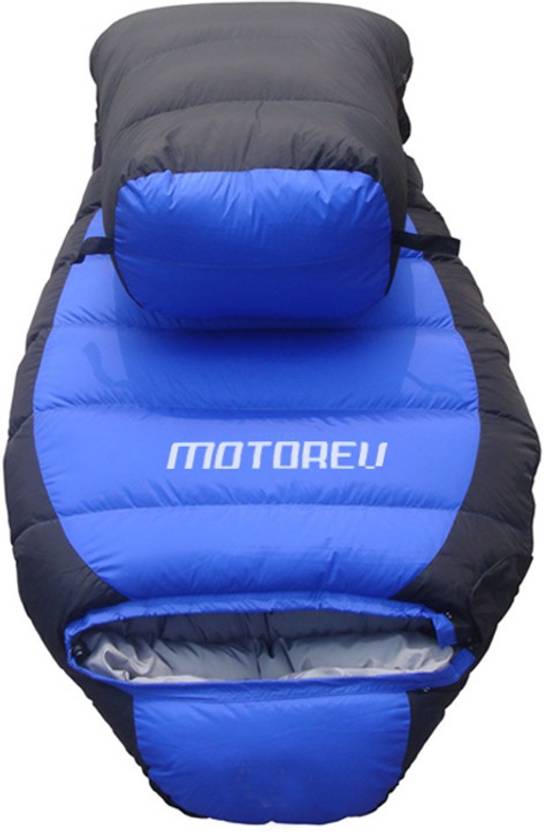 This Motorev Duck Down Feather sleeping bag is extremely lightweight and is ideal for adults.  It has a breathable lining made of polyester fabric.
The outer layer is of high quality and comes with water-repellent treatment to protect the duck-down feather bag from moisture.
It is easy to operate and maintain as it can be washed both by hand and machine. This bag is suitable for spring, summer, and autumn.
Features:
Large size
Double head zipper for easy operation
Water repellant
Double layering
Nylon material
Pros:
Ultra lightweight and can be carried easily
Portable hollow cotton with duck-down feather for pure comfort
Extremely durable
Can withstand winter chills
Cons:
Quality of the inner material is not that good according to some users
Price range is a bit high
2. Iris Sleeping Bag (Multicolor)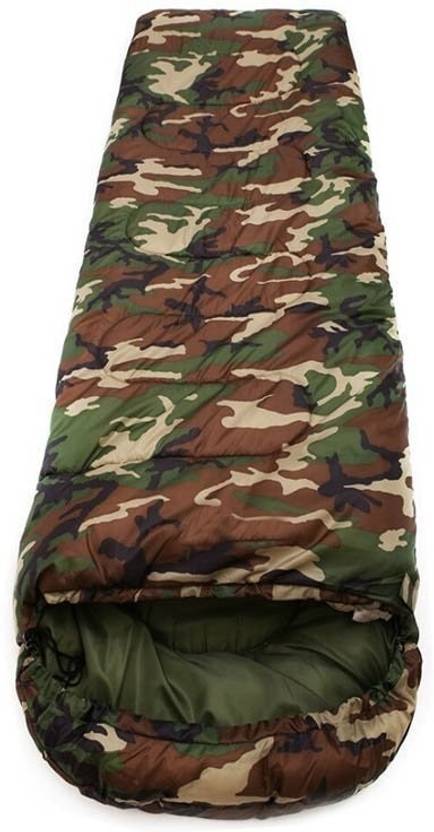 This 3-season sleeping bag is made of corespun polyester with a double filled comfort loft filling. It has an S-shaped quilting design to make it more durable.
To make this bag more convenient and comfortable, it has been provided with a drawstring hood and inner pocket.
The envelope design provides a lot of leg space. It is lightweight and very easy to compress, roll and carry around for outdoor activities.
Features:
Temperature rating of 15
Well-designed zippers for a comfortable sleeping system
Polyester material for quick-drying
Suitable for one adult
Compression straps for reducing the volume occupied by the bag
Pros:
Lightweight and compressible
Suitable for winter
Spacious and durable
Multicolor military print for great outdoor experience
Cons:
Quality of the polyester material is not so good
3. RuggedTrails All-Season Waterproof Hooded Sleeping Bag (Single) Sleeping Bag  (Blue, Black)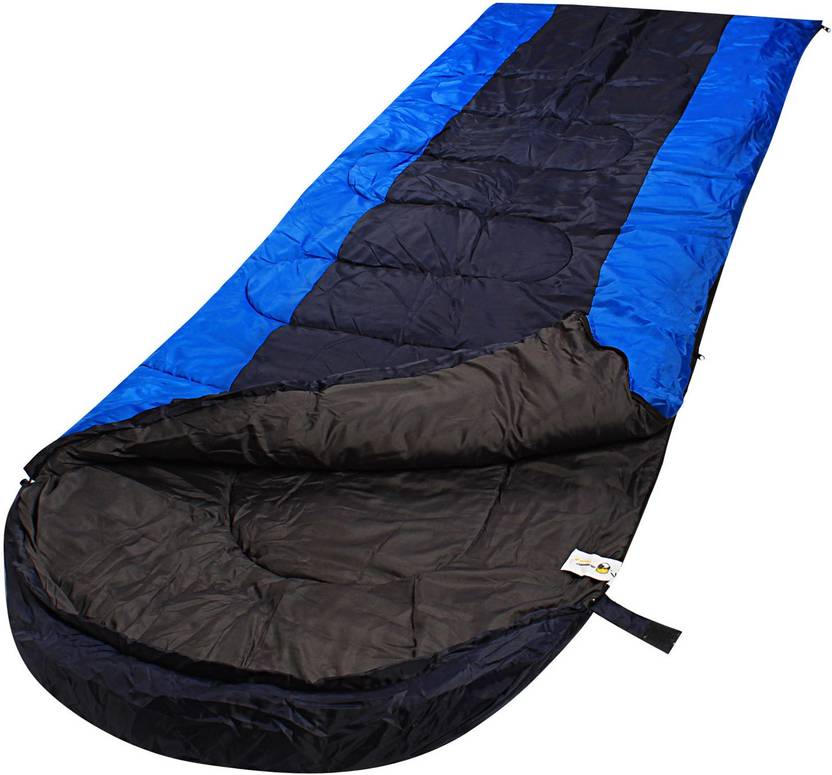 The RuggedTrails All Season sleeping bag is perfect for a comfortable sleep in the lap of nature. This hooded waterproof bag is of very high quality and is made in such a way so that it provides ample protection from the outside weather.
The polyester material ensures that the product is durable and water-resistant. The double-layering means that the bag is well-ventilated. Moreover, the stitch lines of this sleeping bag are so designed that they can prevent heat loss.
A shoulder sack is provided along with this sleeping bag into which it can be compressed and rolled into.
Features:
Extra sturdy zippers with snag free design
Available in irresistible blue and black colors
Large size suitable for adults
Made of a durable polyester material
Pros:
Lightweight and compressible
All season sleeping bag
Water-resistant in nature
Snuggly hood with drawstring cord
Stitch lines designed to prevent heat loss
Cons:
According to some customers, it is of average quality
Packing the sleeping bag might be a tedious job
Zips are made of plastic
4. Klair Dual Tone Nylon Outer Sleeping Bag  (Multicolor)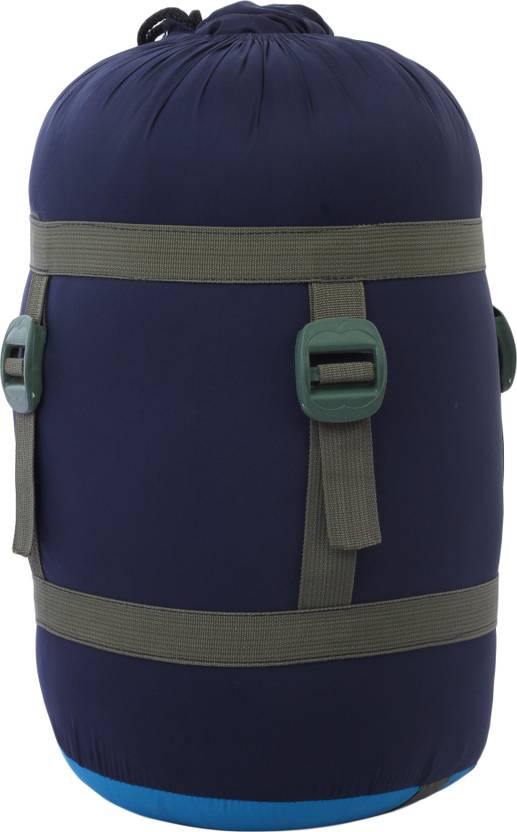 This warm and cozy sleeping bag is ideal for camping, hiking, and adventure trips. It is made of nylon material and is quite easy to carry around. A carry bag is also provided for this purpose. It is waterproof and the filling is of hollow cotton. The Klair Dual Tone sleeping bag is suitable for winter as well and it is very convenient to use.
Features:
Ideal for adults
Attractive dual tone nylon outer
Waterproof nylon fabric and hollow cotton filling
Comes with a carry bag
Pros:
Lightweight and  comfortable
Also suitable for winters
Water-resistant
Can be hand-washed
Cons:
Not many accessories are provided
Can be slightly bulky
5. Motorev Special Forces Edition Sleeping Bag  (Green, Black)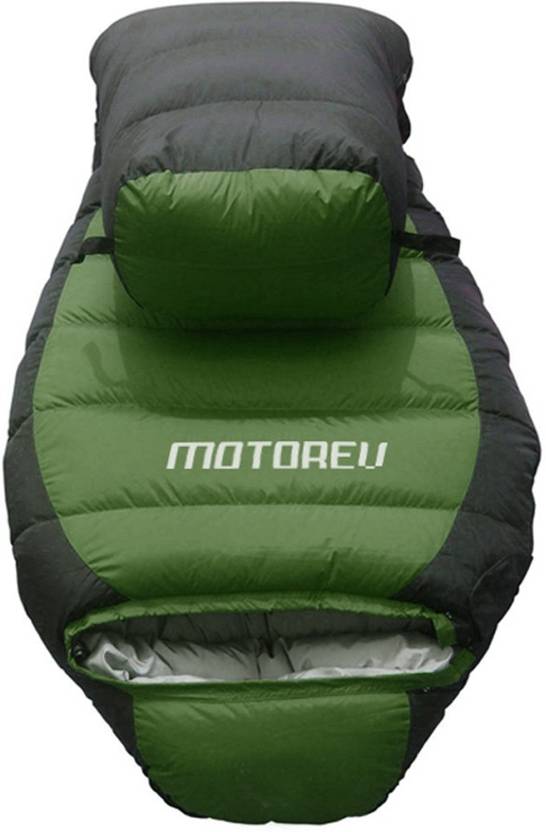 The Motorev Special Forces Edition sleeping bag is made of hollow cotton and duck down feather. A warm liner is provided for utmost comfort. The breathable lining is of polyester fabric.
It is soft-touch and water-repellent to protect the bag from moisture. A double head zipper is provided for easy operation from inside as well as outside. This sleeping bag has a temperature rating of -5.
Features:
Nylon material
Comes in green, black colors
Made of hollow cotton and duck down feather
Sleeping bag is waterproof
Double head zipper
Temperature rating of -5
Detachable layer is provided which can be added or removed based on need
Pros:
Suitable for winter, snow, and chills
Very warm and cozy
Can be hand washed in cold water
Cons:
Sleeping bag is quite heavy which means it is not that easy to carry
Product looks dull according to some users
6. Wildcraft T-lite Black 2015 Sleeping Bag  (Black)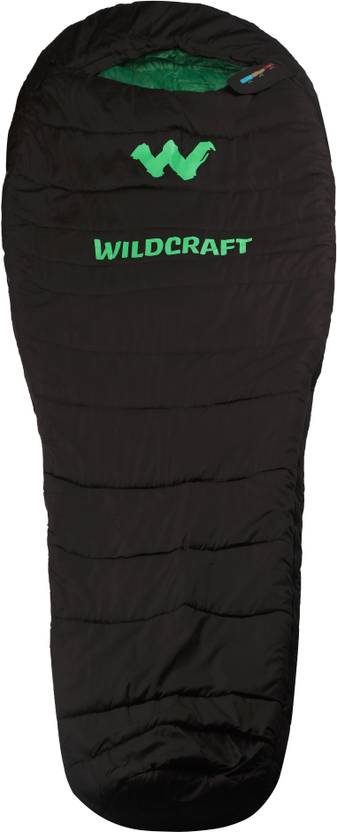 The black T-lite sleeping bag from Wildcraft is meant for serious backpacking, camping, and trekking. Made of high-quality polyester, it has a cushioned hood for a snuggly sleep.
The product is economically designed, keeping in mind the heat loss areas of the body like the knees and shoulders. Stuff sacks with compression straps are provided for easy portability.
The bag has a temperature rating of 5 which means it can be used at temperatures as low as 5 degree Celsius.
Features:
Made of brushed polyester
Comes in an intense black color
Waterproof in nature
High quality suitable for cold climate
Temperature rating of 5
Has a five-year domestic warranty
Pros:
Suitable for winter
Perfectly designed to reduce heat loss from the body
Easily portable
Very spacious
Good overall performance
Cons:
Not easily washable
Small fit according to some users

7. Quechua by Decathlon FORCLAZ 0° HELIUM Sleeping Bag  (Red)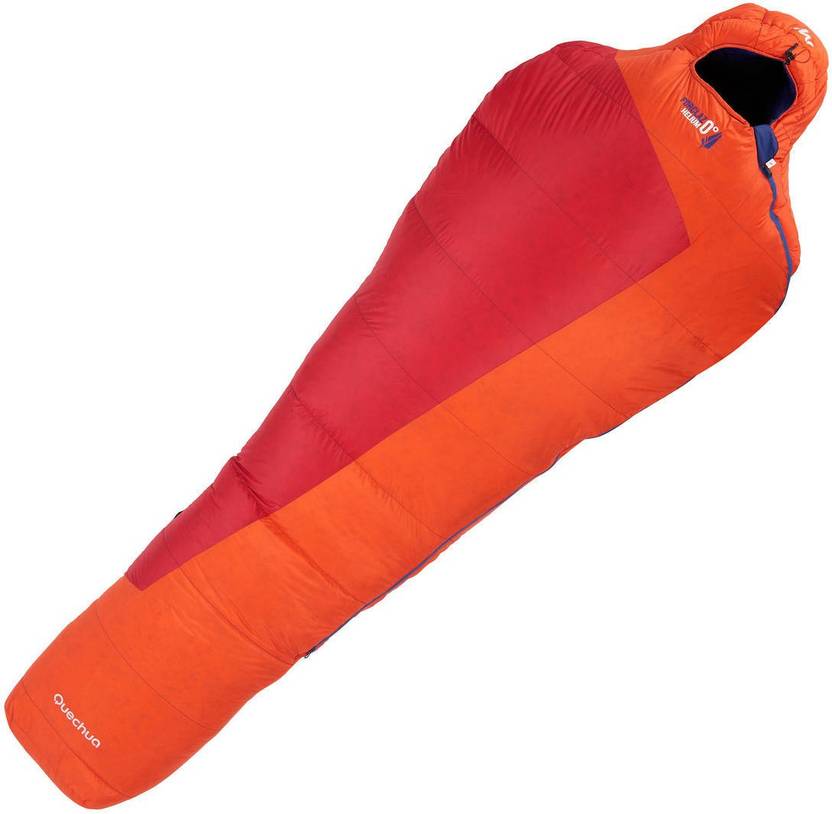 This sleeping bag from Decathlon is ideal for use around 0 degree Celsius. Though it isn't the smallest or lightest bag it is compressible enough to be rolled and fit into a compression sack.
When unrolled, it is spacious and provides plenty of room. It is made up of a poly-amide material and is really good for a hiking or a trekking trip. The sleeping bag provides good ventilation. It has a synthetic fill.
The color is appealing and overall it is a good buy for some great outdoor experience.
Features:
Material is made of polyamide
Attractive red color
Three-quarter, two-way zip for ventilation
Suitable for zero degrees mark
Bag has a synthetic fill
Pros:
Ideal for rough trekking and hiking
Two-way zip provides ventilation from overheating
Bag can be cinched at the top to prevent cold draughts
Very spacious
Cons:
Price is quite high
Sleeping bag is comparatively heavy
8. Coleman Pathfinder Comfort Levels: -18°C to +3°C – Weight: 1.7 kg Sleeping Bag  (Blue, Grey)

The Coleman Pathfinder sleeping bag is a lightweight, mummy-shaped sleeping bag and is ideal for kids. It can also be used by cyclists or backpackers.
It has a compressible but high-performance micro-insulation. It comes with a  convenient dry bag along with a compression valve for compact storage and transportation.
The material of the sleeping bag is of brushed polyester. The blue and grey colors are very eye-catchy and this sleeping bag can be used through spring and autumn. The weight is 1.7 kg and it is comparatively lighter.
Features:
Made of polyester
Suitable for autumn as well as winter
Ideal for kids
Pathfinder comfort level range:  -18°C to +3°C
Has a weight of 1.7 kg
Pros:
Provides amazing insulation
Comes in attractive blue and grey color
Ideal for the whole year
Very good product for light use
Cons:
Cannot be dry-cleaned
Puffiness of the sleeping bag is reduced over longtime storage
Not of large size
9. Coleman Biker Sleeping Bag  (Green, Grey)

This Coleman sleeping bag is ideal for adults and is of polyester material. It is lightweight and mummy-shaped.
It is perfect for motorcyclists on the go, who have very little storage capability since the bag can be stored in a compact area.
The bag has a microfibre lining for warmth and comfort. The Dry Gear bag provides convenient storage space which can also be vacuum packed. The weight of the sleeping bag is only 990 g.
Features:
Made of polyester
Ideal for bikers
Comes with a microfibre lining to provide extreme comfort and warmth
Available in appealing green-grey color
Has a weight of 990 g
Pros:
Can be stored very easily in a small space
Lightweight and can be carried with ease
Convenient for bikers' use
Cons:
Not too versatile
Not meant for very low-temperature ranges
10. PINBALL EVEREST SLEEPING BAG  (Grey)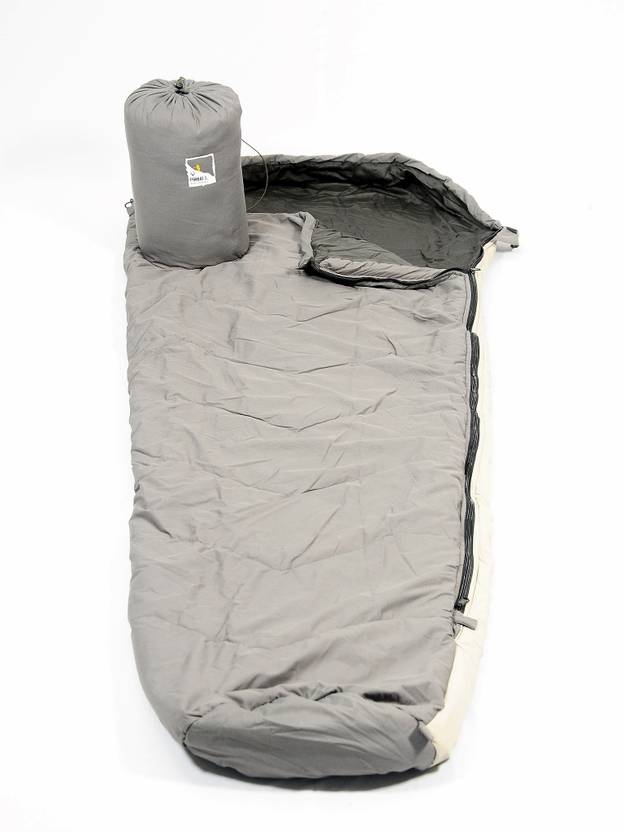 This grey colored Pinball Everest sleeping bag is an all weather resistant product. It has a nylon PU coated exterior and a nylon lined interior.
It is comfortable as well as highly durable. With a 5 years' warranty, it has a secure YKK zippered closure. This particular sleeping bag is meant for adults and is very spacious and can withstand harsh weather conditions.
It has a weight of 1.4 kg which means that it is not too heavy.
Features:
Made of nylon PU coated material
Sleeping bag is ideal for adults
Secure YKK zippered closure
Water-resistant in nature
Has a weight of 1.4 kg
Has a 5-year warranty
Pros:
Durable
Waterproof
Inner nylon lining for utmost comfort
Cons:
Not too accessorial
Quality is not that good
Conclusion
For a hassle-free hiking or trekking adventure, one just needs to invest in the right kind of sleeping bag for a warm and cozy doze in the middle of an exhilarating wilderness. A well designed, sturdy sleeping bag can make a big difference to your outdoor experience and now that a huge range of these comfortable, portable and compressible "beds" are available widely in India, there's no excuse not to travel without one.
The RuggedTrails All-Season Waterproof Hooded Sleeping Bag is a good choice for anyone who wants an all-weather sleeping bag with an awesome overall performance. It is durable and water-resistant and has an average price range which makes it an excellent buy for varied purposes.
Nowadays, sleeping bags are available in a variety of colors and designs and this is one equipment which must be mandatory for your next expedition. So gear up and choose a hike-friendly sleeping bag which meets your own requirements and stay cozy in the laps of nature.