Wireless Home Theater System
The modern technology has given the opportunity for individuals to watch movies on their portable DVD players, laptops, tablets, and also smartphones. But the fact will remain the same that you will not get the same experience as it's intended for. You can only get that when you visit the movie theater. The stunning visuals and the authentic sound clarity with the help of Home Theatre Speakers can only be experienced in a theater, but with this rising need, the introduction of home theater system allows you to get this amazing experience right at your home. ( Refer 65″ LED TV )
You will be getting the following benefits if you purchase a home theater system:
Instant Entertainment
You will have access to instant entertainment right at your home, and you no longer have to travel anywhere or worry about booking seats. Just pop the DVD in the player and enjoy your favorite movie that gives you the ultimate home theater entertainment.
Authentic Theater Experience
Get stunning visuals with awesome sound clarity. Home theater is like having your own movie experience at home just like you do in the theater. You get the authentic feeling and the comfort you want.
Affordable Movie-Watching
Now there is a lot of expenses when you go to movies like the tickets, the parking, the travel time when you can just have everything at home without the need for travel and parking tickets. Just pay for the DVD and enjoy it at home, without paying a huge amount every time.
BUYING GUIDE TO WIRELESS HOME THEATER SYSTEM
Home Theater Audio
Sleek sound bars help in a convenient setup with multiple speakers surrounding your home theater as you can place a single sound bar in front of your television set. The sound bars are either wired or wireless subwoofers which offer powerful bass and have a complete impact. Premium soundbars come with up to 7 individual speakers to offer a bigger impact.
Home theater systems offer everything that is required to get the best surround audio in just one package.
The typical home theater system includes –
Two speakers to be placed on the left and right side of the television to get the special effects and sounds
A center sound bar for placing it below your television set for getting clear dialogues and sound effects
Two rear speakers for giving a directional effect
A subwoofer which is usually placed in the corner producing rich bass
These systems include A/V receiver or else a Blu-Ray player. It depends on what you need. You can go for just a speaker system package if you don't require a player.
Home Theater Video
If you want to watch High-Definition movies at 1080 resolution, then you should go for a Blu-Ray player. They can upgrade the level of quality and can play most of the CDs, which also allows you to stream a variety of movies, videos and also music. You can stream from Netflix, Hulu Plus, and Pandora.
Just make sure you to check that it consists of a built-in WIFI if you are looking for a wireless connection. BluRay offers 3D and also 4K Ultra HD, and some can be upgraded as per needs. So if you are looking forward to having a wholesome theater experience then step up your game by choosing a Blu-Ray player.
Standalone streaming players
If you do not want a Blu-ray player and are looking forward to another option where you can watch your favorite shows, then you can choose to go for a standalone streaming player like Apple TV, Roku, etc.
All the products have their own advantages and capabilities, but each and everyone allows streaming in HD and Full HD when you connect it to your system. You will get access to Netflix, HULU, and a variety of other streaming apps. EAvh of the player offers different subscriptions so that you can watch your favorite shows which are available along with the product that you choose.
There are other products like SlingTV that lets you watch and also control your television. You can do it from your laptop, tablet, or smartphone as well. Just connect the player to the DVR, digital cable set-top box, and then you can watch your shows from absolutely anywhere.
Wireless and Multiroom Audio
If you want to get rid of all the confusing cables and wires, then you should choose to go to wireless speakers and audio system which is the perfect solution for streaming videos, music and movies. There are many popular companies like Bose and Sonos, that have an expandable wireless sound system.
You can add speakers to enhance the experience. It also allows you to easily connect your smartphone or your laptop and listen to music.
Wireless speakers use Bluetooth or Wifi to receive the signals. The speakers are usually compact so that you can place them comfortably in your room.
Speaker Layout
You have to know what is the best speaker configuration for your home. The standard surround layout is actually either 5.1 or 7.1. Dolby Atmos provides high speakers and object-based audio quality. But if your room is smaller then go for a 2.1 or a 3.1 speaker setup.
Room Size
You will have to look at your room size before you go for any home theater system. You need to have floor standing speakers who have a large subwoofer that can convert your large room into a mini-theater and be a part of it.
Sound Quality
Sound quality matters a lot of course or else you would not be even going for a home theater system. Make sure you choose high-end models as only they offer the ultimate sound experience, but it might be a little more than your limited budget. Listen to the sounds before you buy them and don't order online without listening to the quality of sound yourself. You can also go for a separate AV receiver.
TOP 5 BEST WIRELESS HOME THEATER SYSTEM
Here is the list of the best 5 home theater system that you can buy according to your needs.
Sony HT-RT5 5.1 Soundbar
Sony HT-RT5 5.1 Soundbar consists of three sound bars, one wireless subwoofer, and two wirelessly connected rear speakers. This gives you a wholesome theater experience right in the comfort of your home. With ClearAudio+, you get the highest quality of sound for your movies, games, and Tv shows.
Sony takes the product to the next level with digital amplifiers that enhances the audio quality so that you can feel every beat. You can also stream music wirelessly with Bluetooth and NFC.
The Cinema Studio feature allows you to feel the surround sound by adding more speakers virtually. The S-Master digital amplifier minimizes any kind of distortion which can be caused by heat build-up.
You can download SongPal and enjoy your favorite music and stream your favorite applications from your personal device with the Chromecast built-in. With the NFC technology, you can connect your devices easily. The system has three HDMI inputs which let you connect multiple devices at once.
Features:
The wireless home theater consists of 5 speakers
The total power output is 550 W
It consists of high-quality sound with ClearAudio+
Connectivity options available – Wireless connection to Bravia, Bluetooth, and Wifi
It has DLNA support
The product comes with a one year warranty
Pros:
Fill the room with 5.1ch real surround sound
S-Master digital amplifier for pure sound quality
Enjoy live stadium ambiance with Football Mode
Great-sounding music in one step with ClearAudio+
Easy Bluetooth® connectivity with NFC™ One-touch
The rear speakers are wireless
The on-screen settings are detailed
The bass is powerful
Cons:
Customizing input names is not available
It does not feature streaming options
Likewise, it rates little low.
Philips HTB5580/94 1000W 5.1CH 3D Blu-ray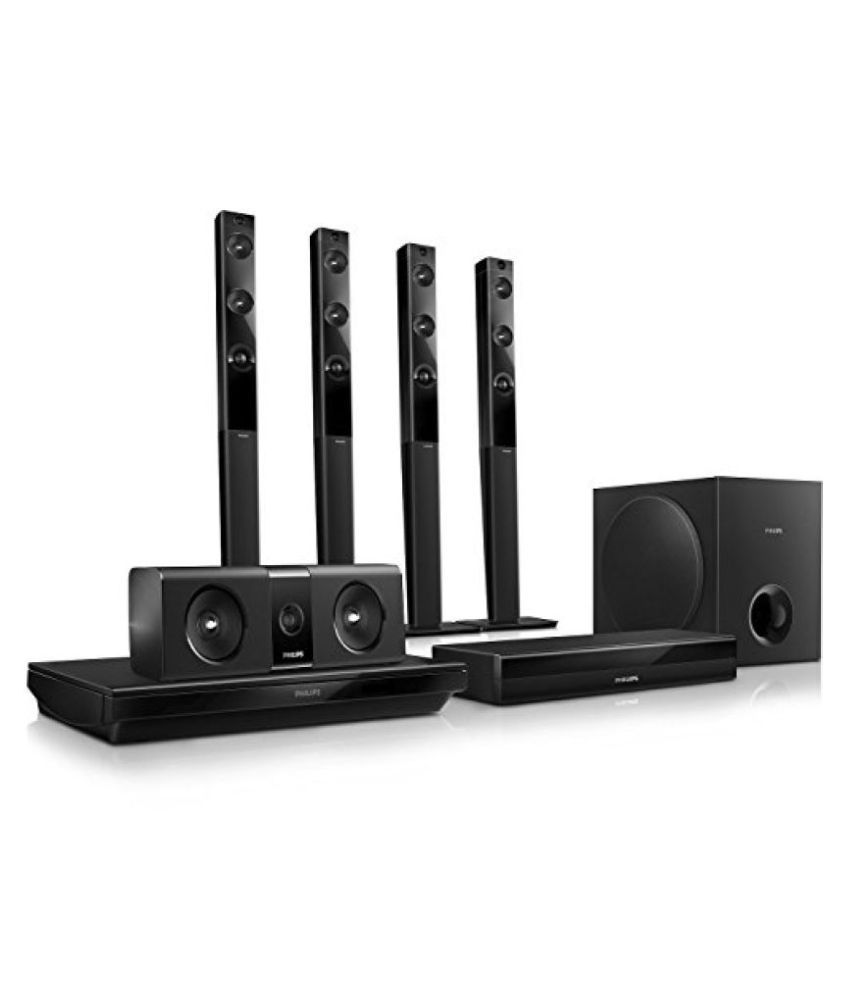 Get the Full HD 3D Blu-Ray version that is truly immersive, giving you the ultimate 3D experience at home. The Active 3D makes use of the latest generation of the fast switching displays, which is in full 1080 x 1920 pixel resolution. You can literally get the premium quality content right there at your home with unbelievable sound experience. It comes with built-in wifi that lets you connect to the media wirelessly.
Just connect the home theater directly to the network at home and then stream the popular services. With Dolby TrueHD and DTS-HD, you get the best surround sound that delivers the finest sound from your Blu-rays. It completes the total viewing experience for you.
The wireless connection allows you to connect with WIFI with the Miracast that gives you a simplified user interface with the help of this certified device. Easily connect your NFC enabled devices with one-touch option available technology. Stream your music with Bluetooth pairing. Powerful speakers that deliver the most powerful bass for you. The double bass pipes enhance the low frequencies and give you solid sounds.
Features:
The product uses 2 AAA batteries
It has Full HD 3D BluRay for a truly wonderful 3D experience
It comes with built-in Wifi for wireless connection
SmartTV so that you enjoy the online services with access to various content

1000W RMS power delivers great sound for movies and music

The voltage required is 240 volts
The wattage required 160 watts
It comes with one-touch NGC enabled smartphones
Wireless rear speakers
High fidelity sound with the Dolby TrueHD and DTS-HD

Bluetooth wireless music streaming from your music devices

Karaoke for endless singing entertainment at home
Pros:
It has an integrated Blu-ray player
5.1 channel for surround sound
It includes batteries

Built-in WiFi to enjoy your connected media wirelessly

Dolby TrueHD and DTS-HD for high fidelity surround sound

One-Touch with NFC-enabled smartphones for Bluetooth pairing

Powerful speakers with double bass pipes for great sound

Crystal Clear Sound for super clarity and realism
Cons:
It has just one HDMI port which is situated on the back panel
JBL Cinema 610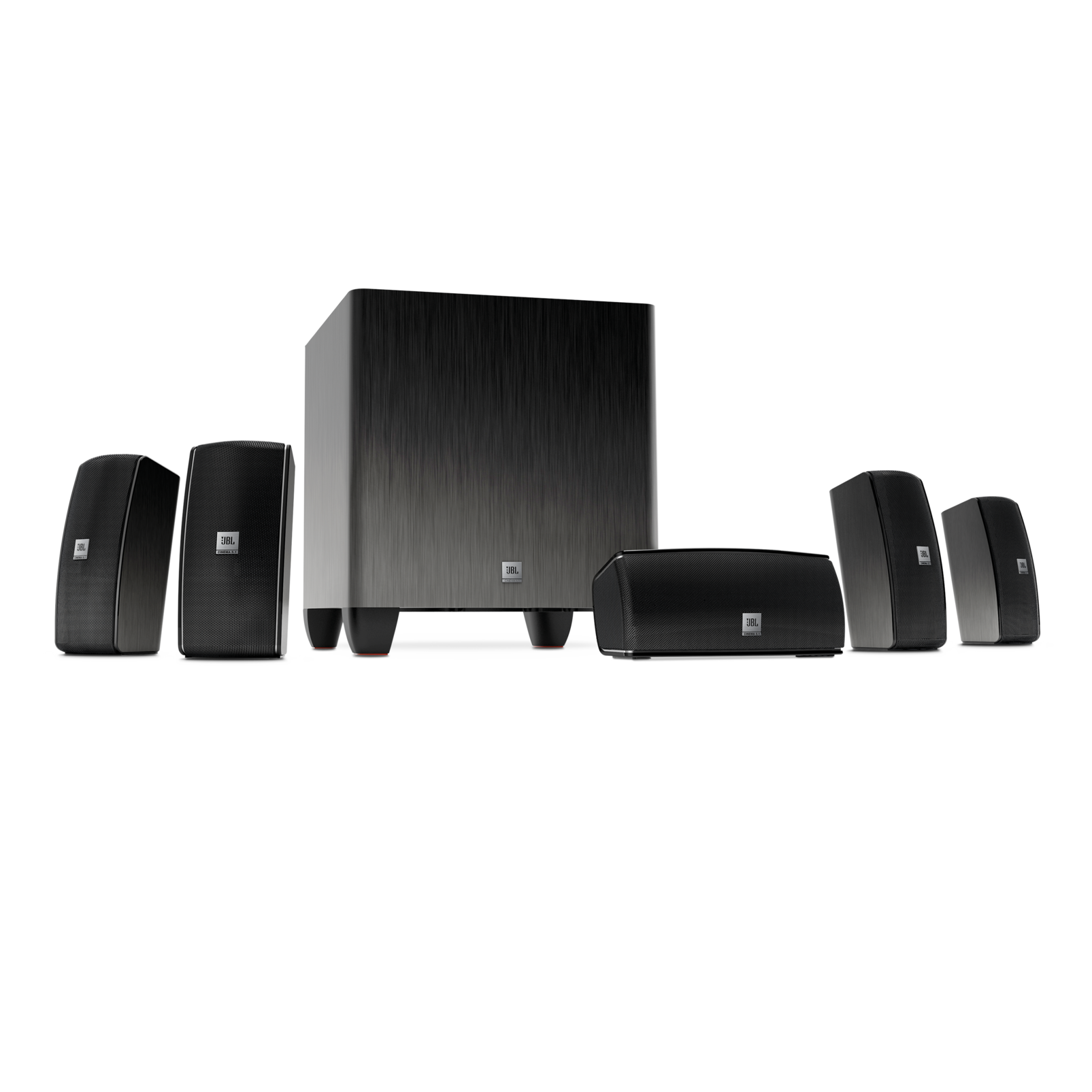 JBL Cinema 610 is the ultimate home theater system for you. Turn your home into the wonderful movie theater with the help of these. It connects easily with any audio and video receiver. JBL has always proved to deliver the best, and this offers the box office experience which you won't find anywhere else.
With the 8″ bass reflex, you will lose yourself completely, which comes with 5 identical voice matched satellite speakers and a dedicated, centered speaker that gives promising results by delivering the best sounds and visuals. You also get customized wall-mount options along with the easy plug-in format. It is compact, which means you don't have to worry about it taking much space.
Features:
It has got voice-matched, 2 satellite speakers
It is very easy to install
It comes with brackets for wall mounting
The range of frequency is 38 Hz – 20,000kHz
The sensitivity is 89 dB
The range of the RMS Power Amplifiers is 100 Watts
The weight of the item is 13.8 Kg
The dimensions of the product are (W x H x D) – 47.2 cm x 40.8 cm x 52.2 cm
Pros:
It is compact in size
Powerful Bass
Cons:
Mount Bracket in not so good
Surround sound effects are lacking
VIZIO SB3851 5.1 Wireless Home Theater System
VIZIO SB3851 5.1 Wireless Home Theater System features the most powerful speakers that are paired with the wireless subwoofer and delivers a booming sound that has a crystal clear audio quality. This makes sure that you get the movie experience right in the comfort of your home. You can upgrade your audio with the premium VIZIO's 38″ 5.1 Sound Bar System. This has got the best sound in class that will fill the entire room with fulfilling sound.
The wireless subwoofer and the satellite speakers surround you with the stunning audio quality. It has got Bluetooth connectivity, which allows you to stream your favorite music playlist wireless directly from your phone. Get high-quality cinematic surround sound with the DTS Digital Surround that lets you have multi-channel experience right at home. DTS Circle Surround produces a highly versatile sound that has the matrix decoder for supporting a wide range of sound creation and playback applications.
Features:
Get the complete surround sound experience with the 5.1 channel
The home theater system consists of a soundbar with a wireless subwoofer and a rear satellite speaker
Battery required – 2 AAA batteries
Built-in Bluetooth connectivity for wireless music streaming
Intuitive LCD remote with all the controls and settings
Premium audio experience with the Dolby Digital and DTS Digital Surround
Pros:
Less than 1% distortion

The complete 5.1 channel true surround sound home theater solution that places you in the center of the action.

Includes a 38″ sound bar with left, right and center channels, a wireless subwoofer and rear satellite speakers.

Best in class audio performance: 100 dB of room filling, crystal clear sound with less than 1% total harmonic distortion*

Built-in Bluetooth lets you lose the wires and listen to your music with a tap of a finger

Premium audio with Dolby Digital and DTS Digital Surround decoding, plus DTS TruVolume, DTS Studio Sound and DTS Circle Surround audio post-processing

Intuitive LCD display remote that brings all of the controls and settings right into your hands without ever leaving your couch

The setup is pretty easy
Cons:
The subwoofer delivers a decent sound
The sound bar being 38″ long affects the level of sound dispersion
Bose Lifestyle 650 system
Bose Lifestyle 650 is the best in class. It is designed with beautiful craftsmanship keeping every detail in place, including simplicity. It is a 5-speaker home theater system. The speakers are housed with acoustic enclosures for dual-opposing drivers to provide with a 360-degree sound that gives the cinema experience. The rear speakers are wireless. The Acoustimass module produces the best bass performance. The QuietPort technology used ensures the best in class sound for all its sizes.
It has connectivity options like Bluetooth and Wifi connectivity, that means you can stream your movies and music wirelessly. It has 4k video compatibility and 6 HDMI inputs, and you have the provision to control everything with the universal remote. The design ensures that the polished glass curvature leaves your speechless. The premium cinematic experience is just perfect for watching sports, movies, and music. With the best technology and SoundTouch system, you can play your music on the wifi network.
Features:
The batteries required are 4 AA batteries
It works with Alexa voice control
Connectivity options – Bluetooth, Wifi, NFC
Audio formats supported – Dolby Digital, Dolby Digital Plus, Dolby TrueHD, DTS, Multichannel PCM
It has 6 HDMI ports
The Quiet Port technology reduces distortion to provide crisp and clean bass
Pros:
Works with Alexa for voice control

The Lifestyle 650 home entertainment system is the best 5.1 system from Bose. Built for your music, movies, and TV, it combines advanced technologies to ensure the system sounds as stunning as it looks

Omni Jewel satellite speakers-the smallest speakers from Bose-and the slim center channel create true 360 Degree sound, so rather than hear sound from a single point, you'll hear it all around

The wireless bass module utilizes Quiet Port technology and an advanced DSP to virtually eliminate distortion and create surprisingly deep, clean bass

Easy setup
Elegant design
It has NFC pairing
Cons:
Conclusion
So, now you can see why buying the ultimate home theater system might be perfect for you to get the best experience at home. Surround sound is always fantastic, and you won't regret buying it. The all-in-one home theater is the perfect option that you will love. Enjoy your favorite movies, and stream your playlist and feel every scene coming live with each and every beat.
In this article, We listed the best five home theater system for you so that you don't have to look anywhere else. Choose the one which fits your requirements and budget, then go for it. Hope this helps.