Dishwashers – Lifeline for Every Working Women
We are dependent on our house help for all the daily household work. If they don't come one day our life turns upside down. With the advancement in technology, various inventions have helped in day to day work.
The dishwasher is one of that invention that helps in carrying on the simple work of dish washing easily. You no more have to wait for your house-help you can just put the pile of dishes in the washer, and you are good to go. It not only helps in saving time but also helps you in having clean dishes every time without nagging your maid.
The washers come with sensors and rack system which helps in placing the dishes and having a clean and germ-free dishes every time; they have hard water converter which helps convert hard water into the water which is good to use and healthy.
These days due to the touch screen trends there are no more buttons on the machine, but instead, there is a touch screen panel which helps in regulating the machine. These machines have become the life saver for those who have uneven hours of work and cannot stay home to take care of the household, it really helps in minimising the work. It's just another new invention making our life simpler and making us not depend on our house-help.
Dishwasher Buyer's Guide
It is not always safe to keep kids around electrical appliances. It is essential that the dishwasher has a child lock system which makes it safe even when kids are around.
The wash programs should have features of washing different material of utensils and cleaning it well. It should remove toxins and have water softening feature which makes the utensil safe to use.
It's a bonus if it has salt funnel which means you can add salt as to cleanse the dishes well. We might think that this is just waste
The dishwasher should be readily available and functional. It should not be complicated to use. It must have plate racks which can be used according to the customers need.
The water capacity should be good to store the utensil well and have an optimum use. It scores good points because water consumed per cycle is less.
The technology has advanced in each field, so you know longer have to push buttons, the new machines have touch controls which make the controlling easy and accessible.
We have been used to the touch screen panels as all our new smart phones have become touch screen this technology of touch panels in dishwashers makes it more easy to work with you don't need to press buttons and make it work. It makes the machine easily accessible and does not complicate things.
The machine should have auto detecting sensors if there are dirty dishes or when the water is hard the converter makes it soft and useable.
For certain kind of vessel, the temperature should be set which the sensors detect and make it easy to work with. It should also detect water usage per cycle.
The dishwasher tends to make a lot of noise, so it is necessary to review the product and read the catalog properly before buying the product. The expensive dishwashers tend to make less noise as they come with noise reduction feature in them.
As we know the houses we live in even though they might be big we always crave for extra space. Most of the time we might not want some huge machine to take up the entire kitchen space because as it is our kitchen is smaller and having that extra obstruction in a way is not convenient. It is necessary to buy such dishwasher which does not consume much space and does not act as hindrance.
Along with not taking up space it is also essential to see that it is not some giant ugly machine ruining the look of your house but should be sleek and stylish to make it look like a part of the house.
Top 10 Dishwashers Available in Market
1. IFB Neptune FX Free Standing 12 Place Settings Dishwasher(Editor's choice)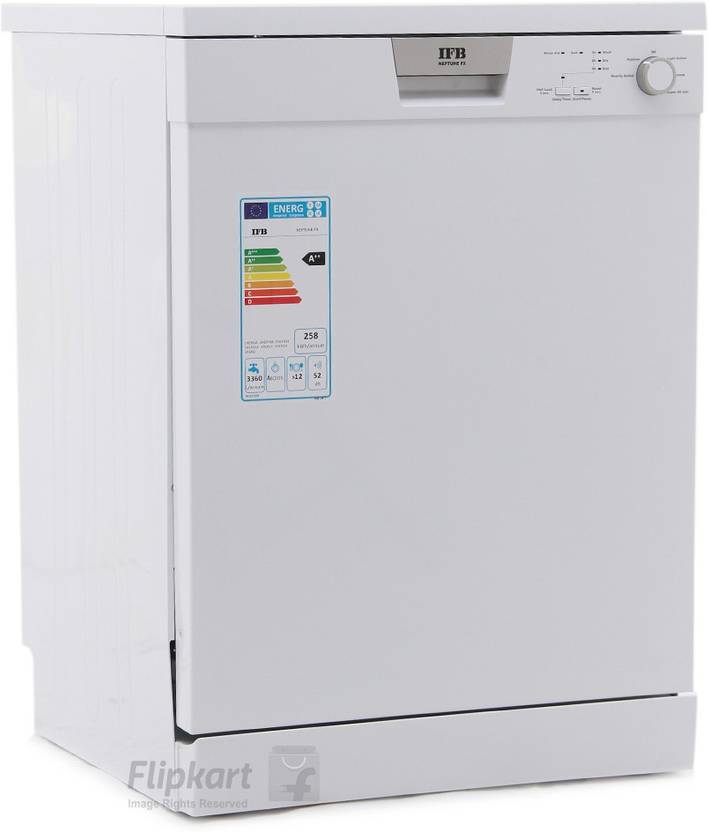 IFB it is an elegant dishwasher which is stylish and does all the necessary work which a dishwasher has to do. With such a price the dishwasher is certainly worth the investment. it is long lasting and worthy.
Features:
Capacity: 12 Place Settings
Control: Button
Removable Rack Available: Yes
Free Standing Type
Model Number-Neptune FX
Type-Free Standing
Water Consumption-22.7 L
Noise Level-52 dB
Control Type-Button
Number of Wash Programs-5
Wash Program Type-Heavily Soiled, Light Soiled, Hygiene, Normal, Super 50 (min)
Color-White
number_of_racks-2
Removable Rack-Yes
Power Consumption-1900 W
Width-59.6 cm
Height-84.5 cm
Depth-59.8 cm
Weight-46 kg
Pros:
Fully-automatic front-loading dishwasher

12 place settings

Five wash programs

Warranty: 2 years comprehensive warranty on product

Water softening device

Heavily soiled program

Adjustable upper basket when empty

Drying system is natural
Cons:
It does not have a child lock
Consumes a lot of water
Power consumption is high
2. Bosch SHE3AR76UC Recessed Handle Ascenta Dishwasher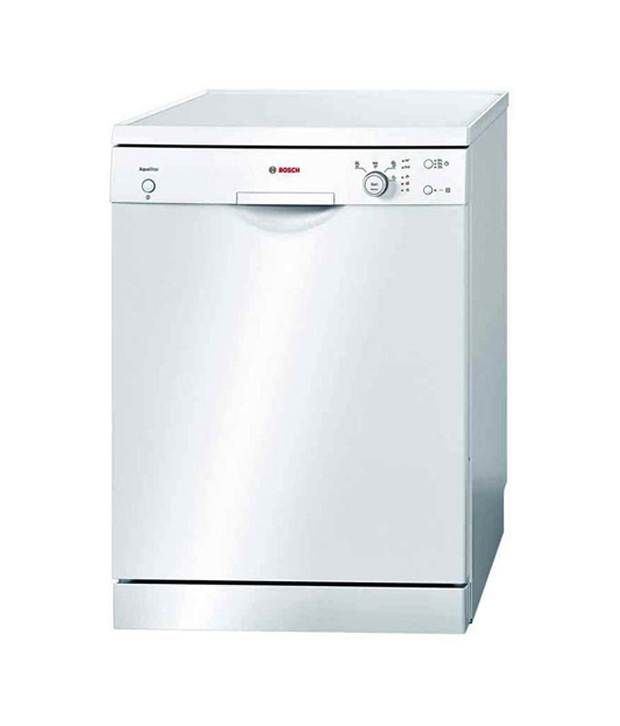 Bosch has been a trusted brand for the kitchen utensil. It is no different for this appliance. The 12 wash program along with 2 folding dish wash rack is a real score. You no longer need anyone else to wash your dishes or other utensils because this mechanical device will be at your rescue all the time making it one time long lasting worthy investment.
Features:
 

4 Wash programs

 

12 Place settings

 

14 Litres water consumption per cycle

Child lock: Yes
Water softener: Yes
Salt funnel: Yes
Period: 1-year manufacturer warranty

Dimension (WxHxD): 60 x 84.5 x 60 cm
Pros:
It has a salt funnel
It has a child lock
It has water softening feature
It has two folding plate racks
It also has 12 place settings
It has aqua stop function and delayed start timer
Cons:
The water used per cycle is more
Does not support aluminium utensil cleaning
3. Midea 8 Places MDWCT008IWN Dishwasher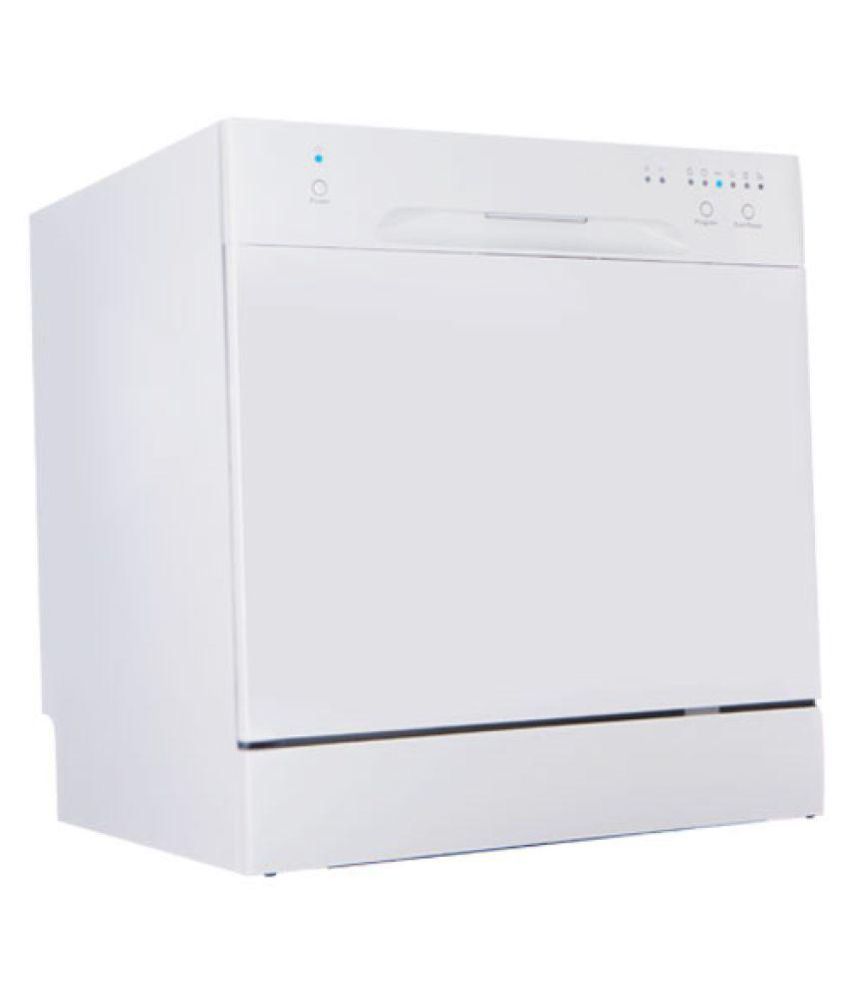 Midea dishwasher has 8 place setting capacity and 6 wash programs; each cycle is 90 minutes that saves a lot of time and is helpful. It has all the required features.
Features:
Inverter Direct Drive Motor: Yes

Child Lock: Yes

Delay Start: Yes

 Triple Filter-Yes
Touch Control-Yes
Inverter Direct Drive Motor-Yes
Refill Indicator-Yes
Auto Restart-Yes
Error Display-Yes
Delay Start-Yes
Number of Racks-2
Removable Rack-Yes
Other Features-Breathing Filter, Innovative Blade Spray Arm, Lower Noise Levels, Energy-efficient & Water-saving,
Series-Counter top
Wash programme-6
Capacity (no of places)-8
Noise level(dB)-49
Model-MDWCT008IWN
Colour- white
Pros:
It has touch control
It has inverter direct drive motor
It has refill indicator
It has auto restart
It has delay start
It has two rack
It comes with removable racks
It has child lock
It does not make a lot of noise
It looks sleek and stylish
Cons:
It consumes more space as it is broader
4. Glen 12 Places DW 7617 E Dishwasher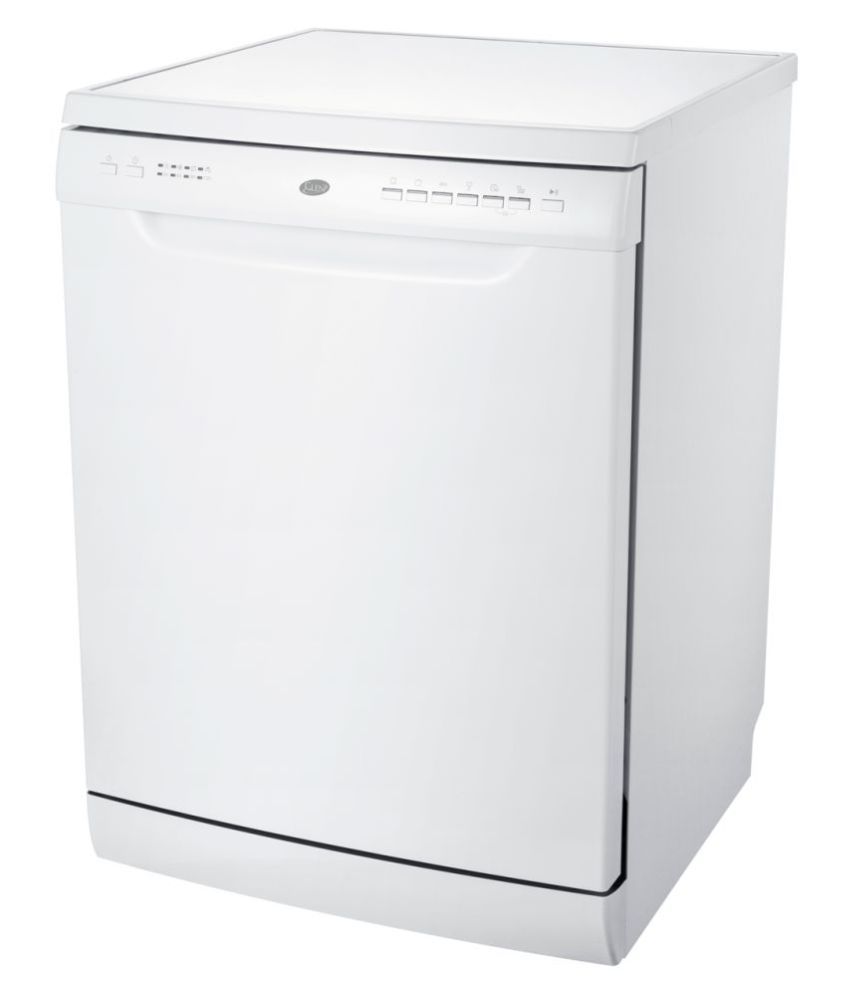 It has 12 program feature; it is sleek and stylish looking. It also has all the latest technology and is power packed with good features which make it worth the investment.
Features:
Capacity (No of Places):12

Wash Programs: Fully Electronic Control

Noise Level (dB):50

Model-DW 7617 E
Colour-White
Wash programs-Fully Electronic Control
Removable rack-yes
Dimension- 61*59*85*15
Pros:
It looks attractive
It has 12 wash racks
It has removable racks
It consumes less space
It is fully electronic control.
Cons:
It consumes a lot of power
It is expensive
5. IFB Neptune VX Free Standing 12 Place Settings Dishwasher
IFB is the most recognized brand in the dishwasher. It has offered quality products for a long time. It is readily available. It has LED touch screen and also touch control panels. It has different eight racks and also 12 place setting which may be very convenient. It has child lock which is safe if you have children at home.
Features:
Capacity: 12 Place Settings
Control: Button
Removable Rack Available: Yes
Type-Free Standing
Water Consumption-22.7 L
Noise Level-52 dB
Control Type-Button
Number of Wash Programs-8
Wash Program Type-Economic, Hygiene, Normal, Prewash, Quick, Super 55-minute 60°C, Auto Delicate 30 – 50, Auto Normal 50 – 60, Auto Intensive 60 – 70
Filter System-Metal Filter
Indicators Present-LED Indicator for Program Status, LED Indicator for Rinse Aid, LED Indicator for Salt Refill
Color-Dark Silver
Number of racks- 2
Height Adjustable Rack-Yes
Other Rack Features-Mug Shelf in Upper Rack: Adjustable, Foldable Wires in Lower Rack, Shelves in Upper Rack: 4, Removable Rack: Bottle Holder and Cutlery Basket, Spoon Rack
Display Type-LED
Display Features-LED Display on Control Panel for Error Detection
Child Lock-Yes
Other Convenience Features-Modular Lower Cutlery Basket, Flexible Half Load, Steam Drying, Water Spray Shower, Water Spray Arms: 2
Basket Material-Vinyl Coated Galvanised Iron
Power Consumption-1260 W
Power Requirement-220 – 240 V, 50 Hz
Heater Element Rating-2000 W
Other Power Features-Maximum Power: 2200 W, Electric Supply: Single Phase 15 A
Delay Start-Yes
Other Features-Water Supply Hose: 3 / 4 BSP Internal Connector, Water Pressure Range: 0.3 to 10 bar, Adjustable Feet, Water Softening Device (Up to 60 DH), Smart Design, Jet Wash, Super Energy Efficiency
Width-59.6 cm
Height-84.5 cm
Depth-59.8 cm
Weight-50 kg
Pros:
It has removable rack
It does not make much noise
It has height adjustable rack
It has child lock
It has LED display feature
It has delay start system
It comes along with 2-year warranty
It has 12place setting
It looks beautiful
It is durable
It is easy to operate
It is easily accessible
It does not block much space
Cons:
6. Siemens Free-Standing 12 Place Settings Dishwasher (SN26L201IN, White)
Siemens offers a durable dishwasher. It is easy to use and has various features like auto detective sensors, touch control panel, Aqua sensors. It is a whole package of good features. The product does not disappoint.
Features:
12 place settings

Speedier dishwasher that reduces up to 60% of wash cycle

Six washing programs & 3 wash options

Aqua sensor & load sensor

Automatic detergent detection

Dosage assist

Additional Top shower for best washing results

Noise level washing- 52dB
Installation type-free standing
Colour-White
Control console-Fully electronic
Number of Shelves-2
Pros:
It is good looking
It has full electric control console
It has two shelves

It has six washing programs & 3 wash options

It has Aqua sensor & load sensor

It has Automatic detergent detection

It does not make much noise
Cons:
It does not have child lock
7. Hindware Dishwasher Marco (Fully Built-in) (Grey)
The hindware dishwasher has 12 place settings and 7 programmes. It has auto detection sensors along with child lock feature. It has an electronic control panel with LED light display which makes it easily visible and has touch control panels.
Features:
Capacity (Number of Place Settings): 12
Number of Wash Programmes: 6
Inside Material: Stainless Steel
Gross Weight: 42/48
Door Safety Lock: Yes
Number of wash- program- 6
Child lock-Yes
Pros:
It has a child lock
It does not consume much space
It has safety door lock
It does not make a lot of noise
It is stylish and looks good
It is long lasting
The racks are made of stainless steel
Cons:
8. LG D1451WF Dishwasher (14 Place Settings, Silver)
LG has established its market world wide and has an extensive market for all kitchen appliances in India. In the same way, the dishwasher is a thumb up for those who are looking to buy a new one. It is not a new brand as every household has least one LG product, and they know how durable and user-friendly they are.
Features:
Dishwasher

14 place settings

Wash Programs: Dual wash, auto eco, gentle and quick

Warranty: 2 years comprehensive warranty on product

Child lock, extra hot, basic program, refill indicator, automatic restart, delay start, error display, Aqua stop and triple filter

Spacious and better flexibility

Smart rack system

Energy and smart diagnosis
Pros:
It has child lock
It is stylish looking
It is durable
It has aqua stop and triple filter
Cons:
It needs a stabilizer to work properly
No aluminium utensil can be washed
No half load option
9. BOSCH SMS60L19IN DISHWASHER (SILVER)
Bosch products are well-recognized in the market. They always offer quality products and have been in the market for quite a time. The product has LED display and child lock along with 12 place settings and 6-wash program.
Features:
Brand: Bosch
Model No: SMS60L18IN
No of wash programs: 6 programs: Intensive Kadhai 70°C, Auto 45-65°C, Express Sparkle 65°C, Eco 50°C, Quick 45°C, Pre-rinse
Adjustable upper rack loading: Yes
Basket material: Stainless steel
Child lock: Yes

Dishwasher; 12 place settings

Six wash programs

Intensive Kadhai 70 Degree: Special program for heavily soiled kadhais, pots, and pans with intensive washing and drying cycles for optimal cleaning and drying results

Extra Dry Option: Enhances further the drying results, especially beneficial for difficult to dry items

Vario Speed Option: Reduces the wash cycle time by up to 50 percent with optimum cleaning and drying results
Pros:
It suits the aesthetic of your house
It has a stylish look
It does not make a lot of sound
It has additional racks
It has adjustable racks
The basket is made of stainless steel which may increase the life of the basket as well as the washer
It is easy to use
It is durable
It does not take up much space
Cons:
It does not support washing aluminum and bronze utensil
It consumes lot of water
10. Elica WQP12-7605V SS Dishwasher (12 Place Settings, Silver)
Elica has come out with the new dishwasher. The product is reliable and is a good investment. If you are looking for a dishwasher with all features with an affordable price tag, then this one is the best option.
Features:
Dishwasher; 12 place settings

Five wash programs

1-year warranty on product

Control and soft touch key

Installation type- free standing
Colour-silver
Material- stainless steel
Included components- Upper Basket, Inner Pipe, Lowest Basket, Salt container, Dispenser, Cup shelf, Spray Arms, Filter Assembly, Inlet pipe connector, Drain pipe
Pros:
Material- stainless steel
It is attractive looking
It is reasonably priced
It has child lock
It has 12 place settings
It is durable
It is easy to use
Cons:
It uses lot of power
It uses lot of water
Conclusion
It has become essential in this busy schedule to find some spare time and even if we do get some time no one wishes to waste that time on doing dishes. They rather spend it on something refreshing the dishwasher lets you have that spare time so installing one is good and a great investment.
IFB Neptune FX Free Standing 12 Place Settings Dishwasher is the one you should buy if you are thinking to install a washer it has all the necessary features and is good for the household purpose.  The IFB dishwasher has been trusted since quite some time, so buying the product you won't regret it. It is really important to go through the features and the benefits of washers before buying it.