Best Selling Blood Glucose Monitors
Testing your blood sugar levels is one of the best ways to determine and understand about your diabetes and your consumption of different food items, medications, and activities affecting sugar level. It is advised to keep track of your blood glucose level that can help you along with your doctor to come up with definite plans to manage this condition. There are many devices available such as Pulse Oximeters and blood glucose monitors so that the concerned person can take care of themselves from home itself.
Nowadays, people are using portable glucose meters, which are called glucometers, which checks the blood sugar levels in the body. The devices work by analyzing a small amount of your blood, which is usually taken from the fingertip. The device slightly pricks the skin to take the blood for testing. The meter on the devices lets you know about your current blood sugar levels, but as we know that the blood sugar levels change, it is advised to tests the levels often and record them.
What are the benefits of blood glucose monitoring?
People who regularly monitor their blood sugar levels can know about their conditions in a better way. Knowing about your blood glucose levels will be important for you as you can decide what food should you take, what medications you should be on, your diet, exercises and thus your doctor can help you with the condition.
By checking your blood sugar levels in a routine manner will help you keep a track when the sugar level is low or high, and both of the symptoms can cause serious health problems. Your doctor will advise you with medications based on your blood glucose levels, your age, type of diabetes that you have, your overall health, and various other factors. It is very important to keep your glucose levels within the range for the best.
High blood sugar levels can end up causing long-term complications like heart disease, kidney failure, vision loss, damage to the nerves, and low blood glucose levels can lead to weakness, dizziness, sweating.
How does my glucometer works?
First, you need to use a lancet which pierces into the skin to take a small amount of blood for testing. Blood is sucked into the test strip. The blood glucose reacts with an enzyme called glucose oxidase present on the test strip to form gluconic acid, which then reacts with ferricyanide to form ferrocyanide. When the test strip is inserted into the meter, the electrode oxidizes the ferrocyanide, and this generates a current directly proportional to the glucose concentration. Hence, the number displays on the device refer to the amount of glucose in the blood.
How is blood glucose monitoring performed?
Before you test your sugar level, you need to wash your hands to get rid of germs and any kind of infection, dry your hands before taking the test.
Next, you have to put the testing strip in the device. Place the device on your finger, and it will prick into your skin and take a small amount of blood.
The blood goes on the strip that is inserted in the device. The monitor analyzes the blood and gives back a result, and it is displayed on the meter digitally in less than a minute.
It is important to follow the steps that come with the package and use as instructed. Only that will give you accurate results. If you are suffering from Type 1 diabetes, then you will have to test your blood glucose at least more than three times a day that is before and after your meals and exercises. If you are suffering from Type 2 diabetes, then your doctor will inform you about the number of time you should check your blood glucose levels.
BUYER'S GUIDE TO BLOOD GLUCOSE MONITORS
Every glucose monitor works in a very similar way, but there are few features and options that differ, which one needs to look at before buying to suit individual needs. First talk to your doctor who can tell you about the glucose monitors and the requirements for yourself looking at your healthy lifestyle and budget.
Cost
Don't just look at the retail price of the devices. The only thing that makes all the blood glucose monitors expensive is the test strips as one has to use a lot of them in just a single day. The costs can increase from $18 to $265 at a minimum in a year for people who test four times a day. Replacement lancets are one more reason to add up to the expense.
Insurance
If you have health insurance, it can cover a part of your supplies that are related to diabetes, and private insurances can help in covering some of the cost as well. So look out for certain brands and test strips that your insurance might cover for. Find out how may test strips can be covered for you in a month. The coverage also will depend on whether you use insulin or not.

Automatic Coding


The blood glucose meters need to be calibrated to a set of test strips, and there are some which require you to download an application or enter a particular code that will scan the code with the smartphone. Make sure you put the correct details as otherwise, you will get inaccurate results. Few models also use a removable code chip that can calibrate the meter to each batch strips.

Data Storage


The common number of test results that a convenient glucose meter can store is around 360 tests. Some of the devices also track your average readings over a span of 7, 14, or 30 days to give you an overview of the blood sugar levels. If you need to test more frequently, then go for a blood glucose monitor that has more memory.

Test Time


Look for models that take around 5 seconds or less to calculate the results. The difference in the seconds won't seem like much, but when it comes down to taking the test at least 3 to 5 times a day, it can be irritating to wait for long.

Markers and Flags


Markers and Flags are features that will allow you to take note of whether the blood sugar level was calculated before or after a meal or exercise.

Blood-Sample Size


Today we need a small sample of blood for testing, unlike old times, which makes this process less painful. If you are sensitive to lancing, then you should look for devices that require less than one ml of your blood for testing blood sugar level.
Unit Size
If you want a device that you can take along with you on the go, then look for a compact device. There are models which are pretty huge and can store multiple strips for you so that you don't have to load each strip for every test, but that can be a bit bulky. These devices are convenient to use at home though especially for people who have vision difficulties. Most of the devices require a medical battery so you can refer to look for devices that use AAA batteries; this makes it easier to replace.
TOP 5 BLOOD GLUCOSE MONITORS
Contour Next EZ
The Contour Next EZ is the perfect device for people who are suffering from diabetes or anyone who needs a blood glucose testing device. The screen is not backlit, which is why it can be a bit difficult to read the results displayed.
The device fits pretty well in the hands and is light-weight just 1.7 ounces. It comes with two 3-volt coin cell batteries. It just takes 0.6 ml of the blood sample for testing and the test reruns six times with the latest multipulse technology that provides the best result. You will get the results in just 5 seconds.
It does not have a Bluetooth technology, which is why it needs you to download the free Bayer GlucoFacts Deluxe software on your laptop or Mac. The device offers you with diet plans and videos on the software.
Features:
The introduction of the No Coding technology eliminates the error in the testing process by one step which could occur due to user miscoding.
The display is easy to read
The Second Chance feature allows the user to apply more blood so that you can save money on the test strips
Sip-In Sampling feature allows you to put the right amount of blood on your very first try
You can personalize your blood sugar level range so that it is easy to identify the symptoms and get a clear summary of your results after the test
Get extra tracking details with the 7, 14, and the 30-day average blood test levels.
Dimensions of the device are 3.03 x 2.24 x 0.74 inches
Stores 480 readings in one time
Pros:
Simple testing process
Availability of How-to videos
Easy nutrition planning
High-degree of accuracy in results
Cons:
No backlit for the display screen
It does not have alternate site testings
Accu-Chek Aviva Connect
The Accu-Chek Aviva Connect is a device that has Bluetooth connectivity, which syncs with the user's smartphone. The Connect application helps in tracking both short and long-term readings of the user on his smartphone. It allows viewing the results on a bar graph.
The test strips are one of the most expensive out there, but the advantage to that is that it is available on every drug store. The Accu-Check offers a supplemental program which reduces the costs of most test strips.
The display is easy to look at due to the backlit LCD display, and you can test your blood in just three simple steps. It takes 0.6 ml of blood to test. You get the results in just five seconds. The device can store up to 500 blood test results, but with the help of the application, you can store unlimited readings.
Features:
Bluetooth connect directly to the user's smartphone
Online availability of test strips and stores
The high-contrast LCD display with backlit
Easy to use interface
Access to a wireless connection to the application
Accurate results in three easy steps
No coding required
The dimensions of the device are 3 x 2.2 x 0.8 inches
The weight of the device is 8 ounces
Automatically turns on when you insert a test strip
Saves energy by turning off automatically when you're finished testing
Pros:
Easy reminders to set up
Bolus Calculator
Accurate blood glucose results
Set up to 4 reminders to test
Cons:
OneTouch Ultra 2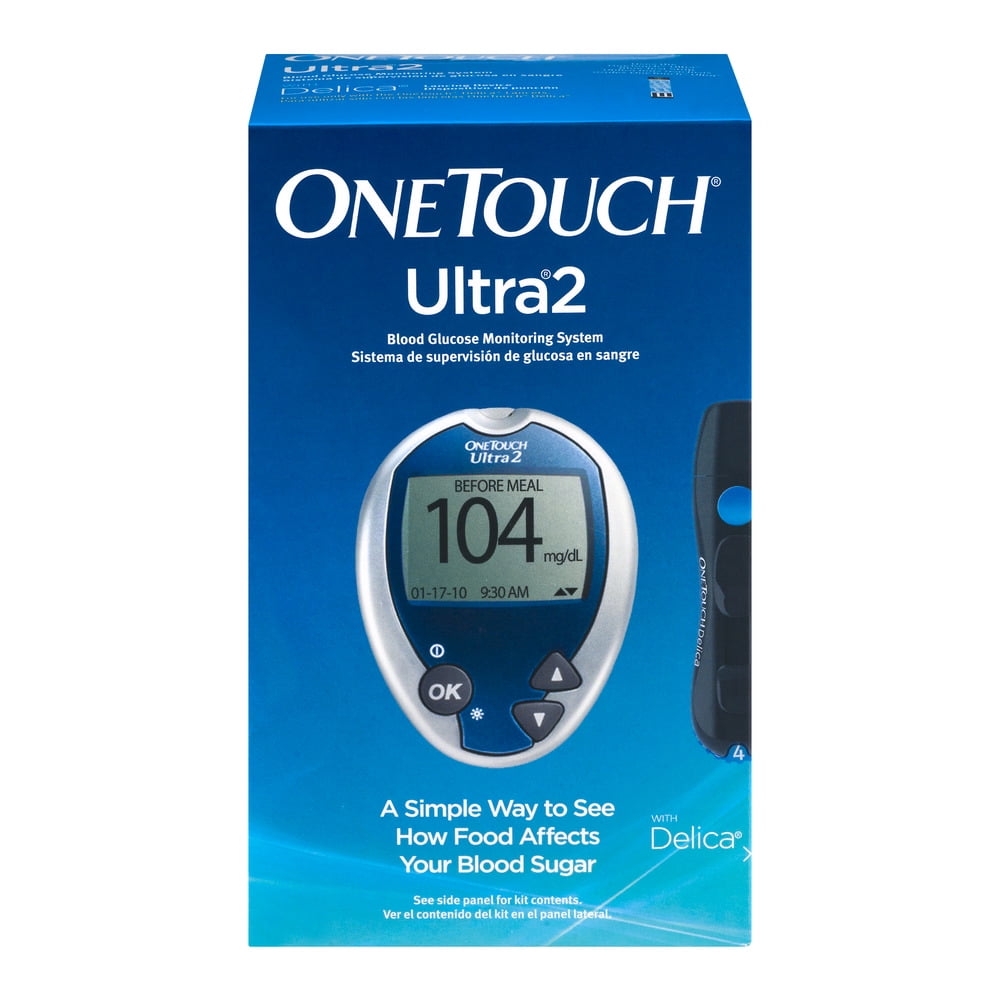 The OneTouch Ultra 2 is a device which has got the lowest co-pay on most of the health insurance plans. Thie glucometer device is a bit dated, which is why it still uses coding and does not offer a high-contrast display. Coding refers to entering a code which is written on the side of the strip before taking the blood sample for the test.
It requires a large blood sample that is 1.0 ml of blood. The device can hold up to 500 readings on the memory. It runs on the 3-volt coin-cell battery. The device can also track your glucose readings with the help of a software which can only run on a Windows operating system.
Features:
Dimensions of the device are 5.4 x 3 x 8.2 inches
The weight of the product is 8.8 ounces
The device can store up to 500 test results
Get results in just five seconds
The device can take the blood sample from your finger, forearm or palm
Pros:
The test strips are affordable
Easy to use with the two-way scrolling buttons that make it easy to operate
The device comes with a Food DVD that allows you to manage your diet
The product makes use of OneTouch Ultra Test Strips that is sold separately
Cons:
Does not have Bluetooth connectivity
The design is a bit outdated
The device does not have a high-contrast display
An outdated device which needs coding for the test strips
Requires a large sample of blood for the test
The software runs only with Windows OS
OneTouch Verio
The OneTouch Verio glucometer is perfect for people who have vision problems and have problems testing their blood sugar levels. The display has a large backlit screen, which makes it easy to read the results displayed.
The device makes use of colors technology that shows a red dot which means the reading is above average, if it shows a green dot, then your reading is within the normal sugar level range, and if it shows a blue dot then your blood sugar level is below average.
You can get blood average results from the last week, two weeks and also for the past thirty days. The memory can hold up to 750 test results. It is proven to show an accuracy of 99% in the results. It makes it one of the most important reasons to choose as accuracy is the ultimate aspect of the devices.
It needs 2 AAA batteries which costs less than the ones which require the 3-volt coin-cell batteries. It takes a blood sample of 0.4 ml for testing. No coding is required for the strips. Although you can access the device through the web application with the help of cable connected to the user's PC, the set-up can be a bit difficult, which can be a bit of trouble.
Features:
The device can hold up to 500 blood test results
The dimensions of the device are 2 x 2 x 2 inches
The weight of the product is 12 ounces
Battery required is – 2 AAA batteries
The device can store 750 test results in the memory
Pros:
Easy to read display screen
Rechargeable battery
Users can test easily at nighttime
colors Technology for easy indication
No manual coding required
Cons:
Does not have Bluetooth connectivity
It does not provide alternate site testings
Test strips are expensive
Walmart ReliON Confirm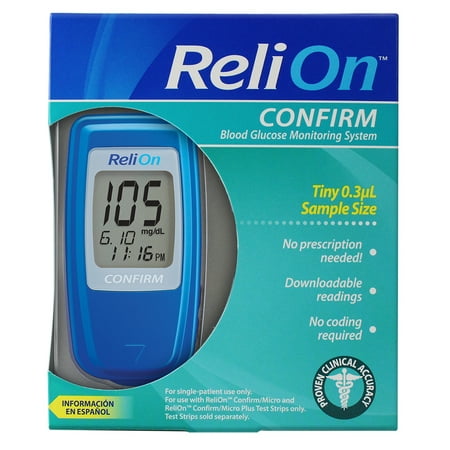 If you are looking for a device that suits your budget, then you should go for Wal-Mart ReliOn Confirm. This makes the device a feasible option for people who do not have health insurance or cannot cover the expenses of diabetes supplies. It is also useful for children.
It might seem like a basic device but has the same accuracy levels as others, at a low and affordable price. The price of the strips are the lowest in the market and does not require any coding before use, which is an added advantage. It takes just 0.3 ml of blood for testing. Like most glucometers, it also uses a 3-volt coin-cell battery. It is suggested to try it yourself before jumping to false conclusions. The device has a control solution which comes at an added cost that ensures accuracy.
Features:
Downloadable readings
The device can store up to 360 readings along with the date
The test can be from the palm or fingertips
Instructions are provided in the Spanish and English language
Pros:
The test results are displayed in just 7 seconds
It has alternate place testings
The device takes 0.3 ml of sample blood
It requires no coding
Indicator after the blood sample is taken
Cons:
Does not have enough memory to store readings
Conclusion
It is advised to choose what suits your requirements. Keep in mind about the price, accuracy, your insurance, and then think about which blood glucose monitor is best for you. Make sure you are aware of the expiration dates of the test strips used for the blood samples.
If you have any queries, then you can also ask your doctor to suggest you which device is good for your type. Get in touch with some certified diabetes specialists who can advise you on picking one. It all comes down to you being able to use it as you have to perform the tests daily because if you don't, then the symptoms can lead to worse problems which are why it's important to keep blood sugar levels in the required range. I hope this article helps you to select the appropriate device.