Weight Loss Machines – Buyers Guide
That one look at your body in the mirror after an intense workout session works wonders in boosting your self-esteem and self-confidence like few other things.
Who does not want to flaunt six-pack abs, trimmed-figure; curvaceous waist; toned musculature; or slimmer, fitter, and healthier body frame?  However, like many other challenging goals in life, losing weight is easier said than done. 
Your fitness and weight loss regimen get smoother, effective, and faster with the right set of workout equipment such as weight-loss machines. It is your trusted and reliable companion on your weight-loss journey.
This review will provide you information regarding the products available in the market for weight loss, the different types of weight loss machines, the Benefits of weight loss, along with a comprehensive buyer's guide and a few FAQs.
Top 6 Best Weight Loss Machines in India
Health Benefits of Losing Weight
Losing weight has a wide number of health benefits.
It helps in reducing the risk of diabetes by improving blood sugar levels.
Improves the cholesterol level in the body. Hence, it reduces the risk of heart attacks and other heart diseases.
Reduces pain related to joints, back, etc.
Decreases the risk of cancer and osteoarthritis.
It helps you sleep better and reduces the risk of sleep apnea.
It keeps your blood pressure level in control.
Improves energy, mood, vitality, etc.
Types of Weight Loss Machines
Treadmill
A treadmill is the easiest and most highly recommended machine for weight loss. It is an exercise that not only concentrates on your cardio but also gives a full-body workout. It stimulates jogging and walking exercise, which can work as a full-body workout.
Stationary bicycle
Due to the busy schedule and the development of technology, which has increased pollution in major cities, people these days opt to exercise in the gym.
The old way of cycling on the road is still considered more effective, but due to time constraints and traffic, the stationary bike's idea came into existence. It is as good as normal cycling.
Stepmill
It is a substitute for climbing the stairs. It is the hardest form of exercise as it moves against the gravity you need to handle your whole body weight. It is like mobile stairs, which are equivalent to climbing stairs.
This is the best form to lose extra pounds. It is an indoor exercise that can help you build good core strength and help in cardio building.
Ab Roller Machine
It is highly suggested for an abdominal workout. It is easily accessible, and it can be easily assembled. It doesn't take much space; it can be used by beginners who have just started working out. It gives good results if you are consistent as well as persistent.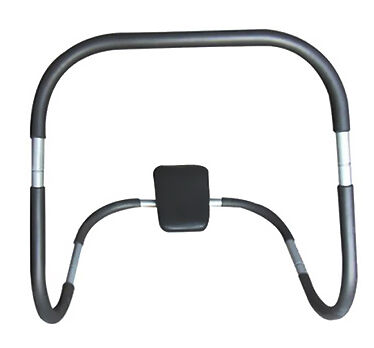 Gym Ball
It is highly suggested for back and abdominal strengthening. It can be used to stretch out, which may act as a kickstart for your workout. It does not occupy much space as well as is fun to exercise.
It is not as tedious as other gym equipment. It is not any rocket science but is easily usable and gives great results.
Stepper Machine
It is ideal for an abdominal workout. This exercise gives the full-body workout and helps in strengthening the core. It is a bit bigger and consumes space, but it is worth it.
Even if you miss your gym sessions, hop on to this stepper machine for a while, and you are done. This compensates for your hour's work at the gym.
Vibration Plates
Vibration plates offer intense workout sessions for losing belly fat and enhancing muscle mass. It produces multi-directional vibrations that help in contracting and relaxing your muscles.
These vibrations will make you work harder to find stability, making you lose more calories. You can do a 25/30 minute vibration plate workout in a day.
1. Generic Sportal Exercise Bike
The Sportal air bike is an effective exercise cycle for your gym and home to continuously provide a robust workout for your upper and lower body. This machine provides a full-body workout.
The handlebars are designed to enable you to push and pull with your arms, while the pedals serve as resistance objects for push and pull with your legs. It allows you to set the intensity and resistance of your workout as per your preference.
Main Features
The sportal air bike features a performance tracker that helps you to track your workout progress by measuring the time, speed, and distance covered
It is a stationary air bike that comes with two handles for moving back and forth. It comes with a wheel that is driven by both speed and the power of the pedals
It comes with a manual speed knob that helps you to adjust the speed of the bike as per your needs and preferences
This air bike provides a dual exercise option that includes using stationary or moving handles at your convenience. Thus, you can use it as lower body cardio only with stationary handles or engaged in full-body cardio with moving handles
It features a soft handle grip that provides comfortable holding during long cycling sessions
It comes with a comfortable seat design that ensures comfortable sitting for long durations. Moreover, you can also adjust the seat of this cycle as per your liking
It has a belt-driven system that ensures smooth and swift pedaling continuously
It features an adjustable pedal size that can be adjusted at your convenience by using straps
PROS (What we liked)
This air bike provides low impact workouts for strengthening the muscle groups of your hands, legs, and lower body
It requires minimal maintenance as you don't need to do any oiling or greasing
This exercise air bike features a portable and non-motorized cycle suitable for exercising at home or gym. It works wonders in improving your daily cardio routine
It is very easy-to-install, and it is suitable for any age-group
You don't need any special technique or training for operating this air bike
It does not feature any preset electronic programs, and it allows you to choose your resistance level and make gradual progress with your pace
So whether you're trying to lose weight, be healthier, or tone up, a Sportal air bike means you can reach your goals as efficiently as possible
CONS (What we didn't like)
It produces jerking sounds during cycling
2. Kobo Treadmill
Kobo is one of the well-known brands for gym equipment and fitness product. They have been producing fitness gear and gym equipment for more than two decades.
The treadmill by Kobo is well known for helping in cardio exercise. It helps in encouraging jogging for those who do not have time for regular exercise.
Main Features
Motorized
For walking lunges, walking plank
Inclination Level3
Maximum Weight Support 120 kg
Ideal For – Men, Women
Speed – 1 to 16 km/h
Peak Motor Power – 3 HP
Incline Type – Manual
Running Surface – 175.8 x 71.9 x 125 cms
Number of Preset Programs – 64
Heart Rate – Contact Grips
Warranty – 3 months domestic warranty only for the motor
PROS (What we liked)
It is foldable
It has an LCD screen which displays running and amount of calories burned
It has a safety lock folding
It has air cushions with 3 level incline
It consists of a speaker
It can be a substitute for jogging
It helps in cardio exercise
CONS (What we didn't like)
It is expensive
It consumes a lot of space
3. Lifeline Exercise Cycle
Lifeline has been coming out with various fitness equipment in the market and fitness gear and gym equipment. They have excelled in the market with the product quality and durability.
To allow you to stay fit, it came up with the stationary cycle, which helps in indoor cycling and not spending hours at the gym. This one piece of equipment may give you a full-body workout that you need to start your day with.
Main Features
Type: Manual
Supported Weight: 105 kg
Exercise Type: Cycling
Resistance Levels: 7
Inclination – Indoor Cycles
Display Type – LCD
Displayed Information – Speed, Time, Distance, Calories
Heart Rate Sensor Attached – No
Frame Material – Steel
Seat Adjustments – Upwards
Weight – 18 kg
PROS (What we liked)
It helps in indoor cycling
It consists of an LCD
It has a cooling fan wheel
It has different adjustment levels
It is made up of a steel body which is durable and long-lasting
CONS (What we didn't like)
No heart rate sensor attached
The product needs to be assembled using an installation manual
4. Propel Rower
Propel Rower is a package, it helps in abs, cardio as well as the leg workout. The rowing machine helps those who cannot attend the gym or are falling short of time to do any workout.
Main Features
Resistance Type – Air
Material – Aluminium
Monitor Display – Yes
Monorail Material – Aluminium
Resistance Level – 4
Monorail Length – 120 cm
Type – Foldable
Suitable For – Home
Used For – Cardiovascular
PROS (What we liked)
The monitor display shows time, total count, and counts per minute
It is used for cardio exercise
It is easily foldable and has a calorie count
It helps in a full-body workout
Low maintenance and easy storage
Adjustable workout level as per your convenience
CONS (What we didn't like)
It is not for the beginners
It is a bit overpriced
5. Headly 100 Kg Combo Home Gym
Cardio exercises are time consuming and exhausting; not everyone has time to go to the gym and spend hours. So this machine is beneficial for those who are busy and have less time for exercise.
Main Features
Sports Type: Gym & Fitness
Ideal For: Junior, Senior
Colour: Black
Exercise Type – Gym & Fitness
Designed for – Training
Material – Leather, Pure Rubber, Steel
Other Features – A combination of all gym equipment for the perfect workout. It is highly durable and long-lasting.  A perfect muscle builder
Sales Package – 100 kg of pure rubber weight, imported 6 in 1 multipurpose bench +1 X 5 feet plain rod, 1 X 3 feet curl rod, 2 X 14 " dumbbell rods, gym gloves with wrist supporter, 1 gym backpack, 1 skipping rope, 1 hand gripper, 4 locks, and clippers comes with the rods
PROS (What we liked)
It is a combination of all gym equipment necessary
It is durable
It is made of pure leather and steel
CONS (What we didn't like)
It consumes a lot of space
It is expensive
It is not recommended for beginners
6. Co-Fit AB Roller
Co-fit is a renowned brand that produces various gym equipment. This ab roller helps in strengthening the core and ab muscles.
Main Features
Type: Ab roller
For: Abs & core
Colour: Black, silver
Ideal Usage – Muscle building helps chest
Material – Foam
Other Features – Indoor Equipment, a soft pillow for neck support, foam tubes keep away injured,
PROS (What we liked)
It is easy to assemble
It has soft pillows
It has foam handles
Its ergonomic construction helps in easy exercise
CONS (What we didn't like)
It is expensive
It is not recommended for beginners
Frequently Asked Questions
1. Are vibration machines good for weight loss?
Yes. Vibration machines provide multi-directional vibrations so that your muscles are relaxed and contracted. It ensures an intense workout as you have to work hard to maintain stability on the machine. Hence, it is effective in burning fat and promotes weight loss.
2. Which exercise machine helps in making your stomach flat?
The machines that help make your stomach flat are treadmills, stair climbers, stationary bikes, vibration plates, rowing machines, and elliptical trainers.
3. How long should I ride on a stationary bike?
The minimum recommended time for riding a stationary bike is from 30 minutes to anywhere between 45 to 60 minutes.
4. Can you lose belly fat in a rowing machine?
Yes. Rowing machine helps in burning body fat as a whole. Hence, the belly fat also gets reduced as a part of the whole body fat. It combines cardiovascular and resistance training that helps in calories burning and workout out of your upper body and core.
Conclusion
A weight-loss machine is the essential component of your weight-loss and fitness regimen. It is designed to make your workout easier and effective. It gradually builds your stamina with increasing levels of resistance. 
With an effective weight-loss machine, you can remain in your workouts for much longer than you would have expected. It helps you to expand your strength and builds core muscle strength.
It helps you to reap the maximum benefits with minimal effort. These machines are designed to target specific areas of your body for quickly burning calories and reducing fats. 
Our favorite three are Kobo treadmill, Generic Sportal air bike, and Propel rower. 
It is a worthy investment that not only helps you to build a fitter body but also helps you to achieve robust mental strength along with improved self-esteem.