Best Two Burner Gas Stove For Small Families
We can see that every Indian household requires a gas stove, it is one of the most important items in the kitchen. The gas stoves are designed with more advanced options so that it is easy to cook food and is safer than before. Gas stoves help you with the preparation of all the favorite meals.
It is important to invest in the right gas stove which can be a bit of a task. This is why in this article, after a lot of research, the best gas stoves are listed for you to choose from.
We all know how convenient gas stoves are. All you need to know is the different features when it comes to picking the best.
Benefits of using Gas Stove
Gas Stove provides high-standard quality and performance in an affordable range for you.
Save Time 
Gas stoves are now designed to do the job quickly for you with the gas cylinders provided, it is now convenient to cook. Earlier gas stoves were just featuring two burners but now they have upgraded to 3 and 4 burners which save a lot of time if you are cooking multiple items.
Save fuel
Now with the latest technology available out there, a gas stove is designed to save a lot on fuel. As it can heat food items very quickly, it saves fuel. This means you save money as well and overall it is a win-win situation.
Available in Different Types
Due to the different varieties available out there, it is now convenient and easy for you to choose from either 2, 3 or 4 burner options. They also are available in a lot of materials like glass top, stainless steel or matte finish. You can pick which suits your kitchen interiors.
Types of Gas Stoves
Based on the number of Burners:
Now there are four different types of gas stoves around that differs with the number of burners. It can be classified as 1 burner, 2 burners, 3 burners, and 4 burner gas stove. The 3-4 burner gas stove is the most preferred one.
Based on the type of Burners and Mode of Ignition:
Standing Pilot
A standing pilot gas stove is one which consists of just one flame that constantly burns beneath the cooktop. Due to the constant flame, it consumes a lot of energy compared to the other types of gas stoves. This is why it is not preferred a lot.
Electric Ignition
Electric ignition gas stoves work entirely on electricity. To burn this type of gas stove, electric sparks, LPG/PNG, and the air combine. It is ignited easily with just a switch which can either be manual or automatic.
Sealed Burners
Sealed burners gas stoves are sealed with the cooktop. It does not produce much heat, which is why it is preferred that the other gas stoves. Sealed burner gas stoves are easy to manage and clean.
BUYING GUIDE TO GAS STOVE
There are a lot of things to look forward to while buying a gas stove. There are a number of features that I have listed below, which will help you select the right one according to your needs.
Material
The gas stoves are generally made up of stainless steel material, but there are other types like fiber or glass material which are used to make the gas stoves. So choose the one that goes on your kitchen table.
The Number of Burners
There are two burners and three burner gas stove which is best for a family of 4, but then that is not a suitable option for a big family or if you would prefer to cook multiple things at once. So going for a 4 burner gas stove is considered the best option.
Cleaning
A gas stove which is made up of fiber and glass is very easy to clean as they look very attractive in the kitchen even though it is a bit expensive option than stainless steel.
Size
It is an ignored feature, but then, in the end, many people do regret not looking at this feature. You should select the size of your gas stove based on your kitchen as how much space the gas stove will be occupying. By looking at this option, it will help you organize the kitchen properly, and not unnecessarily crowd it.
Heat control
Heat control is a very familiar feature with the gas stoves so if you go for heat control you can cook different types of food based on how much heat is required to cook the food at different temperatures.
TOP 5 BEST TWO BURNER GAS STOVE
You can cook a healthy meal for your family with this gas stove which has smooth and efficient functions that will save your cooking time. The Pigeon is designed to make your cooking easier.
Pigeon 2 Burner Gas Stove has two high-efficiency brass burners which measure 7.62 cm and 6.35 cm respectively.
Brass burners actually increase the thermal efficiency of a gas stove by at least 4% and maximum 58% which is why these burners make the optimum use of the gas in the kitchen.
The Pigeon Favourite has a steel frame which is strong and is equipped to handle all kinds of wear and tear which is experienced with daily use. The stainless steel metal base makes the frame sturdy and lasts for long.
The gas stove makes it very easy for you to keep away from the drips, food stains, or spills as the stainless steel drip trays are provided under each of the burners which are manufactured to fit closely so that the trays can handle even the messiest spills.
The gas stove has a crystal black toughened glass top which is not only attractive but also makes it easy for you to clean it. Now you no longer have to use the harsh methods but just a soft cloth to wipe it clean.
Features:
It has a Gas Inlet Nozzle style which is multi-directional
The control features include rotary Ergonomic Knobs
It has a two-year manufacturing warranty
It has a heat resistant toughened glass
The Knobs are smooth and easy
Burner Material is Brass
Its ignition type is manual
Ultra -modern cooktops made of high quality toughened glass with unique pan support for better balance
Pros:
It has a spill tray
It is easy to clean and maintain
It is rust proof
Even Flame distribution brass burners
Unique pan support for better balance
Cons:
It is not designed to look stylish
The knobs are a bit tight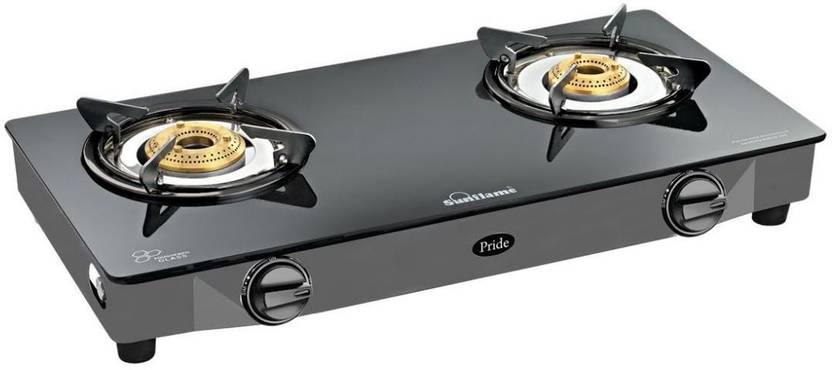 It is just perfect for small families as they can cook a variety of dishes with the Sunflame GT Pride which gives you a high-quality experience with a finish that sets it apart from the rest.
It features two efficient brass burners that are just suitable for bachelors or small families. These brass burners are efficient and consume less LPG than the other gas stoves. This helps in withstanding heavy usage.
The gas stove has a matte finish stainless steel base at the bottom and a toughened glass on the top and is built to last for long even with daily use.
The burners have pan supports which are euro-coated in order to prevent the color from wearing off. The drip trays are made up of stainless steel so that they can withstand high temperatures.
The glass is resistant to heat and scratch which makes it very easy to clean.
It features a unique design that makes it the perfect tool for your kitchen. The knobs support a stylish design, the brass burners have a metallic gold finish to fit the contrasting color of the gas stove.
Features:
The dimensions of the gas stove are (W x H x D) – 39 cm x 67 cm x 14.5 cm
The weight of the gas stove is 6.1 Kg
It has an extra-spacious toughened glass top
It has two high-efficient brass burners which are 85 mm x 85 mm in dimensions
It has a matte finish with a stainless steel base
It comes with a euro-coated pan supports
The gas stove has stainless steel drip trays
The product has a two-year warranty
The burner type is a thermal efficient brass burner
It has two gas burners
The type of body material is glass and stainless steel
Pros:
High-Temperature Resistant Pan Supports
Specially Toughened Glass Cook Top
High-Efficiency Brass Burners
Cons:
The knobs do not have a good quality
The gas stove is a bit heavy
Now cooking is made fun and a safe experience with this Prestige manual gas stove which is highly effective with its features. It supports a sleek and modern design that ensures to blend perfectly with your kitchen. We all have the tendency to spill things which is why this comes with a spill tray feature that is cleverly designed to collect all the liquids that accidentally overflows or is spilled to make cleaning it up easy for you.
The top is toughened glass which ensures durability and also easy cleaning which adds to your convenience. The stove has individual pan supports which are stable as well as have a sturdy built. It ensures that your utensils won't shake as you are cooking on the burners.
It has tri-pin burners which mean it is not just highly effective but also is resistant to corrosion and thus makes it last for a long time. It features imported Sabaf gas valves that make cooking very safe for you, smooth and also free of any kind of troubles. The knobs are ergonomically designed which is easy and convenient.
Features:
It is a manual gas stove
It features individual pan supports
It consists of multi-spark ignition
The gas stove has rubber legs to support
It has a high powered burner
Number of burners are two
The material of the body is glass and aluminum
The finishing is black
Pros:
It consists of spill trays
It is rust proof
Both the burners have pan supports

Spill-proof design

Elegant black toughened glass top

High-efficiency brass burners

Multi-spark ignition
Cons:
A bit expensive if compared to other manual ignition gas stoves
Prestige provides no warranty

It is one of the most affordable gas stoves in the list. It is very popular due to its affordable price and compactness. The design is very simple which is very convenient for most kitchens. It consists of two burners and the brass burners are of great quality and highly efficient.
Pigeon provides a two-year warranty on its product that is priced under 2000 INR. You get the best, high-quality product at a cheap price which makes it a great choice. It has also passed the ISI safety standards that mean cooking is efficient as well as safe now.
Features:
It is a manual gas stove
The burner type is a High powered burner
It has two burners
The material of the body is stainless steel
It has a two-year warranty
The material of the burner is Brass
The gas inlet nozzle type is multi-directional
It has rotatory knobs for controls
Pros:
It has spill tray included
It is resistant to water
It is rust-proof
The support mechanism is rubber legs
It is available at an affordable price
The quality of brass burners is really good
It has passed the ISI safety standards
Cons:
It does not have a glass top
The design is very simple
It does not sport any notable features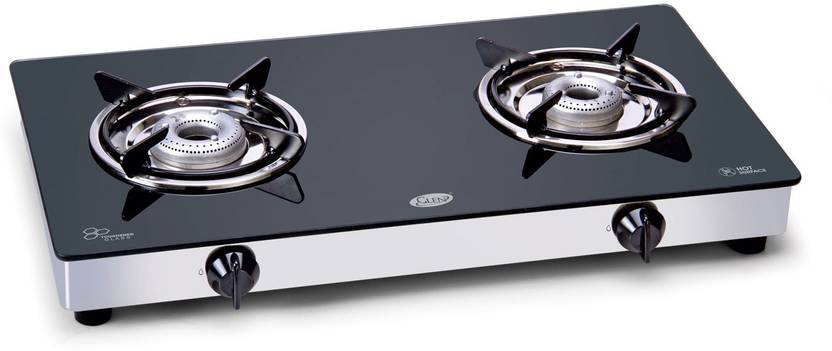 GLEN Glass Cooktop-Stainless Steel Manual Gas Stove merges perfectly with your kitchen with its stylish design and functionality. This gas stove is just great for your kitchen.
The durability of the gas stove is great as it is designed cleverly with a toughened glass top and the rich matte and steel body adds up to its stylish appearance.
The gas stove is durable and highly resistant to stain, rust and thus is very easy to clean which makes it a convenient option for you.
It consists of two burners which are spaced conveniently so that you get to cook in a safe manner without any troubles. the additional features include the multi-directional gas inlet nozzle and to control are the rotatory knobs. The burners are made of aluminum and the stove has rubber legs for support which makes this a safe product for your kitchen.
Features:
The pan support is 4 mm thick
The gas stove is manual
It has a toughened glass top
The type of burner is a high powered burner
The material of the body is stainless steel
It consists of two burners
The gas stove just supports LPG gas
It has a one year warranty
The material of the burner is aluminum
It has a multi-directional gas inlet nozzle tyle
Control features are rotary knobs
Pros:
The two burners are spaced conveniently
It is rust proof
It has rubber legs for support
It has a spill tray

Spacious Two Burner Toughened Glass Top Cooktop

Aluminium alloy burners for longer life

Rich Matt Steel Body

4 mm thick pan support

Support only LPG Gas (on request convertible to PNG Gas on chargeable basis)
Conclusion
These are the best five gas stove that features two burners. All consist of great features and you can pick the best one for yourself. It can be a strain to look for suitable options sometimes which is why this article is just made for your complete guide to find the best amongst the lot. Take home your favorite. I hope this article was helpful to you.
More Buyer Guides and Reviews