7 Best Slimming Belt for Weight Loss
Slimming Belts are one of the premium products designed to support people in slimming down. It is a fact that extra belly fat makes us conscious but now wearing sauna belts can help to be one of the solutions for shedding the stubborn fat accumulated in the belly region. The results are temporary though.
A slim belt is a neoprene wrap which is designed to reduce the circumference of the belly region by compressing the fat cells. Weight loss belt is considered to have a positive effect if one uses it along with workouts every day as it helps in losing inches, but the only problem is that your fat cells can return to its usual size.
Slimming belts are not only for losing weight but also helps in providing a good posture. This is usually used by obese people who are conscious about their weight. They are wrapped around the midsection region as that is where most of our fat resides.
In this article, you will get all the needed information like Benefits of slimming belt, Different Types, and comprehensive buyers guide. We have also mentioned our Top 7 Recommended products and FAQ's.
Benefits of Slimming Belts
Comfortable Back support
Trainers and orthopaedist recommend slimming belts to the patients suffering from back and spine pain. The slimming belt gives support to your back, and the best way to reduce the pain is following a correct posture. Using a slim belt relieves the pressure on your back.
Temporary Body Slimming
If the belt is placed correctly around your stomach, you can feel the immediate effect. If you are on your treadmill wearing these slim belt, you will reduce the extra belly fat present because of the additional pressure on your waist.
Sweat it out
Wearing a slimming belt under your clothes while work out will help in increasing the production of sweat, which will help in losing water weight. If you wrap the belt while you are doing cardiovascular activities, then the slimming belt will raise the core temperature and thus that will produce more sweat as your body will try to cool itself down.
Compress the Fat Cells
When you wrap the slimming belt tightly around the belly, it compresses the fat cells. The fat cells can go back to their standard size, which is why it is considered a temporary method.
A Better Approach
Slimming belt is an inexpensive method of losing fat in a faster way and can help in losing a few inches from your waistline. One should work out regularly for the slimming belt to work effectively like walking, running, swimming are a few good choices.
Improved Posture
Slimming belt also helps in improving your posture as the neoprene material used in slimming belts, is a rigid and durable material. Wearing the belt can help you in straightening your back while you sit and thus improve your posture. Back support and having a good posture reduces back pain and also neck pain.
Improved Self Confidence
Slimming belts can also help in gaining your confidence as it has immediate results, and with improved self-confidence, you will thrive on working harder so that you achieve maximum weight loss results.
Types of Slimming Belts
There are various types of slimming belts out there, although the aim of them is the same that is to burn fat. The belts are wrapped around the waist, and it generally works by the heat that is generated and the production of sweat at that region helps in toning and losing weight. Slimming belts have various degrees of vibration and stimulation, and some come equipped with batteries.
Vibrating Belts
Vibrating slimming belts make use of EMS ( Electrical Muscle Simulation ) to stimulate the muscle contractions which are similar to that of performing sit-ups or crunches. The vibrating slimming belts help in toning the abs, slimming the waist by inches and losing weight.
Electric Belts
Electronic slimming belts make use of electronic pulses to stimulate the stomach region. It is observed that the patented technology that is used in this type of slimming belts improve the core strength. Automatic slimming belts have shown to have positive results clinically that offers a very high level of stimulation, which is more than most of the EMS slimming belts out there in the market.
Fat Burning Belts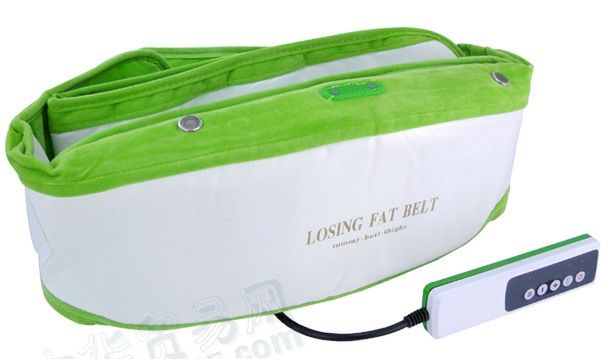 Weight loss slimming belts are very much similar to electronic slimming belts. Few of fat burning belts have electric pulses which contract the abdominal muscles and helps in toning that area.
Magnetic Belt

Magnetic slimming belts have a buzzing sensation around it which make use of magnets that helps in better circulation of blood flow in the body, but these belts are considered best for therapy of arthritis patients.
Sauna Belts
Sauna belts are very much similar to general weight loss belts. As you wrap these belts around your waist, it increases the core temperature, which results in a toned midsection and helps in losing weight.
Buyer's Guide
There are a lot of things that one has to take into consideration before buying a slimming belt
The thickness of the Belt
The width of the belt determines the heating ability that it would be able to produce, and that would be effective enough to reduce belly fat.
Price
There are a lot of varieties of products available in the market, having different shapes, material, and sizes. You should have an idea about your requirement and buy a product that fits into your budget as well.
Wearability
The belts should be easily wearable. If only the straps are correctly placed and positioned, it will produce better results.
Non-slip Interior
The interior material should be such that it does not slip often. You will feel annoyed by positioning it again and again while wearing it.
Velcro closure
To make the belts comfortable, the velcro closure should be strong enough to hold it tight. Otherwise, it will keep on getting loose and would not provide better results.
The Material of the Slimming Belt
It is an essential aspect since the belt will be wrapped around your waist against your skin so you should make sure that it is soft and comfortable to wear.The heat by the slimming belts helps in burning the calories and increases the temperature around the waist to enhance sweating. Most of the slimming belts are made up of neoprene as it is a synthetic rubber which is generally used in swimwear.
Size
Not all slimming belts are available for all sizes so before you buy one, make sure it fits your waist size and doesn't tighten while you workout making it uneasy for you.
Usage
Go through the reviews as it says a lot about the product and customer satisfaction like whether the product is trustable or does it have any issues before you make your final call.
Durability
This feature is essential as you do not want to waste your money on an expensive product which ends up getting ruined soon. You will be sweating a lot while wearing the slimming belt which is why make sure the product is highly durable
Body Shape
It depends totally on yourself whether the slimming belt will make you look better or awkward after you wear it.
Top 7 Best Slim Belts
1. Cartshopper Cartstore Vibro Slimming Belt
Its unique feature of making it work both in forward as well as reverse directions, Cartshopper Cartstore Vibro Shaper Belt Vibration Relaxing Slimming Massager (Black) gives you rigid support to your back while you are doing your day to day works and helps you get a reduced waistline.
With temperature variations, you can easily control the temperature settings of your belt.
Main Features
The slimming belt fits its purpose because of its ability to reduce belly fat by digesting the body fat. For those people who are looking for something that would reduce their weight, it is a perfect option for them.
You can control the temperature according to your need with this belt.
It can work both in forward as well as reverse mode.
To suit your personal preferences, it comes up with five variable speed control.
The package includes 1 x Vibro Massage Belt 1 x Hand-held controller 1 x Adapter 1 x English Manual
PROS (What we liked)
The product helps you to sculpt your waistline, making you look good quickly.
It has different advantages as it improves blood circulation, promotes metabolism, relieves fatigue, and muscle soreness.
It can produce results even without exercises.
CONS (What we didn't like)
No negative points observed so far about the product
2. ARG Magic Massage Slimming Belt
The product is not only designed to give results to your abdomen and belly fat, but it is also designed to produce results in the thighs and butt region.
ARG Magic Massage Slimming Belt With Vibration Weight Loss Belt Fat Reduce Vibration Belt comes with vibration motors on each side, thus, providing you with much better results. For easy navigation of varying speeds, the buttons are provided on the product. Let us look at the features of the product.
Main Features
The product comes up with a vibration motor on each of the sides. The shiatsu motor, which is equipped in the middle of the belt helps you to reduce belly fat and weight.
It is a lightweight product and is very easy to use.
The slim belt is equipped with slimming and toxin eliminating functions.
PROS (What we liked)
It provides a well-balanced treatment not only to your waist area but to your thighs and butts as well. It helps you to eliminate excess fat and makes you look slimmer than before.
It can give relief from your back pains as well by providing you with rigid support.
Following the centrifugal principle, it lets you feel the vibration within just a few seconds.
CONS (What we didn't like)
The length of the power cable is small.
3. FIT PICK Sweat Slim Belt for Women
As the product does not compromise its quality, FIT PICK Sweat Slim Belt is a perfect choice for users who are looking for something which would be useful in reducing their body weight and excess fat around their belly area.
Main Features
The product is made up of high-quality premium material that is the free size (i.e.fits S, M, L, XL, XXL, XXXL). Now your waist size does not matter. Any users can be dependent on it.
The belt provides light support to your muscles. It offers you with higher abdominal compression and lumbar support, making you look taller and correcting your bad posture.
The slimming belt is engineered with the best craftsmanship to help you retain the body temperature and reduce the excess belly fat.
PROS (What we liked)
It is designed to enhance your workout sessions by reducing the belly fat around your waist and giving it a perfect shape and size.
The increased body heat that the belt provides burns up the fat around it.
Due to the extra velcro strap, the belt stays tight and perfectly fits around your waist, thighs, and butt area.
It helps in relieving the sore muscles and enhance performance
It is very easy to clean
CONS (What we didn't like)
The rubber part of the belt wears out easily.
4. Wearslim Sweat Waist Belt
The material with which the product is made helps you to retain and absorb all the sweat from within without making it wet from the outside. Even though you exercise a lot, you would not end up in making the belt wet as the other products do. Wearslim Sweat Waist Belt | Belly Tummy Yoga Wrap Black Exercise Body Slim Look Belt improves your body posture and helps you reduce the tummy fat, thus, giving you a perfect shape.
Main Features
The scientific design of this product helps you in many ways such as flatten abdomen, firm tummy, and love handles, leading you to give a perfect shape to your body and provide you with a model figure.
The single fiber and material which is used to make this product produce higher compression in the abdomen resulting in more sweating.
The inner layer increases the body temperature while the outer layer does not absorb sweat and become wet.
PROS (What we liked)
The product increases your core body temperature and produces results within no time.
The wearing of the belt can only produce better results if you follow a proper diet and good hydration along with it.
The neotex material absorbs the sweat from the inner side so that it does not get wert on the outer parts.
CONS (What we didn't like)
The velcro closure is not so strong.
5. Lifelong Get Slim Slimming Belt Massager
Now tone your muscles conveniently with Lifelong LLSBM Belt massager which works on the principle of kinematics that helps in burning the fat effectively and efficiently. You have complete control of adjusting the speed and the time with the help of the digital remote. The design is ergonomic.
It is multifunctional, which means it helps in massaging at a rotating speed that stimulates the abdominal muscles. It breaks down the fat around the regions, which gives you the desired weight loss. You can use it on target muscles. It takes around 15 minutes to burn the fat down effectively. It works on a dual function.
Main Features
It has a power consumption of 12 watts
It has microcomputer control
It has nine kinds of massage strengths
The belt targets various regions like the thighs, calves, wrists, arms
It comes with a digital remote to control the speed and the timer
The product comes with one adapter, instruction manual, and remote
It has a one year warranty
The end to end length of the slimming belt is 44 inches
The dimensions of the product are (W x H x D) -36.4 cm x 13.2 cm x 12.6 cm
The slimming belt is capable of toning the muscles up to 2500 rpm
PROS (What we liked)
The belt targets various regions like the thighs, calves, wrists, arms
It is a multi-purpose slimming belt
It comes with a digital remote to control the speed and the timer
It takes 15 minutes to break down the fat
CONS (What we didn't like)
It does not have a battery indicator
6. McDavid 491 Waist Trimmer
This slimming belt will help in losing weight and will also relieve you from the back pain with the heat. It is light in weight and is long-lasting with the high-performing material that has a superior stretch and great insulation of heat. It promotes weight loss with its therapeutic heat technology that is designed primarily to cover your entire mid-section, which removes the excess water weight. The slimming belt is made up of neoprene material, which enhances its positioning with its non-slip inner layer.
Having a strong core helps in stabilizing the whole body. It builds a healthy posture and keeps a better balance. It helps in enhancing your performance by compressing the major muscles by reducing the excess fat content. Compression also helps in decreasing the loss of energy caused due to excessive activities or vibrations during the exercise.
Now with the cushions, it helps in supporting your lower back and abs during excessive exercise. It is ideal for everyday use. The belt is made up of neoprene, which has innovative technology with the therapeutic feature. Its inner layer is non-slip and prevents slipping.
Main Features
It supports your core
The weight of the slimming belt is 4 ounces
The dimensions of the product are (W x H x D) – 9.5 x 6 x 1.5 inches
It is comfortable and light in weight
It is made up of 100% latex-free neoprene material
It relieves muscle sores caused due to arthritis.
The slimming weight is adjustable with the velcro closure which can fit up to 40 inches
Helps in stimulating circulation, increases blood flow and stability of the muscles
The belt has soft cushions in the inner layer which prevents injuries
PROS (What we liked)
It is a unisex slimming belt

Promotes Weight Loss- The therapeutic heat technology is designed to wrap your entire mid-section and preserve body heat to remove excess water weight

Support to Core- A strong core stabilizes your entire body. Helps build a strong core that offers better balance and improves posture

Enhanced Performance- Compression makes significant muscles warm & happy, reducing fatigue & cramping. Compression also decreases the loss of energy from excessive motion & vibration during exercise

Prevent Injuries- Provides protection & helps prevent injury. Cushions compresses, & supports lower back & ab muscles during exercise. Also ideal for everyday support

Comfortable & Lightweight- Made with the highest quality & innovative technology materials. 100% Latex-free neoprene for thermal therapy & soft tissue support. The non-slip inner layer prevents slipping during exercise

Relieves Muscles Soreness- Retains therapeutic heat to relieve sore muscles and arthritis. Speeds your return to activity and enhances performance. Stimulates circulation, Increased blood flow, muscle stability, and rapid recovery

Improve Posture- Our neoprene Waist Trimmer provides support for the lower back and abdominal muscles promoting improve posture

Adjustableable- Waist trimmer was designed with velcro closure that fits waists up to 40 inches. One size fits most
CONS (What we didn't like)
No results without serious exercise sessions
It is not contoured
7. Bracoo Adjustable Waist Trimmer
Bracco slimming belt features a tactile grid surface which is along the inner lining designed specifically to prevent slippage during excessive workout sessions. The fastening system is pretty unique and easily adjustable which fits almost any size. It is made up of the high-quality latex-free neoprene material which has a soft velcro that improves the durability of the product. The belt has an anti-slip lining which prevents it from slipping during heavy workouts like jogging, cycling, etc.
It effectively reduces the excessive body fat by increasing perspiration in the body around the waist region and the lower back which provides a trimming effect. The belt also compresses and supports the core muscles which provides an enhanced performance that reduces the strain and fatigues.
This belt is best for abdominal toning and core training. Now you can burn more calories with the effective insulation which raises the temperature around the waist and increases the rate of heart and causes the burn of more calories.
Main Features
It can be easily washed in cool water
It is available in black color
The dimensions of the slimming belt are (W x H x D) – 43.3 x 8 x 0.1 inches
The weight of the belt is 6.4 ounces
It burns excessive calories
It improves core stability with the help of mild compression and also reduces excessive motion.
It reduces muscle injuries
The belt is light in weight
PROS (What we liked)
Burn More Calories with a waist trimmer which effectively insulates and raises the temperature of the abdominal core thereby increasing the heart rate, which in turn results in more calories burned; the most visible effect of this is increased sweat around the waist

Improved Core stability through mild compression, reduces excessive motion & energy leaks during kinetic loading and results in fewer muscle injuries from cooldowns between weight sets, drills, or exercise routines; suitable for indoor or outdoor use

Easy To Wear wrap features tactile anti-slip grid surface along the internal lining, keeping the trimmer in place during cardio routines such as jogging, running, or cycling; lightweight belt fits comfortably beneath clothing – always wear directly against the skin

Quality First design philosophy with superior grip Velcro, and 100% latex-free neoprene which is odorless & completely non-toxic

Unisex Design is intuitive, easily adjustable, and fits waists up to 40" in circumference
CONS (What we didn't like)
It is not comfortable for all sizes
Sometimes velcro loses holding power
Frequently Asked Questions
1. What are the precautions to take while using Slim belt?
Although it is exciting to lose weight quickly, it is essential that you take precautions while using them. If you are a patient suffering from heart disease, epilepsy, or if you are pregnant, you should avoid using it. If you are a person who does a lot of physical exercises, do not wear them at the risk of being bothered by it.
2. Do you have to exercise along with it?
It would be all the more effective if you are having your exercises along with it as a result produced is much more evident and efficient. If you plan to run on your treadmill wearing it, it is for sure that you would be losing a lot of extra fat around your belly.
3. Can you wear it all day for a better result?
It is not recommended that you should keep on wearing it all day. If you wear it for the whole day, you will sweat a lot, and that would make you dehydrated too much. So drink plenty of water while wearing slim belts.
Conclusion
The market out there is just filled with a variety of slimming belts which is manufactured by a lot of different companies. The competition is at its peak, and this usually makes it hard for customers to pick the right one. Every company makes sure that his product stands out in the market with its incredible features. A high-quality and durable slimming belt is highly recommended at all times as it is every customer's priority.
This is why I have mentioned the best seven slimming belts for you from different brands which have their pros and cons to keep in mind that there are side effects to slimming belts as well.  Now finally, it is your turn to chose the one that fits your requirement. Select wisely so that it is worth your money, and you can achieve your goal in the end. I hope this article helps.