Best Refrigerators Under 25000
Partying at home without ice-cream for desserts or ice cubes for your drinks is beyond imagination. It's not exaggerated to say that refrigerator is amongst the life-lines of modern-day living.
Cracking open a can of favourite cold drink or enjoying a cold coffee with ice-creams in summer; a refrigerator brings about joyous delights and extreme convenience to our ever busy lifestyles. 
The era-defining and game-changing impacts of refrigerators have made them a common household appliance. It provides the longer safe-consumption periods for keeping your cooked food items safe and keeps fresh vegetables fresh for longer.
In this review, you will read about the different types of refrigerators under Rs. 25000, pros, cons of a single door and double door fridge, features to expect in the refrigerator under 25000 with a comparison of refrigerators under 25000 and above 25000.
You will also find a buying guide, our Best fridge under 25000, and a few FAQ to make the readers clear and look forward to buying.
Pros and Cons of Single Door Fridge
They are the most energy-efficient fridges and consume less power
Single door fridges occupy less space when compared to a double door fridge
Most of the single door fridges work on direct cooling
The capacity of the single door fridge is less, and hence you can store only a little stuff
Single door fridge is economical when compared to other fridge types
It can not be used by a family whose size is 4 or 5 members
Also, it comes with a smaller freezer compartment
Moreover, to pick an item from the freezer compartment, you need to open the fridge's main door and the compartment door. In this process, the whole fridge temperature changes
Pros and Cons of Double Door Fridge
Double door fridges are ideal for large families
The storage capacity of the fridge is more, and you can store more stuff when compared to single door fridge
Two different compartments for the freezer as well as the storage compartment
Every double door fridge is frost-free, and you do not need extra work to clean the build-up ice. Ice gets cleaned automatically
Also, these fridges come with bigger shelves and mainly tough glass shelves instead of wire shelves
Double door fridges are expensive to single door fridges
They are not efficient when compared to a single door fridge
Because of the capacity and size more power is consumed
Features You Can Expect in Refrigerators Under 25000
Auto Defrost
Defrost is a technique of removing the built-up ice from the fridge by melting. We have fridges with manual defrost option and fridges with auto-defrost option.
In auto-defrost, your refrigerator will take the responsibility of melting the built-up ice in the freezer compartment. Auto-defrost is performed regularly in the fridge whenever necessary.
The Inverter Compressor
The inverter compressor is different from the normal compressor used in refrigerators. The normal compressor works with only one speed. Hence, when the fridge door is open shut, and the outside temperature is high, the compressor runs with the same speed.
While with an inverter compressor the speed of the compressor varies. It runs at a different speed in different situations based on the heat in the fridge. When the outside temperature is cool, the compressor works less.
Similarly, when the temperature inside the fridge and the outside temperature increases, the compressor runs more. Hence, with an inverter compressor, electricity savings will be more than a normal compressor fridge.
Convertible
A convertible fridge provides you with extra storage space. When you have a lot of food to store and left with no space, you can convert the freezer compartment into a storage compartment and back to the freezer compartment.
You don't need to be using the freezer compartment all the time. Hence, many branded companies provide this option with regular double door fridge.
Base stand with drawer
You can expect this feature in a few fridges that are priced under 25000. A base stand with drawer acts as a stand to your fridge and provides space to store veggies like onions, potatoes that are not placed inside the fridge.
A fridge with this feature is like providing additional storage space apart from the storage compartment.
Comparison of Refrigerators Under 25000 and Above 25000
A basic refrigerator can always be obtained under Rs.25000, yet they will not have many features. However, if you are looking for more features, any fridge priced above 25000 will have good features.
Under 25000
You can expect your fridge to have either manual defrost or frost-free. Under this budget, you can have many fridges with a manual defrost system. A basic locking feature is provided.
Also, very few fridges have a double door with separate freezer compartment. At the same time, you will have plenty of fridge with single door facility. Also, you can expect a base stand drawer facility, inverter compressor, and convertible feature.
Above 25000
While the fridge in this budget comes with packed features, you can expect a smart connect feature to adjust the fridge temperature using the app. Never expect your fridge with this budget to have a manual defrost system.
Water and ice dispenser is some exciting feature that can be seen in this category that helps to have chilled water or ice cubes without even opening the fridge.
Also, knock and see is one interesting feature that helps to view the items before opening the door. You can also expect multiple doors or side-by-side door facility. LED panel is one feature that helps to control the temperature settings from the outside itself.
However, the more features included that more complications included. If you want a fridge that produces low electricity bills, then it is best to buy an energy-efficient fridge.
Types of Refrigerators Under 25000
We know that your refrigerator may be either direct cool refrigerators or frost-free refrigerators. A direct cool refrigerator is a basic refrigerator, and they do not have fans for cooling the compartment.
Also, in this type of fridge, one part may be cooler than others. Yet they are energy efficient and available at affordable price. A direct cool refrigerator needs manual defrosting.
A frost-free fridge comes with fans for cooling and circulating air inside the fridge. They do not allow ice accumulation outside the freezer compartment. Also, the frost-free fridge comes with auto-defrost technology.
Yet frost-free refrigerators are less energy-efficient than direct cool refrigerators. However, a frost-free refrigerator can store the foodstuff for a longer time.
Single door
A single door fridge includes a freezer compartment and storage space for all other stuff in one single compartment. They are available at a lower price than double door fridge. Also, they occupy less space.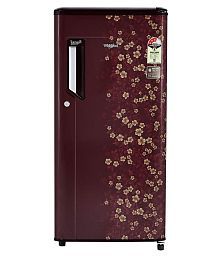 Double door
A double door fridge comes with two compartments, one for the freezer and other for the storage compartment. We have two types of double door fridges: a top freezer fridge and the bottom freezer fridge.
Top Freezer
Top freezer refrigerator is the traditional fridge seen for many years. It has a top freezer compartment and storage compartment for storing vegetables and other stuff.
Bottom Freezer
A bottom freezer fridge comes with two separate compartments. The freezer compartment is at the bottom of the fridge while the storage compartment is at the top.
The most bottom freezer compartments have a drawer to open the freezer and a door to open the storage compartment.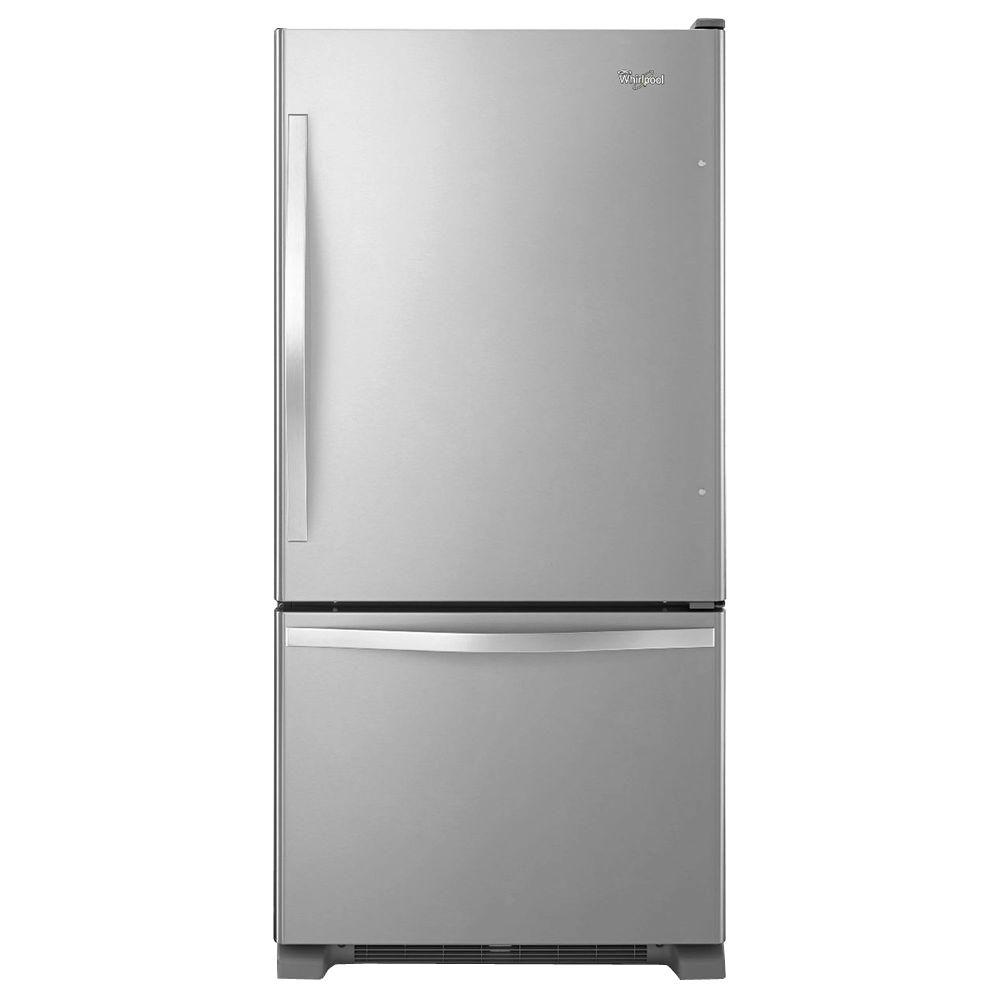 Mini Fridge
A mini-fridge is a refrigerator that has the capacity of less than a single door refrigerator. Most of the mini-fridges do not have a freezer compartment. Also, they occupy less space and can fit in any room. Many people prefer this fridge in bedrooms or TV rooms.
They consume less power. Moreover, they are portable and easy to use. However, mini-fridges do not provide great features and can be used for basic needs.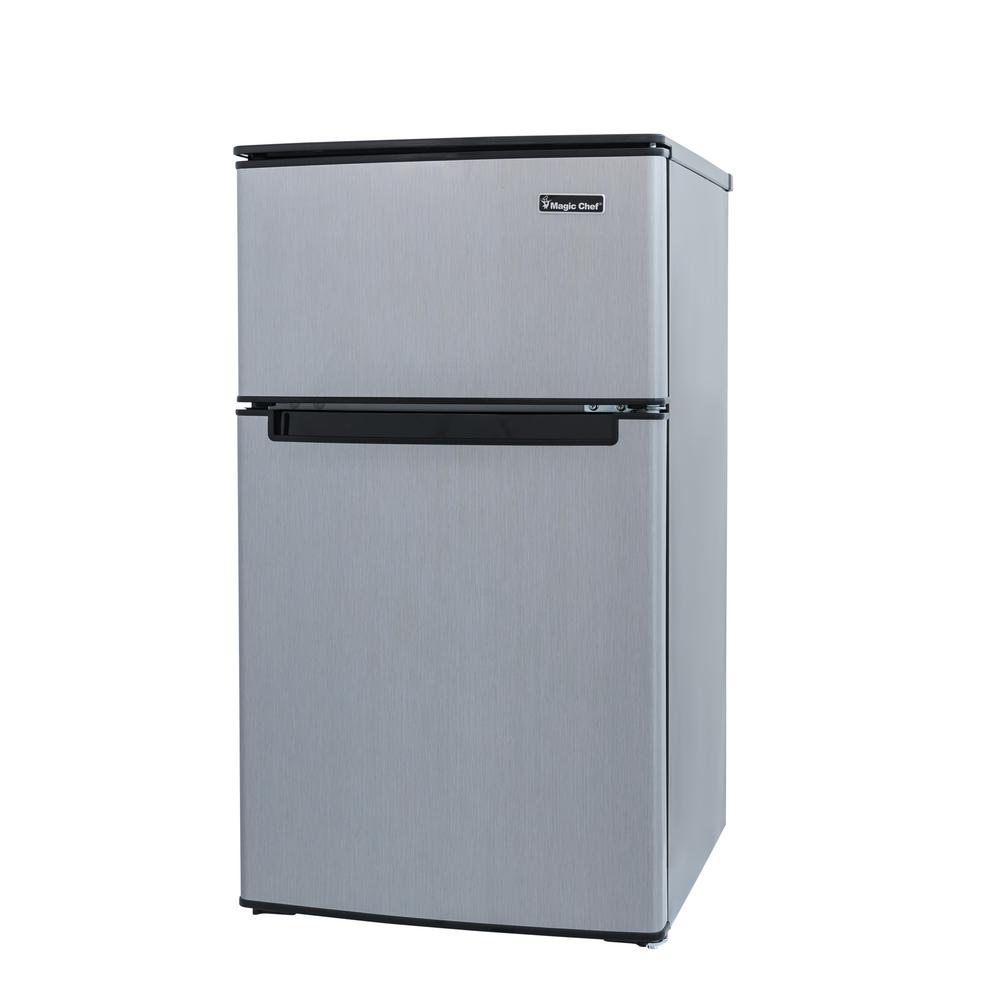 Buying Guide
Capacity
Usually, refrigerators under 25,000 do not come with a  huge capacity. The fridge's capacity may be from 160 L to 300 L. Depending upon the family's size, opt the fridge that matches your requirement.
For example, a family with two persons can opt for the fridge with the capacity of 180 L to 220 L provided they need to store the vegetables for a week. However, for a family with more than four persons, it must opt for the fridge with a capacity of more than 300 L.
Apart from storing veggies if you need to store meat items, opt for a double door fridge. However, a double door fridge has more storage capacity than a single door. Also, a larger storage capacity fridge will occupy more space than a smaller capacity fridge.
Warranty
The refrigerator you choose must have a warranty for the product as well as for compressor. However, every company provides different warranty terms.
Some brands provide one year warranty for product and 5-year warranty for the compressor. Other brands provide one year warranty for product and 10-year warranty for the compressor.
Shelves
Traditional fridge shelves are made from metal while the modern shelves are made from toughened glass. Toughened glass shelves are durable and resistant to heavy-weight.
Irrespective of the material it is made from, your shelves need to have the option of adjustment. They must be easily removed from the fridge and placed in another slot to adjust as per the storage stuff.
LED lighting
Lighting is one important factor to consider as with dim lights or improper lights you can not see the stuff properly.
If the light inside is dim, you can not reach out to your food properly, and any item stored in the back will be unseen and get damaged.
A bright light in the fridge increases visibility.
Temperature controller
Every fridge comes with a temperature adjusting controller. When the fridge is loaded, it needs to be adjusted to a cool temperature. Ensure that you adjust the temperature in such a way that your edibles won't get spoiled.
Features
You can not expect great exciting features when your budget is limited. However, you can expect a fridge with an auto-defrost option or base stand with a drawer or an inverter compressor or convertible.
Also, your fridge may have toughened glass shelves instead of wire shelves that cannot resist heavyweight.
Top 11 Refrigerator Under 25000
1. Whirlpool 240 L Frost Free Multi-Door Refrigerator
If you are looking for a good refrigerator with a good budget and ample features with it, Whirlpool 240 L Frost Free Multi-Door Refrigerator(FP 263D Protton Roy, Caviar Black) would be a preferable option for users.
It is powered by the 6th sense of active fresh technology and microblock technology. The 32L storage compartment allows you to store a lot of fruits and vegetables in the refrigerator. Let us have a look at the features of the product. 
Main Features
The product is equipped with a moisture retention technology which makes sure that the cold air flowing will retain the moisture and freshness of the food items
It is one of the most energy-efficient refrigerators as it consumes energy much lesser than a CFL
Zeolite technology prevents the excessive ripening of fruits and vegetables keeping their life longer
The air booster controls the cold air so that each of the compartments receives uniform cooling which it requires
Micro block Technology prevents 99%* bacterial growth, keeping fruits and vegetables fresh for long. With 6TH SENSE® ActiveFresh Technology and Zeolite Technology, it prevents the excessive ripening of fruits and vegetables
PROS (What we liked)
It has separate storage space for storing fruits and vegetables so that it would not cause odour mixing
It has a deli zone with a customisable temperature knob. It helps you for storing delicacies like cheese, berries, chocolates, and other dairy products
It comes along with an ice-cube maker which also allows you to store multiple ice cubes with an easy twisting action
Along with that, it prevents odour mixing of different food items and better retention of cooling inside the refrigerator
CONS (What we didn't like)
No negative points were found
2. LG 260 L 3 Star Double Door Refrigerator
LG GL-I292RPZL 260L refrigerator is a 3-star, frost-free, and double door refrigerator. It features the most advanced, energy-efficient, and new smart inverter compressor that adjusts cooling power as per the amount of food in the fridge for saving energy.
It is an innovative and delightful refrigerator designed to deliver unmatched performance, super silent operation, and great savings. It adds great convenience to your cooking and kitchen management. It boasts of a 3-star rating in energy consumption.
Main Features
This refrigerator features a new ice-beam door cooling system that helps you to maintain even and super-cool temperature throughout the refrigerator
It comes with vents at the back that circulate the air for ensuring every part of the refrigerator is evenly cooled
It features a reliable stabiliser free operation in the voltage range of 100V~310V. It minimises the chances of damage substantially in the event of any voltage fluctuations
It has a smart diagnosis feature that provides a fast and convenient way for trouble- shooting issues. You need to call the LG customer service and keep the phone on the fridge for connecting it with a PC that gives a quick diagnosis within seconds
It employs auto-smart connect technology that enables you to connect your refrigerator to your home inverter. After connecting the refrigerator to the home inverter once, it takes inverter power for running automatically during power cuts
It employs jet-ice technology that is designed for individuals who need ice frequently and quickly
This refrigerator possesses 3 shelves of spill-proof toughened and unbreakable glass material that are suitable for carrying heavy load without causing any further spillage
The refrigerator door has ample space for keeping 2 litres bottles
It comes with a 23 litres vegetable compartment and an egg tray with a lattice-type cover for maintaining the optimal level of moisture within
It features an anti-bacterial and air tighten gasket that effectively prevents bacterial growth and maintains a hygienic environment
PROS (What we liked)
It comes with multi-flow air vents that are located throughout the refrigerator that provides even cooling helps in maintaining the food fresh and healthy
It features a spacious chiller zone that provides super-cooling for a large number of food items
It is an eco-friendly refrigerator that provides power savings and helps in maintaining a greener planet
It has a humidity controller that maintains the cool and dry air-balance inside the fridge
It has a door-alarm and moveable trays
It comes with a deodoriser that prevents bad smells and maintains lasting freshness in your refrigerator
It is equipped with a high-quality, and energy-efficient top LED that provides a longer life span as compared to traditional bulb lighting
It features a double-twist ice tray, and it can work without any stabiliser in the range (100~310V)
CONS (What we didn't like)
Sub-standard after-sales customer care.
3. Haier 195 L 4 Star Single-Door Refrigerator
Haier HED- 20CFDS is a 4-star rating single-door refrigerator designed to stalk your daily essentials to ensure long-duration and healthy consumption. It comes with a huge storage capacity of 195 litres.
It features a cool pad and PUF insulation for ensuring that the contents of your refrigerator remain cool and fresh for up to 10 hours even during power failures. It makes ice-cubes faster and maintains the freshness of fruits and vegetables for longer periods.
It is a stylish and direct cooling refrigerator that provides savings and super-fast cooling whenever you need it. It is equipped with various innovative features like an anti-fungal gasket, door-lock, easy maintenance, etc.
Main Features
It features an hour icing technology that ensures super-fast ice-formation within 60 minutes due to its super-fast cooling.
It comes with a PUF insulation that provides thicker and rigid polyurethane foam compared to conventional refrigerators This provides enhanced cooling by efficient retention of lower temperatures.
It comes with a defrost button that provides instant defrosting of the ice stored in the freezer
It provides stabilizer-free operation as it can operate on a low power supply of up to 135 volts. Thus, your refrigerator remains unaffected by power fluctuations
It features toughened glass shelves that can hold and withstand the heavy pans and pots for maintaining lasting freshness.
It comes with the manufacturer's warranty of 10 years on the product from the date of purchase
It has a reciprocatory compressor that is suitable for providing optimum cooling
It has an eco-friendly refrigerant that uses R600a refrigerant gas with a low global warming potential
PROS (What we liked)
It features a 195 litres high-storage capacity that is suitable for a medium-sized family
It comes with a large vegetable box that helps you to keep your perishable food and fresh greens fresh for a longer duration
It comes with a spacious design and features multi airflow vents for keeping your food fresher for ensuring longer consumption periods
It improves the décor of your kitchen with its aesthetically pleasing and sleek design. It comes in attractive colours that impart a lavish and modern look to your kitchen
It is a stunning and spacious refrigerator that provides high energy-efficiency with its 4-star energy-saving mode
CONS (What we didn't like)
The refrigerator door shelf is too small for keeping 1-litre bottles
Its bottom shelf is smaller than the size of other shelves
4. Samsung 253L 3 Star Double Door Refrigerator
Samsung 253 litres fridge is a 3-star double door refrigerator equipped with an exceptional display, stylish design, and power-packed functions.  It has an energy-efficient digital inverter compressor that provides enhanced durability and long-lasting usage.
It comes with a cool wall in the freezer designed to keep the food items cold for up to 12 hours during electricity cuts so that food does not get spoiled.
It provides hassles-free cooling, and its deep door provides ample space for holding larger drinks without wasting any storage space.
Main Features
It features an efficient digital inverter technology that provides enhanced energy efficiency, quieter performance, and long-lasting durability
It has an auto-defrost functionality that prevents unnecessary ice-build up
The digital inverter compressor is designed to make adjustments in its speed automatically as per the cooling workload
It is designed for stabiliser free operation for delivering reliable and steady working. It effectively protects your refrigerator from power fluctuations. In the event of voltage increments, it cuts the power automatically for preventing any electrical damage
It comes with a smart connect inverter that provides efficient cooling performance even during the power cuts for ensuring that the food items always remained fresh
It has toughened glass shelves for storing and withstanding the heavy pots and pans easily. It features a deeper big bottle guard as compared to conventional refrigerators
It comes with LED lighting that makes it very easy for finding ingredients. This light is energy-efficient, brighter, and slimmer as compared to conventional lighting
It features an ice blue digital display that provides effortless control and provides clear viewing
It has a cool wall that prevents the food spoiling during power cuts by keeping food items frozen for up to 12 hours at temperatures below 0°C
It comes with a smartly designed moist, fresh zone that helps preserve the flavour and freshness of vegetables and fruits for a longer duration.  It serves as an ideal environment for keeping your perishable food items
It comes with a 1-year manufacturer warranty on the product and 10 years on the compressor
PROS (What we liked)
It provides ample storage space with a spacious door shelf that can store big milk and juice containers. It comes with two spacious rows in the door for storing bottles and beverage cans
It offers all-round and even cooling throughout the refrigerator from one corner to the other. It helps in keeping a constant temperature by blowing cold air through its multiple vents on every shelf level
It comes with an easy-to-use movable ice-maker that helps you to dispense ice-cubes conveniently and enables you to use your fridge space flexibly
It features a built-in natural fibre deodorising filter that removes the strong smells by continuously passing the air via activated carbon-filters
 This keeps your refrigerator deodorised and helps in preserving the aroma and flavour of food for longer durations
It comes with a stylish recess handle that provides a modern and classy look to your refrigerator while providing smooth and convenient handling
It provides extra space for keeping dairy products
CONS (What we didn't like)
It does not feature a smart diagnosis system
5. Samsung 192 L 4 Star Inverter Direct Cool Single Door Refrigerator
Samsung has a wide range of products, including smartphones, tablets, smart TV, UHD TV, washing machines, air conditioners, and refrigerators.
Though the company was founded in 1938, it entered the electronics industry in the 1960s. Samsung is in different fields like food processing, textiles, and much more.
The digital Inverter compressor powers the energy-efficient Samsung refrigerator. For convenient storage of fruits and vegetables, it is provided with a separate box.
The stabilizer-free fridge cuts the power automatically when more voltage fluctuations are noticed. Also, you can lock the fridge for your kid's safety. Moreover, it does not have any coils at the back of the fridge.
Main Features
Samsung direct cool refrigerator has a capacity of 192 L
It requires manual cooling
The fridge comes with toughened glass shelves
Also, it has 4-star energy ratings which reflect positively on the electricity bill
Single door fridge is powered by the digital inverter technology which helps to keep the food cool and fresh
Samsung 192 L  fridge comes with an attractive grade door that looks like a double door yet it is a single door
To open the door conveniently, it comes with an island-type handle and has toughened glass shelves
PROS (What we liked)
Veggie box lets the user store fruits and vegetables separately, keeping them fresh
The refrigerator can also work on solar power
Clean back lets users place this fridge anywhere and cleaning the fridge is easy
CONS (What we didn't like)
The noise produced is a bit loud
6. Samsung 253 L 4 Star Frost Free Double Door Refrigerator
In 1938, Samsung was found, and over a period of time, it became the largest multinational company. Though it was a trading company initially, the company also started to prove in textiles, food processing, insurance, retail, and securities.
Samsung entered the electronics industry in the 1960s. The company includes its category of products, TV& AV, Mobile, Appliances, and Computing.
Samsung frost-free refrigerator comes with a door alarm. The fridge comes with an easy slide shelf. Also, it is provided with a big bottle guard with deeper shelves. The moist, fresh zone is provided to keep the foodstuff fresh for a longer time.
The front door comes with a digital display. Also, it makes ice fresh and has an anti-bacterial gasket. Moreover, it provides cool air through multiple vents.
Main Features
It is powered by Digital Inverter technology and Smart Connect Inverter
The capacity offered is 253 litre, allowing a lot of storage space
Also, it provides lighting efficiently
Offers Digital Display lets you touch and select an option
To keep the food fresh, vents are provided for proper airflow
Toughened glass shelves are provided in the fridge that resists heavyweights
The fridge has stabiliser free operation
PROS (What we liked)
Good cooling and distributed cooling.
Easy to operate cooling control
It operates on a home inverter
It has an antibacterial gasket which helps to keep the food fresh from all the germs
CONS (What we didn't like)
The door alarm is very low
7. Whirlpool 215 L 4 Star Direct Cool Single Door Refrigerator
Whirlpool is a leading company and has over 100 years of experience. It was founded in the year 1911. It entered India in 1980. All their products maintain high quality and include dishwasher, washing machine, air purifier, hand blenders, juicers, toasters, etc.
Refrigerator Whirlpool 215 L fridge comes with a warranty and has a base stand drawer for storing the veggies. The energy-efficient fridge has a separate fruit crisper.
Now, you can easily make ice at home in the freezer compartment. A moisture control knob is provided to maintain even cooling. Moreover, it is provided with a lock feature to be used for safety purposes.
Main Features
The energy-efficient fridge comes with a 4-star rating
The direct cool refrigerator has a capacity of 215 L
Single door refrigerator comes with a base stand drawer for additional storage
It is provided with stabiliser free operation
The fridge is provided with a moisture control knob
For storing the fruits separately, it comes with fruit crisper
Also, a tri-zone crisper is provided to store the food separately
MicroBlock technology is used to prevent the bacteria from entering
PROS (What we liked)
It offers s unique fruit crisper zone
Also, it has an attractive floral pattern on the door tp add class
Has 6th sense fresh control technology, maintaining freshness of fruits and vegetables for 6 days
CONS (What we didn't like)
Not suitable for a large family or family with the size 5
8. Samsung 212 L 3 Star Direct Cool Single Door Refrigerator
Samsung's direct cool refrigerator is stabilizer-free and has 212 L capacity. The fridge comes with a 3-star energy efficient rating. A separate fresh zone is provided to keep the items fresh for a longer time.
Main Features
Samsung single door fridge requires manual defrost
The capacity of the fridge is 212L
You can store frozen foods in the freezer compartment
Also, you can store big bottles with the help of the bottle guard
Lock your fridge when you wish your child not to open it
It comes with toughened glass shelves
The fridge comes with an anti-bacterial gasket
PROS (What we liked)
Well finished product with clean look blends right into the kitchen 
Energy-efficient, it has 3-star energy ratings
Has spacious storage for fruit and veggies
CONS (What we didn't like)
The fridge is lightweight and sometimes moves even when the door is opened
9. Leonard Usa 120l Double Door Mini Fridge
Leonard USA products include air conditioners, water dispensers, R.O.system, refrigerators, ovens, steam irons, and much more.
Leonard USA is a double door mini fridge and is frost-free. It comes with inverter technology and has enough storage space. Also, a knob is provided for temperature adjustment.
To well organise the cans, a separate can dispenser is provided. Energy efficiency is certified by the US. It does not have any coils at the back.
Main Features
You can store up to 6 cans with a can dispenser
It doesn't need any installation and is ready to use
It is the energy-efficient fridge and certified by EPA and DOE
Also, the fridge has an anti-fungal gasket
Offers 120 L capacity
It comes with toughened glass shelves that can be removed for cleaning
The fridge has a steel finish
PROS (What we liked)
Enough space to store fruits and veggies for a bachelor or 2-3 people
Has clean back with no open grills, making it a safe option
The frost-free fridge doesn't build any ice
A regulator for temperature adjustment
Because of its size and capacity, this fridge can be easily transported
CONS (What we didn't like)
Leaking of water due to ice formation in the lower part of the freezer needs frequent defrosting
10. Haier 258 L 3 Star Frost Free Double Door Refrigerator
In 1984, Haier Group Corporation was founded. It is the leading Chinese multinational electronics and home appliances company. Their products have innovative technology.
The frost-free double door fridge has 3-star ratings and comes with a one-year product warranty and 10-year compressor warranty. Toughened glass shelves are provided, and the capacity of the fridge is 258L. The fridge is also capable of making the ice within 49 minutes.
Main Features
Haier refrigerator has 3-star ratings
It is the frost-free double door refrigerator
It comes with the capacity of 258L
The fridge is provided with adjustable feet
Now you can convert the freezer compartment into a fridge and back to the freezer compartment
PROS (What we liked)
Finishing of the product is good
Easy to use the convertible feature lets user store more items in the fridge.
It has the feature of quick ice making
Also it has an anti-fungal gasket, and the fridge is easy to clean
CONS (What we didn't like)
The noise produced is loud
11. Godrej 196 L 3 Star Direct Cool Single Door Refrigerator
Godrej is an Indian company established in 1897. They introduced first lock with lever technology. Also, they ware first to produce safe lockers.
Their operations are in different sectors like appliances, industrial engineering, consumer products, agriculture products, and more. Their first refrigerators were started in 1958.
The refrigerator Godrej has 3-star energy efficient ratings. It comes with a one-year product warranty and a 10-year compressor warranty. The fridge has adjustable shelves and is ideal for a small family.
Main Features
It has in-built freezer compartment and a separate fresh zone
Offers manually defrost
Offers 196 L capacity, ideal for small space
It has an anti-bacterial gasket technology
The product comes with a user manual and a warranty card
PROS (What we liked)
Ideal for a small family and small spaces
The shelves are wired metal shelves, and they can be adjusted
3-star rating reduces the electricity bill.
CONS (What we didn't like)
Frequently Asked Questions
1. Which is the best brand in refrigerators?
Some of the best brands in refrigerators Whirlpool and LG. 
2. What is the difference between 3 stars and 4-star refrigerator?
The difference between 3 stars and 4-star refrigerator is that 4-star refrigerators consume less energy than the former.
Bureau of Energy Efficiency (BEE) is responsible for setting the standards of Energy efficiency of any product.
Under BEE, stars are awarded to each refrigerator of specific volume category. The maximum number of stars that a product can have is 5. The higher the number of stars, the more is the efficiency of that product.
If a 250L refrigerator's star rating is 5-stars, that product from any manufacturer consumed the least power in the 200 to 300-litre capacity fridges.
A 5-star rating product will have better inverter compressors that are more efficient, and they cost more. Still, the extra cost of that product will be recovered in saving the electricity charges.
3. What is the difference between the single door and double door?
A single door fridge is more efficient than a double door fridge. Also, power consumption is less in single door refrigerators. While coming to maintenance, the double door is easier to clean as an auto-defrost facility is included.
But a single door fridge has less storage space than a double door. Also, it occupies less space in the room. Moreover, a single door is economical compared to a double door fridge.
However, it is left to the user to pick any fridge based on their family size and requirement.
4. Do the fridges under 25000 have manual defrost, or automatic defrost?
Yes, you can expect both, but you will have plenty of fridges with manual defrost feature in this category.
Conclusion
Refrigerators have evolved a lot and become more sophisticated and advanced than ever before. This is to meet the ever-changing requirements of generation-next who keep looking for ways for adding more comfort and convenience to their lives.
Our top favourite is Whirlpool 240 L Frost Free Multi-Door Refrigerator, LG 260 L 3 Star Double Door Refrigerator and Samsung 253L 3 Star Double Door Refrigerator.
From single door household old fridges, the trend is shifting towards multi-door fridges. It helps prevent wastage of food items and keeps food in a healthy state for later consumption by preventing the growth of micro-organisms like bacteria.
Modern-day refrigerators come equipped with a wide range of innovative features that not only keep our food cold and healthy, but also bring a fundamental shift in the way we cook, live, or organise our lifestyle.
Get a high-end refrigerator under Rs 25,000 that improves your kitchen aesthetics, makes you more productive, and boosts your cooking and food-management skills.