Best Mini Fridges In India
Here we review the different types of mini-fridges suitable for travel, drinks, etc. from brands like Koryo, Black+Decker, LG, and many others.
Refrigerators have become one of the essential necessities in Indian homes. Once upon a time, refrigerators used to be a summer thing.
However over the past few years, fridges have gained an all year importance. Thanks to the growing needs of family. Hence buying a refrigerator has become inevitable.
But, the increasing student population, nuclear families, paying guests and bachelors have changed the way refrigerators are used. This has given the rise to concept of mini refrigerators.
A mini refrigerator is capable of storing drinks, water, milk, and other food snacks. However, it can not be used daily for regular grocery.
A small fridge can store the stuff properly with an excellent cooling effect, and also it is capable of freezing with freezer compartments.
This allows your food to stay fresh and healthy. Also, the compact refrigerator occupies less space when compared to a regular kitchen and is portable. Moreover, it is ideal for a bedroom, bars, office, gym dormitory, etc.
Here, in this article, we have given complete details about the mini-fridge, how it works, different types of unique mini-fridge available in the market, things to check before buying, few FAQ and best picks from our end.
This article will help you to choose the right product with needed features. Know more about the best small refrigerators in India here.
Top 13 Small Fridges in India
How Does A Mini Fridge Work?
A mini-fridge may be either based on the thermoelectric/ compressor/ absorption model. Each has a different working principle. Here, we are going to know in detail.
Any basic mini fridge does not allow the outside temperature inside until the refrigerator is open. As the door or doors of the fridge will be closed, the temperature inside remains cool, allowing the food or drinks to be cold inside.
A thermoelectric mini fridge is used for a shorter duration of time. It also has a chiller and warming effect. A heat pump transfers the heat from one end to another end.
Also, they do not have to produce any sound, and only sound or noise produced is from the fan. Usually, a thermoelectric mini fridge is cheaper, lighter, and portable.
A compressor model fridge is used in the kitchen. They use a vaporized liquid that moves via tubes and coils. The noise produced by this kind of fridge is less.
Compressor based mini-fridges can be kept in bedrooms or dining halls or office.
An Absorption based fridge uses a heat source to keep the stored items cool.  They do not produce any noise or sound and ideal for the long-term.
Absorption fridges can be used in a remote location, and they must be kept at a level.
Maintenance of Your Mini Fridge
The mini-fridge is gaining more attention because of the benefits and flexibility to use them anywhere and place anywhere. Though it is considered as an appliance with less maintenance, you need proper support for its efficient, durable use.
Here, we mention a few points that must be checked while using a mini-fridge.
Always place your mini fridge upright and never place it in any different position. Any time if you want to keep it flat then remember that the fridge must be unplugged and must be moved after 24 hours
Always position the mini fridge away from heat source or sunlight.
Ensure that the mini fridge is placed on even surface rather than uneven surface or leaning
Soon you plugged the mini fridge, ensure medium settings that can be changed as required.
Never overload the mini fridge. An overloaded mini fridge will result in the improper working of the fridge.
Remove items that are expired or perished.
Organize the fridge accurately to have a proper flow of air and even cooling
Defrost the mini fridge as and when required regularly
 Clean the mini fridge inside and outside without fail. Ensure while cleaning, the fridge is empty and is unplugged
For cleaning the outer surface, you can use soapy water and wipe it with a soft cloth and then allow it to dry
Remove the trays or compartments which need to be cleaned wash them to remove stains. Allow them to dry outside
Wipe the mini fridge completely keep the door open and allow it to dry
Ensure that no moist exists before placing the things back in the fridge
Always keep the mini fridge odor free
Advantages of Mini Fridge
Mini Fridge is compact and can be used anywhere in the room or any corner of the house. Also, they occupy less space when compared to traditional refrigerators.
Moreover, the mini fridge is portable, convenient; also, it can be used in traveling.
They do not weigh much and so can be carried easily from place to place.
You can use your Mini Fridge anywhere, like office rooms, meeting rooms, parties, shops, bedrooms.
As the size of the mini fridge is small, they can be placed even at outdoor parties.
A mini fridge is ideal when you want to store food or juice or beverages.
Also, they froze quicker so you can stop ice cream from melting.
Mini Fridge requires lesser maintenance and easy to clean.
Many Mini Fridge is available with a reversible door, which helps in opening the fridge door as per space it is placed.
Also, it helps in keeping the drinks cold for a more extended period.
Many mini fridges come with an ice maker or ice dispenser, which would be an added advantage.
Types of the Mini Fridge
A fridge with less than 5.5 cu ft capacity is called a mini fridge. It is capable of storing the drinks, icecreams and other items which need to be cool.
It does not mean that now you can store your regular groceries and vegetables, fruits in the mini fridge.
A mini fridge does not have the temperatures that can prevent the growth of the bacteria when fresh vegetables or fruits are placed for daily use. It is designed uniquely to be used differently.
Few mini fridges are designed to store drinks and snacks only. Here, we have listed different kinds of mini fridges available in the market.
Drinks
These types of mini fridges are suitable for only storing drinks and beverages. Also, they can be used to store cold water.
They can not be used to store groceries, vegetables, and fruits. The drink/beverages mini fridge will have the temperature to keep the drinks cool as long as they are placed inside.
You can use the drinks mini fridge ideally in a TV room or conference room.
Counter High Compact
A counter-high compact fridge is also known as under counter fridge. They can be easily placed under the counter.
The capacity of the fridge lies between 3.5 cu ft to 55 cu ft. Also, they are the most efficient mini fridge and also have a lot of space for storage. These fridges are found with a single door or double door.
Sometimes these fridges can be used as a backup fridge when the traditional refrigerator is full. Usually, counter-high compact fridge comes with a locking system, drink dispenser, freezer section, and light.
They are never used in bedrooms because of the size and often used in a kitchen or dining halls. Moreover, they are a bit costly than other kinds of mini fridges.
Mid-sized
Mid-sized mini fridges are larger than cube mini-fridge and also have more shelves than cube mini fridge. Also, they have more storage space and more energy efficient when compared to a cube mini fridge.
They are compact, easy to clean and freeze compartment easier. However, they are expensive to cube mini fridge.
Cube
Cube mini fridges are inexpensive and mostly used mini fridges. They are considered as the portable mini fridge while compared to other mini fridges.
The size of the cube mini fridge is small and also has only a few compartments.
The mini fridge can sit in small places or can also occupy smaller appliances. Now, many cube fridges are available in the market that has a reversible door.
A reversible mini fridge can fit in any space, and the door can be opened from left to right or right to left.
Travel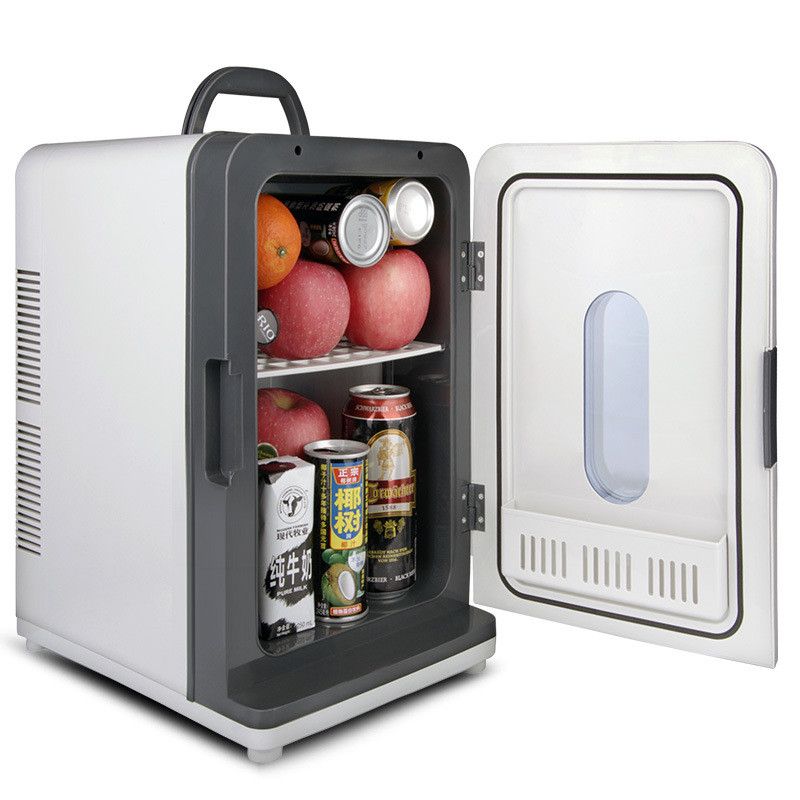 Travel mini fridge is a small portable easy to carry fridges. These fridges are capable of storing food items and drinks, yet they can not be used for a long duration of time.
The food which is necessary to be cool is stored best in travel fridges. Also, they are cheaper when compared to other mini fridges. Moreover, they are ideal for picnics, long-distance traveling, campaigns, etc.
What To Look While Buying A Mini-Fridge?
There are a few necessary features to be cross-checked before buying any mini fridge. A mini fridge is compact in size, and yet they fulfill the customer requirements. Here, we listed a few features to be checked.
Size
Usually, the size of the mini fridge will be small compared to the standard refrigerators used in the kitchen. Still, try to go for a mini fridge that is larger as they are long-lasting and consume less energy.
However, choose the mini fridge that correctly occupies the space where you want to place it as we know that few mini fridges fit under the counter easily.
Adjustable shelves
To make use of the mini fridge to the maximum extent, prefer the mini fridge with adjustable shelves. They provide more space to store food items and drinks.
A stable shelf may sometimes do not match your requirement of storing. Also, adjustable shelves help in organizing the food items or drinks in a better way.
Single Door / Double Door / reversible door
We know that mini fridge comes with various types of doors like a single door, double door, and reversible door.  If you want a separate freezer door, then choose a double door mini fridge.
A single door mini fridge has only one door, and all the stock is stored in one place. Moreover, even to pick the ice, you have to open only one door and change the temperature of every product.
Double door mini fridge is more convenient to use. A reversible door mini fridge is easy to use and can be opened from either left to right or right to left.
This allows fitting the mini fridge perfectly in the space. Also, when you change the place of the fridge, you can change the type of opening as per the area available.
Warranty
It is the prioritized feature to be checked. As if there is any dent to the mini fridge or any part replacement, then warranty comes handy.
Ensure that you check every detail of the policy before buying the product.
Noise
Few mini fridges produce more noise or sound after usage. The noise is produced may be due to the compact size and cooling function or wrong placing of the mini fridge.
Ensure that your guest does not feel irritated with the noise produced by using a mini fridge.
Locking facility
A mini fridge with a lock facility helps in keeping the stock safe. Also, your child does not look forward to opening the fridge constantly.
Additional features
As the technology is increasing, we find different so many additional features with the mini fridges. Few mini fridges come with automatic defrost that defrost the mini fridge without manual intervention.
Also, few mini fridges are designed attractively in the shape of can or baggage. Mini fridge with an alarm feature, 3D doors are also available in the market.
13 Best Mini Fridge in India
1. Whirlpool 92 L Mini Refrigerator
Whirlpool is an American Company that manufactures and markets home appliances. This Fortune 500 company was founded in 1911 and is headquartered in Michigan.
The Whirlpool mini refrigerator has 92 liters of storage capacity and comes with a 2-star energy efficiency rating making a great choice for a bachelor or a couple to have it at their place.
Main Features
This direct cool refrigerator has toughened glass shelves that can hold heavy containers.
It comes with a year warranty and ten years warranty on the compressor.
It has a 93-liter capacity
It also comes with a vegetable crisper and side space to keep the bottles
PROS (What we liked)
The refrigerator has a door lock system. This feature is seen in very few mini-refrigerators.
It is a lightweight appliance.
Consumes very little space.
Has a separate freezer section.
CONS (What we didn't like)
You have to buy a stabilizer separately.
2. Carysil 15 Bottle Wine Chiller 
– Drinks Mini Fridge
Carysil was founded in 1987 with German company collaboration. All their products are designed ergonomically and have high safety standards.
Also, the products are tested and meet German standards. Their innovative products include Quartz sinks, appliances, stainless steel, and much more.
The attractive 15 bottle wine chiller has metal racks. The mini fridge is easy to clean and use. Also, it can store up to 46 L without any trouble.
It is based on compressor cooling and has a glass door for easy visibility. Metal racks inside the chiller are also easy to clean.
Main Features
The mini fridge comes with metal racks and can store up to 46L
This fridge has compressor cooling
Wine bottles can be seen through the glass door provided
Also, it is easy to clean and use
The product is ideal for home, mini-bars and small parties
PROS (What we liked)
Quality of the product is good
Ideal for bar and home
Moreover, the mini fridge is energy efficient, and also, operating noise is low
CONS (What we didn't like)
No anti defrost facility
No light inside the mini fridge
3. AmazonBasics 43L Mini Refrigerator
Amazon Basics by Amazon is a private label brand that provides kitchen accessories and appliances. They are known for their affordability and good quality products.
This Mini Refrigerator by Amazon Basics comes with 8 temperature settings. Its capacity is 43L which makes it suitable for vanity vans, bachelors, etc.
Its sleek design and black colour make it an elegant accessory for your home or office. With an in-built freezer compartment in it, this mini refrigerator is truly a smaller size version of the conventional fridge.
Main Features
This mini refrigerator measures 510mm in height, 440mm in length, and 470mm in width.
It has a 2 Star BEE rating with climate class T.
It is suitable for places that have a temperature between 16 to 43 degrees Celsius.
The cyclopentane foaming agent gives enhanced cooling retention.
The side door has a dairy rack and jar rack.
It has a superior thermodynamic performance.
You can use the in-built freezer to et ice cubes or instantly chill drinks.
PROS (What we liked)
The drip tray prevents the spilling of water.
The shelf is removable so you can keep taller bottles or more groceries in it.
The reversible door makes it convenient to use as per your preference.
This mini refrigerator has a sturdy build.
The high-quality foaming material increases thermal insulation.
It uses R600a or Core 10 isobutane for cooling thus decreasing its environmental impact.
The feet are adjustable thus making it suitable for taller people too.
CONS (What we didn't like)
The dairy rack is not secure for glass bottles.
There is no in-built light inside it.
4. Hisense 44 L Minibar Refrigerator
Hisense is a leading electronics brand that makes mobile phones, TVs, fridges, washing machines, and much more. They are experts at making cutting-edge electronic products.
This 44L Mini Refrigerator-cum-bar from Hisense is designed elegantly to fit with the perfect urban household. It has an elevating modern aesthetic that boosts the aura of your home.
The spacious interiors of this mini refrigerator make it a must-have for those who wish to create a minibar in their homes.
Main Features
It measures 439mm in length, 470mm in width, and 510mm in height.
This is a direct-cool refrigerator that makes it an economical option.
It is fitted with a bottle bin that can accommodate bottles of up to 2liters.
The side door has a mini wire shelf that can be used for jars and cans.
The chiller zone allows you to chill drinks instantly.
The reversible door increases accessibility and can be adjusted to open the fridge from the left or right.
PROS (What we liked)
The silver finish on the body makes it suitable to be used in any room.
The shelf is made of wire thus making it sturdy and reliable.
The auto cooling feature controls the cooling inside.
The recessed handle allows you to open it easily.
There are 7 temperature levels for varying preferences.
CONS (What we didn't like)
It takes too much time to set ice in the freezer.
5. Lifelong 50 L Refrigerator
Lifelong is an Indian consumer goods brand that is changing the face of electronic appliances one product at a time. They are manufacturers of kitchen and home appliances, health gadgets, and personal grooming accessories.
This 50L Mini Refrigerator by Lifelong is a sleek and compact model that is noise-free and environmentally friendly. It is made with durable material that looks chic and modern.
Main Features
This is a fast cooling and energy-efficient refrigerator.
It measures 453mm in length, 455mm in width, and 503mm in height.
It can store beverages, groceries, etc.
The 50L capacity is thoughtfully designed to provide a spacious interior.
The easy temperature control knob ensures even cooling inside.
The sturdy wire shelf is durable and long-lasting.
There is a bottle guard in the side door that protects water bottles.
PROS (What we liked)
The door lock feature ensures the safety of toddlers and children.
Use the auto-defrost mode to remove excess ice.
The noise-free build of this refrigerator makes it operate quietly.
The recessed handle makes it easy to open and close.
It comes with an ice tray for easy ice-making.
CONS (What we didn't like)
There is no light bulb provided inside.
No drip tray is provided so the melting ice leads to water spilling inside.
The Godrej Group was founded by Ardeshir Godrej and Pirojsha Burjorji Godrej. It is an Indian conglomerate and is managed by the Godrej family.
The Godrej 30L qube personal cooling solution is a mini-fridge with thermoelectric technology which ensures silent operation. The refrigerator does not require defrosting and has a capacity of 30L.
Main Features
Its cooling capacity is 32 degrees C and ambient between 8-10 degrees C.
The refrigerator gives whisper-silent operation.
It runs on a home inverter and hence you do not need to buy a separate inverter.
It has advanced solid-state electronic cooling technology due to which it operates without compressor and refrigerant.
It requires a voltage of 230 volts.
The refrigerator is easy to clean and maintain.
It utilizes less power and more efficient to operate 24×7.
PROS (What we liked)
The refrigerator is black in color and has a matte finish that looks premium with your home interior.
Has a large space to store products for 2 people.
It has an illuminated interior with dual LED lights for better visibility and convenience.
100% environment friendly.
CONS (What we didn't like)
It cannot make ice since it does not have a freezer.
7. Whirlpool 46L Mini Refrigerator
Whirlpool is an American company that manufactures home appliances. The brand is well known for its quality yet affordable products.
The Whirlpool 46L mini-refrigerator comes with a 3-star rating and has toughened glass shelves. The refrigerator has ample space for any type of dairy products, drinks, and much more.
Main Features
It is a direct cool refrigerator with 46L capacity.
Its compact size makes it ideal for bedroom use.
It has seven adjustable modes for temperature control.
It has a separate compartment for chocolates and extra storage space for snacks.
It also has easy accessible door racks for sauce, spreads, cold drinks, and juice packets.
It has a one year warranty and ten years warranty on the compressor.
PROS (What we liked)
It has an inbuilt ice maker and a separate freezer section for quick ice.
The built-in stabilizer enables a stabilizer free operation.
This is an energy-efficient refrigerator with a 3-star rating.
Its handles are ergonomically designed for easy use.
CONS (What we didn't like)
The refrigerator heats a bit from behind.
8. Leonard Usa 120l Double Door Mini Fridge
 – Our Pick
Leonard appliances are conceptualized in America. They have a wide range of products available all over the world. Their products include air conditioners, washing machines, microwaves, freezer and much more.
The double door mini fridge is ideal for dormitory, bedrooms, gyms, and bars. The mini fridge follows inverter technology and comes with a steel finish.
Also, the separate freezer compartment is provided and the reversible door design. It comes with interior light for easy visibility of food items when it is darker. Legs provided at the front helps in leveling the mini fridge.
Main Features
Dual door mini fridge comes with supporting small feet
Separate can storage dispenser. Now, you can store six cans easily
The mini fridge has a virtual steel finish that has a smudge resistance and fingerprint resistance
Removable toughened glass shelves for easy cleaning
For longer durability, the mini fridge follows inverter technology
Moreover, it does not require any installation and is ready to use
The product claims that it is certified by the US Department of energy and US Environmental Protection Agency
Also, it claims one year warranty
PROS (What we liked)
Quality of the product is awesome
Separate compartments for easy organization
Also, the mini fridge is compact
It has thickness insulation which ensures high cooling
Anti-fungal gasket for avoiding fungus and bacteria
CONS (What we didn't like)
No negative points observed so far.
9. Kitchoff Rectangular Direct Cool Aluminium and Solid Standard Single Door Refrigerator(50 L Black) 
– In-Built Stabilizer
The solid mini fridge is the product of Kitchoff, which was started in 2015.  Their products are designed to meet the requirements of contemporary living.
All their products maintain high quality. A list of their products includes a mini refrigerator, electric kettle.
The reliable single door mini refrigerator has a capacity of 50L. It follows the technology of absorption and compressor and is ideal for a bedroom, office room, cold beverages, home, etc.
It does not have any freezer compartment but has separate compartments to store the stock in an organized way.
Main Features
The product comes with the metal adjustable shelf rack
The mini fridge is energy efficient as it uses absorption and compressor technology
Also, the 50L capacity mini fridge is ideal for cold beverages, beer, chilling drinks and much more
It has a solid aluminum body and gasket for germ protection
Also, the mini fridge can fit anywhere
Single door mini fridge claims one year warranty
PROS (What we liked)
Require no stabilizer
Easy to clean
Requires less electricity
Cost-effective and efficient
 The compressor works well
CONS (What we didn't like)
No freezer compartment so no ice tray
No light inside
10. Mitashi 46 L 2 Star Direct Cool Single Door Refrigerator(msd050rf100, Silver) 
– Locking Feature
Mitashi provides innovative solutions to satisfy customer needs. Mitashi is into electronics, toys, and games. Their list of products includes a TV, microwave, washing machine, refrigerators, home theatres, and much more.
The mini fridge has a capacity of 46L and has a direct cooling facility. Also, it is a 2-star energy efficient fridge and has a compartment for the freezer. It requires to defrost manually.
Main Features
The single door 2-star energy efficient mini fridge comes with a one-year warranty
It does not produce any noise
The mini fridge has a fast and excelling cooling effect, and it needs to defrost manually
It has wired shelf and reversible door
It has recessed handle and can operate without stabilizer
An additional locking feature is provided
Moreover, it is suitable for a small space and comes with a silver-colored body and adjustable legs
PROS (What we liked)
Excellent cooling effect
Attractive color
It is CFC free and consumes low power
Eco-friendly refrigerant
CONS (What we didn't like)
11. Lg 45 L Direct-Cool Single Door Refrigerator (Gl-051ssw, Super White)
 – Stylish Design
LG was established in 1958. LG manufactured many products on new technology that provide a happy and healthier life. All their products are well-designed and meet high standards.
They are into home appliances and air solutions, mobile communications, home entertainment, business solutions, and vehicle component solutions.
LG single door refrigerator has a fixed gasket, durable shelves, and operates without additional stabilizer. Additional space is provided to store big bottles. The mini fridge comes with a user manual.
Also, a separate freezer compartment is included along with an ice tray. Moreover, to avoid skidding, the mini fridge has small feet at the bottom.
Main Features
The product comes with an instruction manual and is ready to use. No installation is required
It has an ice tray with a powerful freezing feature
The fridge has a capacity of 45l
The body is made of stainless steel, and an additional door locking facility is provided to lock the mini fridge when necessary
The mini fridge cools slower than a larger fridge
Energy-efficient, stylish refrigerator has a fixed gasket that allows fitting the door tightly
Durable shelves are capable of storing heavy food items
The door comes with a large basket for storing bigger bottles
PROS (What we liked)
Quality of the product is excellent
The cooling facility is perfect
No Stabilizer is required for its operation
CONS (What we didn't like)
No light is provided inside the fridge
12. Koryo 45 L Direct Cool Single Door Refrigerator (kmr45sv, Silver) 
– Eco-Friendly Refrigerant
Koryo has a wide variety of world-class appliances. All their products are innovative and customized to meet customer needs.
Their range of quality products includes washing machines, LED TV, refrigerators, mixer grinder, and much more.
Koryo mini fridge works without a stabilizer and comes with a VMC silver finish single door and has a locking facility. It requires manual defrost and has a drip tray.
The capacity of the mini fridge is 45 liters, which comes with eco-friendly refrigerant. Also, an instruction manual is included for easy use.
Main Features
The mini fridge works without a stabilizer
It has a single door with locking facility
Also, the fridge has nice well-organized compartments and a freezer compartment
The removable shelf is made from toughened glass which can bear heavyweight up to 120kg without collapsing the shelf
The product claims 5-year warranty on compressor
PROS (What we liked)
Quality of the product is excellent
It comes with eco-friendly refrigerant
The product comes with an instruction manual
CONS (What we didn't like)
Requires manual defrosting
13. Igloo Aluminum Fridge Bar (3.2 Cubic Ft) 
– Cfc Free
Since 1947 Igloo started its distribution of appliances. Now, they offer a wide variety of products with the latest technology. They manufacture quality products.
The list of their products includes ice makers, refrigerators, freezers, washing machines, and much more.
Igloo 3.2 cubic feet mini fridge is ideal for bedroom, dormitory, garage. The food stored can be kept at a perfect temperature.
It has a freezer compartment, and the fridge is compressor cooled. The Colour of the mini fridge is attractive.
Main Features
Proper spacing is provided for opening the door
It comes with small adjustable feet for good grip
It has a built-in freezer and can dispenser
Also, the reversible door allows fitting your mini fridge in the space provided
It has tempered glass shelves for easy cleaning
Moreover, the fridge is CFC free
PROS (What we liked)
The product is available in different colors
Well organized partitions for can dispenser and other bottles
The product comes with a mini ice tray
CONS (What we didn't like)
No instructions for switching the reversible door from right to left or vice versa
Can dispenser need to be improved as it is causing a problem will closing the door
Frequently Asked Questions
1. Can you put a mini-fridge under a counter?
No, a freestanding mini fridge cannot be put under an enclosed counter as these refrigerators need ventilation from behind. If they are placed under the counter, there will not be enough space for ventilation which may damage the inner part of your mini-fridge.
2. On an average how much energy do mini fridge consume?
We know each and every model of the mini fridge has different energy consumption. Also, the energy consumption depends on many factors like cooling, size, number of hours it worked, temperature around the mini fridge, and additional features.
On average, a mini-fridge may consume somewhere around 230 kilowatts per hour.
3. What is the life span of the mini-fridge?
The life span of the mini fridge depends on fridge consumption. It includes factors such as loading capacity, proper cleaning and maintenance, frost and defrosts function, etc. Any well-maintained mini-fridge will work for 14 to 17 years, depending on the size and model.
Also, we notice that a few models may work fine even for 19 years, and few may work only for ten years. So proper maintenance is mandatory.
4. Does the mini fridge require annual maintenance?
Yes, it is needed. However, monthly cleaning and checking the functionality of frost and defrost, freezer, light is required.
Apart from interior cleaning, if you provide annual maintenance to your mini-fridge, which includes coils cleaning and other parts cleaning, then it works for the long duration of time.
5. What should be the temperature inside the mini refrigerator?
It depends on the climate outside. If you have a temperature control scale from 1 to 5, then in winter, you can not keep the fridge on high for cooling as the temperature is outside, and it should be average around 3.
Similarly, in summer, you can not adjust the temperature to minimal. Otherwise, the stuff you saved will spoil. So, always adjust to the outside temperature.
6. Is there any compartment for an ice cube tray in a mini-fridge?
Yes, many mini fridges come with a separate freezer compartment and ice tray. You can use the freezer compartment for ice cubes.
Conclusion
Now, you have come to the end of the article. Once you log on to the internet and start searching for the mini fridge, you end up with so many mini fridges available in the market.
So, to make your task easier, we have picked the best ones and shared the product features. Every product mentioned here is picked only after proper research.
Mini fridges are designed as per the need of the customer requirements. Few may be interested in storing only drinks for such kind better go with a bottle wine chiller. These are portable and can be placed in any corner of the room.
If you are looking for a mini fridge ideal for bedroom, then choose LG mini fridge, which is small and serves the purpose. Also, it has a locking feature, and hence your child is safe and fails to open it.
If you are looking for a mini fridge that works as a backup for your kitchen, then you can choose either our best pick Leonard USA mini fridge or BLACK+DECKER mini fridge.
For buying the product and knowing more about the product, you can simply click on the link.